Matrix on the Mat: J'den Cox, USANA Athlete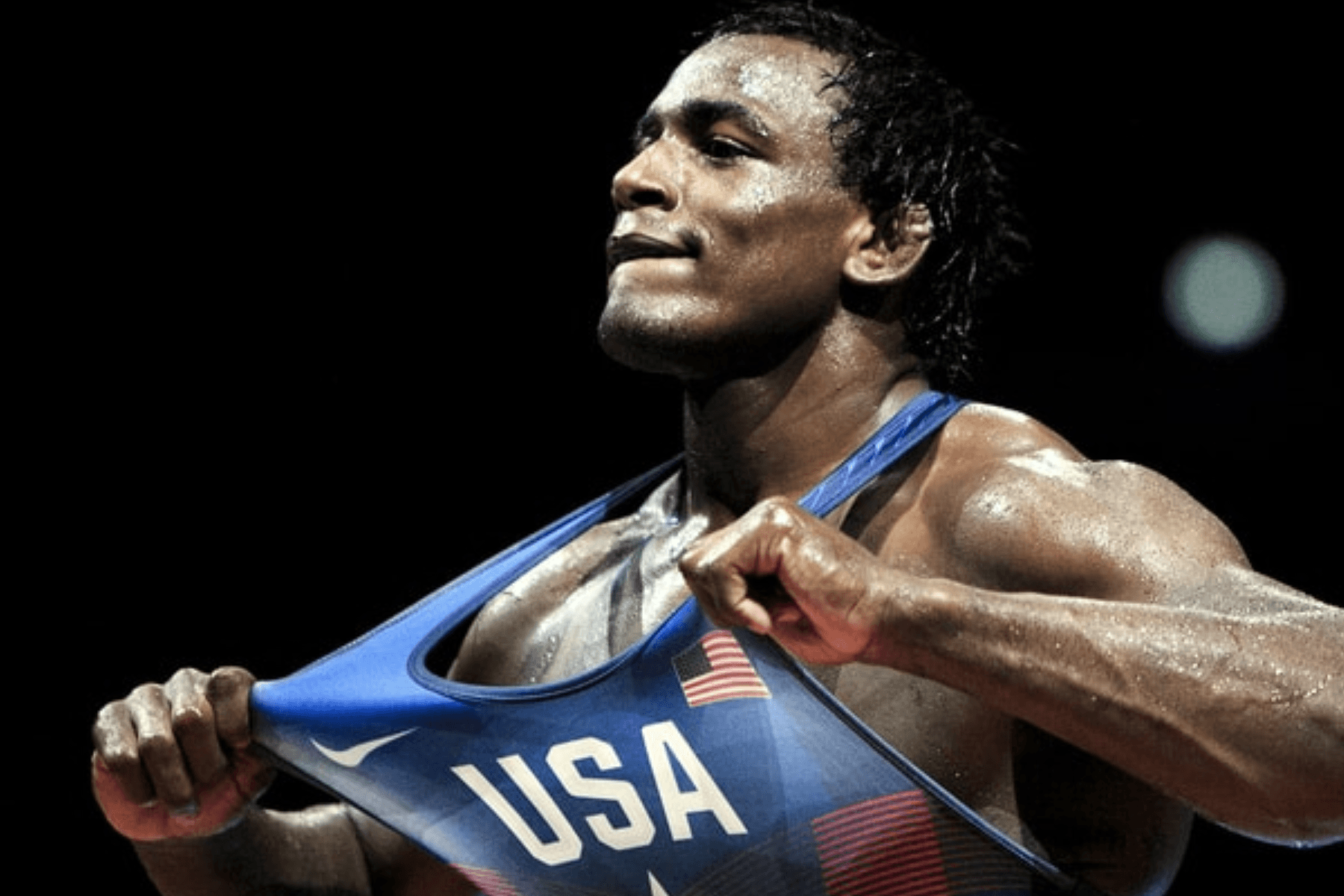 The red pill or blue pill? It's the big question asked in the film The Matrix. Essentially, will you live your life in naïve bliss, or take a peek behind the curtain to gain a deeper perspective? And we all know the iconic scene where Keanu Reeves executes an intense backbend to dodge a speeding bullet as the world moves into slow motion.
In the wrestling world, J'den Cox is known as "The Matrix." And with countless titles and the integrity to back it up, it's easy to see why this nickname is so fitting. Acrobatic moves, an ability to see beyond the fight on the mat, and always questioning his "why," USANA athlete, Olympic Bronze medalist, and two-time World Champion title holder J'den Cox does what's right both on and off the wrestling mat.
J'den's love for his sport is in his blood. Wrestling runs deep in his family, with his uncle stepping onto the mat first, followed by his brothers, J'den next, and now his younger cousins and nephews are competing. From growing up traveling with a club team to big title matches, wrestling is supported by his whole family—and having that kind of support is important to J'den.
"When your family understands in the ins and outs of the sport, you don't have to do as much explaining. They just get it and know how to support you," he says. "Even if everyone hasn't reached the same height in the sport as I have, I still value all their opinions. We learn from each others' wrestling styles, our struggles, and our victories. I take their opinions to heart."
J'den fought through plenty of self-doubt when he first started wrestling at high-level competitions. What started as club matches, high school sports, and collegiate tournaments became so much more when he began to win bigger belts and gain titles. But he kept blinders on to focus on performing his best, having fun in his matches, and letting his training produce results to earn his spot on the 2016 Olympic team. From there, he went on to win Olympic bronze, Worlds bronze, and three NCAA Wrestling titles. And still, he wasn't satisfied. His goal shifted to World Championship Gold.
"I moved from Colombia U and my training and mindset really changed. I was growing all aspects of my training program, nutrition plan, and really pushing myself to see what I could do when I kept that momentum up," he says.
"What drives me now is focusing on being my very best self, deep inside"
After his incredible back-to-back 2018 and 2019 World Championship Gold title wins, J'den realized he needed to take a step back, reassess his goals, and make sure his incentive to continue to wrestle at this level was kept in check. He'd won gold, so this was no longer his motivation. He didn't want his career and life's focus to be winning titles and accolades (although he's very humble and appreciative for each title). There had to be something more, something innate driving him from within.
"Plenty of athletes have accolades, belts, and titles. I want to truly reach my full potential on all levels. What drives me now is focusing on being my very best self, deep inside," J'den says. "Wrestling is about so much more than a medal for me. I want to reach my full potential in every match—there's never a finish line for me. My life right now is about a constant fight and hunger to learn more and bring out the best of myself each and every time."
J'den Pins Down Optimal Health
J'den knows how his nutrition and physical training reflect on the mat, but it doesn't stop there for this USANA athlete. He understands health doesn't just mean focusing on what you eat and how you move. Every day, he takes the Sports HealthPak to help make sure he stays at optimal performance levels.
"I've seen the changes in how my body feels now I'm taking HealthPak  consistently. Taking it doesn't take much time, but it adds so much to the work I'm putting in every day. When you take products like this one, you benefit from it all day long," he says.
Optimal health influences every aspect of your health—from bones to muscles, to digestion and mobility.
"Seeing that the product does work and make you better as an athlete really solidifies my trust in USANA. I'm a picky eater, and now I have these vitamins to provide my body with what it needs, I don't worry about what I might be missing from the foods I don't like."
Nutrition is a huge key in J'den's success on the mat. Not only does he need to build strong muscle to wrestle, he has to hit weight for his competitions. This ranges from gaining, losing, or even maintaining a certain weight to remain qualified for his specific weight class.
View this post on Instagram
"Nutrimeal shakes are easy to make when I'm on the go and need to fuel my body the right way," J'den says. They help me keep my nutrition goals on track while I'm trying to sustain my weight for the 2020 season. I even love USANA's logo gear. It's comfortable and gives you style at the same time."
J'den's advice to the up-and-coming generation of wrestlers speaks to how vital it is to take a well-rounded approach to your health, nutrition, training, and mental health.
"Learn from everyone," he says. "When you love this sport, you'll do everything the right way—both off and on the mat."
Matrix Takes It Outside
Social distancing and stay-at-home orders have changed up J'den's training regimen. He typically lifts and works out at the gym, and spars and practices technique with coaches and trainers. But right now, he's adapting to at-home-only workouts right along with the rest of us. He practices technique at a park just down the street and transformed his garage into his weight-lifting space.
View this post on Instagram
Depression Take Down
By being open about his struggles with depression, J'den adds to the many voices no longer staying silent about mental health. He uses his platform to help others know it's okay to not be okay. It's a fight he deals with often, one he's ready to take down again and again.
"It's a battle every day. Overcoming a really dark bout or a long depressive episode, these are some of my greatest victories."
"Depression has been my greatest opponent," J'den says. "It's a battle every day. Overcoming a really dark bout or a long depressive episode, these are some of my greatest victories. If you're struggling, remember you can change your mindset—even in the throes of depression—if you know how."
At a time in his life when happy moments were fleeting, he struggled to find his worth, and the joy for life was lost, J'den started going to therapy. There, he found coping methods to understand what his brain was telling him and how depression was affecting him. Therapy and his faith in Christ have helped him become stronger and more equipped with the tools he needs to get out from under his depression.
"It's something you don't quite understand until you're in it," he says. "The best way I can cope with my depression is by doing anything that puts me in a different zone and allows me to express what I'm feeling. Reading the Bible, playing music, writing, and reaching out to a friend helps me a lot."
Be a Champion Amid the Chaos
Living in the midst of a global health pandemic has affected us all. Many athletes' seasons are being cut short—from high school spring sports to Olympic hopefuls, like J'den. But he has a solid perspective that he took to Twitter to share. One of his main philosophies for pushing through this difficult and unknown time is to be a champion amid the chaos.
View this post on Instagram
"There's a lot of change happening in the world. For me, my goals are solid, and I know what I want to pursue and how I want to pursue it. This means I have to make changes in my life to keep going. Like right now, I'm having to rely on myself, because others aren't around me to give me that extra push. As long as I can keep my focus on how I'm motivated, I can continue to train and make the adjustments necessary. It's important to be flexible with yourself. It's not easy, but what's happening right now is putting things into perspective."
Take J'den's advice. If you're feeling like you're down for the count, pinned under the unknown, or struggling with self-doubt, readjust to make changes, refocus on your innate goals, and ask others for help. It's athletes like J'den Cox who remind us all to keep fighting and striving toward our greatest potential selves, even against the biggest of opponents. Whatever you face on the mat, be confident you can take it down.
5 Facts about J'den
1. Why do you trust USANA?
I trust USANA because I know the products are NSF tested and safe for me to use. I don't have to worry about testing positive for anything weird, so I have real peace of mind taking these supplements.
2. What's your favorite supplement/product?
Sports Pak, Nutrimeal Shakes, and I love USANA's logo gear, too.
3. When you're not wrestling, what are your hobbies?
I enjoy music and writing, and playing video games like Madden, COD, and Halo. I'm also a rabbit hole YouTube watcher.
4. What's on your workout playlist right now?
My Spotify playlist is very diverse: Christian worship, rap, R&B, and rock.
5. Where can we follow you?
*These statements have not been evaluated by the Food and Drug Administration. These products are not intended to diagnose, treat, cure or prevent any disease..
The mentioned athlete is an Associate or dedicated product user who has received compensation for his partnership and/or complimentary @USANAinc products.