Five Easy Immunity Mocktails to Craft This Summer
Nothing tempers sizzling summer afternoons like an ice-cold beverage—especially if it's topped with a tiki umbrella or fancy fruit garnish. Quench your thirst by sipping USANA-approved, immune-supporting mocktails for a healthy twist on classic bar staples.*
These five crafty, alcohol-free refreshers feature vitamin C-packed fruits and veggies. Of the four immune-supporting micronutrients found across the spectrum, foods rich in vitamin C are some of the best at optimizing your immune system.*
The easy, delicious recipes below are full of color and flavor—guaranteed to be poolside party hits. Amounts are merely suggestions; adjust for your glassware on hand. (Break out the fancy glasses or use plastic cups—whatever works.)
Now, grab your shaker, put on some tropical beats, and savor a bright, healthy immunity mocktail.*
Easy Immune Mocktails for Summer
Citrus Sunrise
Ingredients
2 parts Rev3 Energy
1 part grapefruit juice
1 part orange juice
1 part pear juice
Sparkling water
Crushed ice (or whatever ice you've got—this isn't Harry's New York Bar)
Instructions
Top off your glass with ice
Add Rev3 Energy
Float in grapefruit juice
Continue layering with orange juice, then pear juice
Top with sparkling water
Insert your favorite reusable straw and enjoy
Notes
A tall, thin glass is a striking way to serve this sweetly sour blast. Tart grapefruit pairs well with the pomegranate flavor of Rev3 Energy, and its natural sources of caffeine give you a buzz of energy.
Lemon Tonic Julep
Ingredients
Large Meyer lemon
Diet tonic water
Sprig of fresh mint, plus a few leaves
Handful of blueberries
Crushed or cubed ice
Instructions
Cut a twist of lemon peel (a vegetable peeler works great here)
Fill glass about three-quarters with ice
Halve lemon and squeeze juice into glass
Fill glass with diet tonic water
Express oils from several mint leaves (give them a gentle clap)
Insert sprig of fresh mint
Garnish with lemon twist and blueberries
Notes
My personal favorite for its sharpness and refreshing mint accent, a great alternative for gin lovers. If the bitter quinine flavor of tonic water doesn't strike your fancy, mix in a pinch of sugar-free sweetener—I recommend monk fruit.
Collins Berry Mash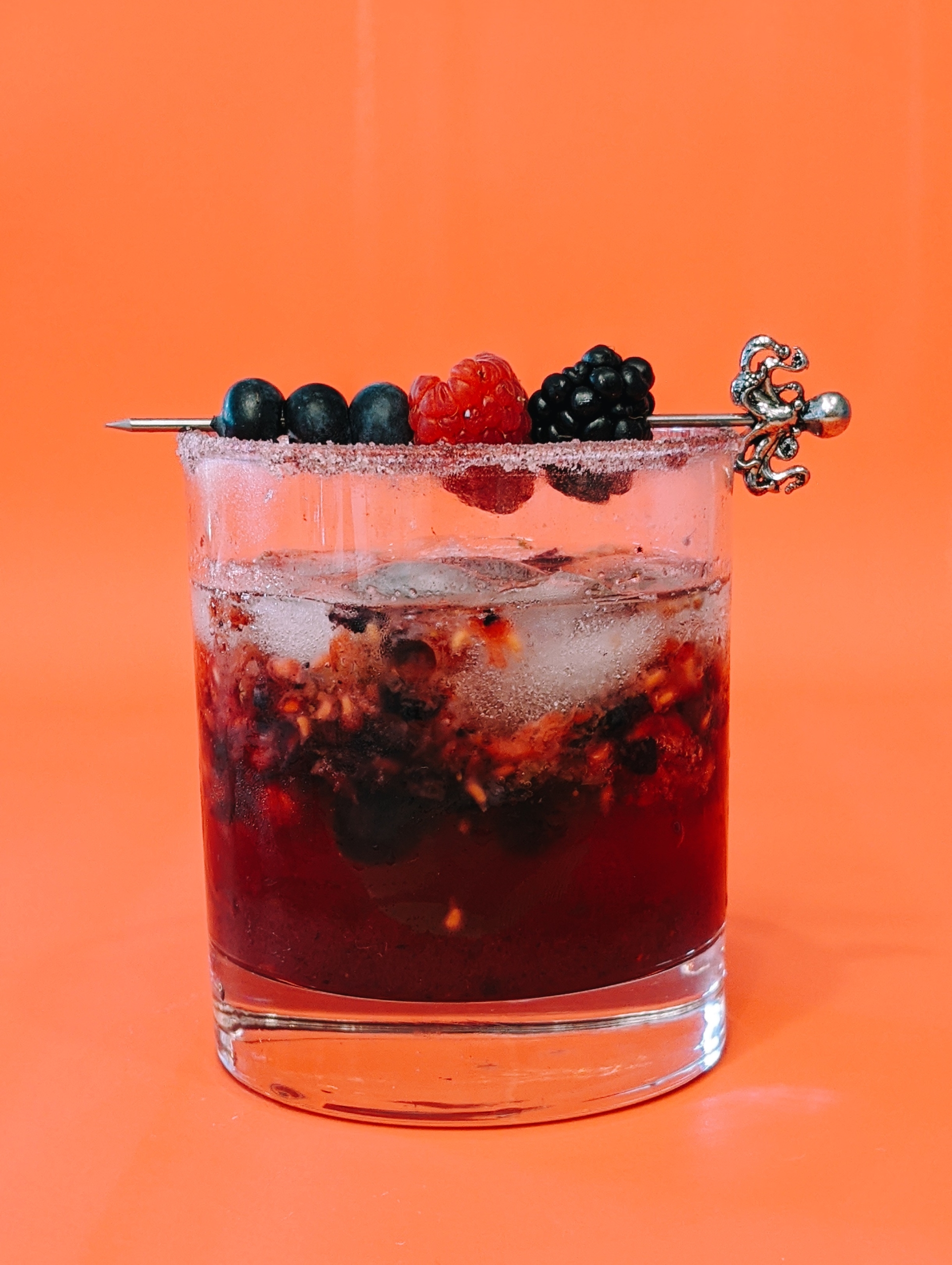 Ingredients
Stick pack of Booster C600
Handful of blueberries, blackberries, and raspberries, plus extras for garnish
Sparkling water
Cubed ice (or a fancy-schmancy whiskey stone)
Instructions
Rim the glass
Pour two-thirds of Booster C600 stick pack powder onto a plate
Wet lip of glass and rotate into powder
Place several of each berry into bottom of glass
Sprinkle remaining Booster C600 powder in with berries
Muddle until mostly combined (a spoon muddles just fine)
Fill glass about halfway with ice
Top with sparkling water
Give it all a good stir
Garnish with berries
Notes
A typical old fashioned uses a sugar cube to help muddle the mixture. Booster C600 offers the same grainy texture and gives a tangy zap to the berry blend. Best crafted and served in an old-fashioned glass, with a wider space for all that muddling.
Looking for more creative mocktail creations?

Try the raspberry ginger Rev3 refresher from our Holiday Gift Guide, or the exotic hibiscus reviver we mixed up last year.
The Red Snapper
Ingredients
3 cherry tomatoes, plus 1 for garnish
½ cup small pineapple chunks, plus a wedge for garnish
1 strawberry, plus 1 for garnish (this is a seriously sweet topper)
Juice of whole lime
5 oz can tomato juice
Sparkling water
Basil leaves, for garnish
Black pepper, to taste
Hot sauce (for the brave)
Crushed ice
Instructions
Add cherry tomatoes, pineapple, strawberry, and lime juice to cocktail shaker
Give the mixture a good muddle
Add tomato juice and several dashes of hot sauce
Shake it!
Fill about a third of the glass with ice
Strain mixture into glass
Top with sparkling water
Garnish with halved cherry tomato, pineapple wedge, strawberry, a few basil leaves, and freshly ground pepper
*chef's kiss*
Notes
Wow—this packs a flavor punch. The perfect balance of sweet, savory, and spicy. Tomatoes are high in vitamin C, and the garnish is garishly awesome. Feel free to spruce yours up with a stick of celery or bacon. (Healthy-ish.)
Simply Pińa Colada
Ingredients
1 cup coconut milk
1 cup frozen pineapple, chunked
Juice of whole lime
Pineapple wedge, for garnish
Instructions
Blend coconut milk, pineapple, and lime juice until smooth
Pour into your tackiest tiki-ware (mason jars for me)
Garnish with pineapple wedge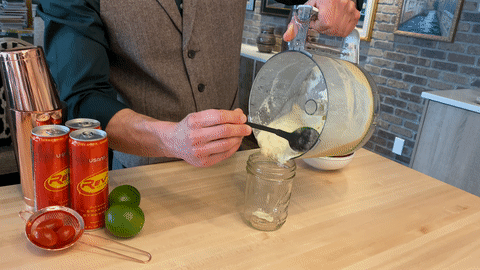 Notes
Rich coconut milk and the crisp hint of lime elevate this colada—without the added sugar. The beauty of a shake is you can toss in other healthy ingredients, like wheatgrass and black-eyed peas, without affecting the flavor profile. Keep up the healthy blending with an immunity-supporting green smoothie.

I'm Feelin' Good
I had a great time crafting these vitamin C-packed mocktails—and my friends had just as much fun drinking them. Do you have a go-to mocktail to share? Plan to make any of these immune-supporting recipes for an upcoming soiree? Leave a comment and let us know how it goes.*
*These statements have not been evaluated by the Food and Drug Administration. These products are not intended to diagnose, treat, cure or prevent any disease.