USANA Para Athletes Make History in Tokyo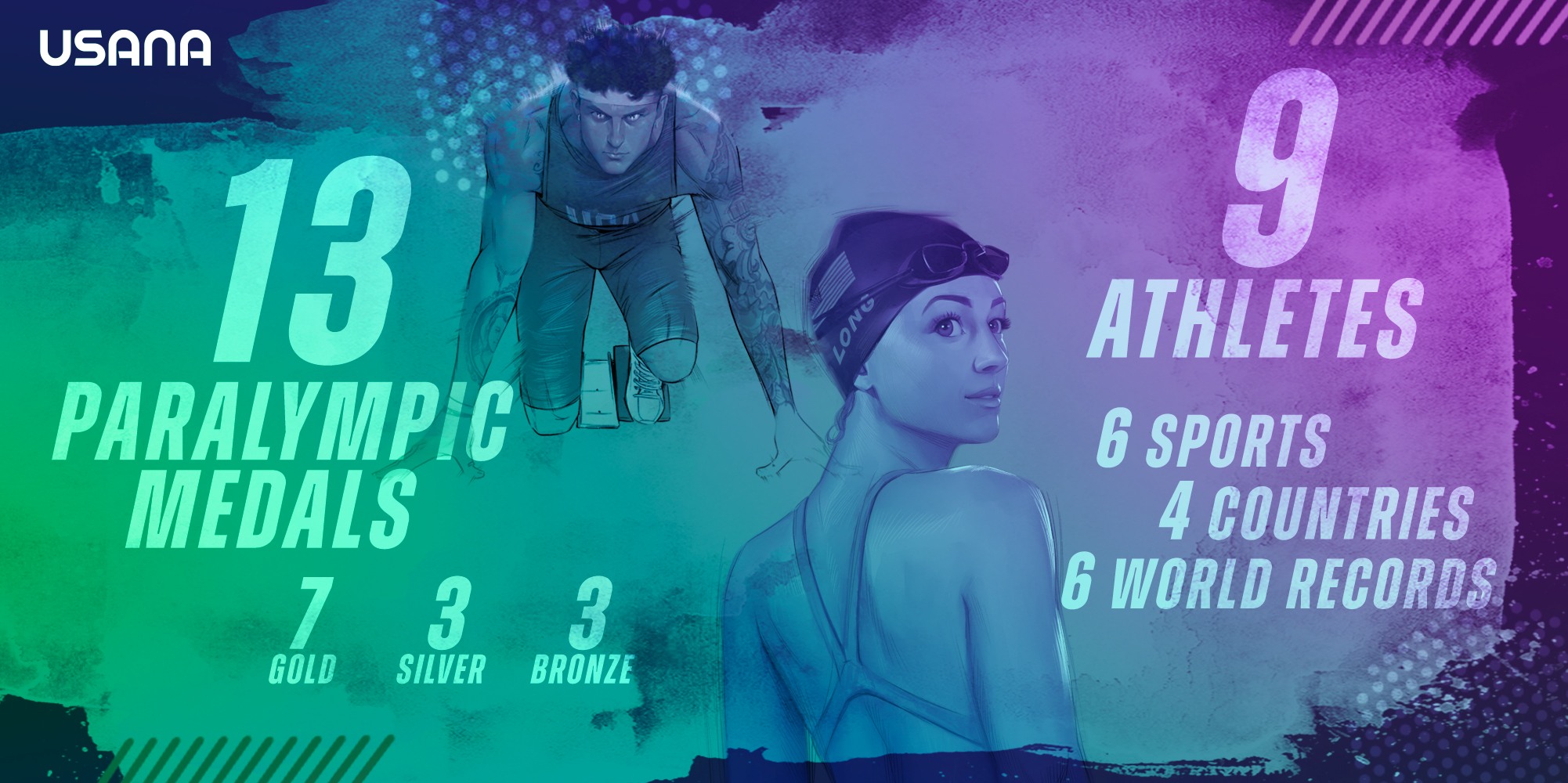 For the second consecutive Summer Games, USANA was proud to support and celebrate its para athletes that competed on the global stage. From their breakout moments, historical podiums and impressive debuts, USANA's Paralympian's represented USANA and their respective countries with class and grace.
And this is what you need to know.
What Are The Paralympics?
The Paralympic Games is a major international sports competition for athletes with disabilities. Similar to the Olympics, they take place every two years alongside the Winter and Summer Olympic Games in the same host city, and are held a few weeks after the Olympics.
Paralympic athletes compete in six different disability groups—amputee, cerebral palsy, visual impairment, spinal cord injuries, intellectual disability, and "les autres" or athletes whose disability does not fit into one of the other categories, including dwarfism. Within each group, athletes are further divided into classes on the basis of the type and extent of their disabilities. Individual athletes may be reclassified at later competitions if their physical status changes.
The Paralympics were originally known as the Stoke Mandeville Games and were first held in 1948 when Sir Ludwig Guttmann organized the first wheelchair archery competition for sixteen injured British World War II veterans. It wasn't until 1960 that the first Paralympic Summer Games as we know today took place. The Winter Paralympic Games made its debut in 1976.
To put into perspective the growth that the Paralympics have taken on over the last 60 years, the Tokyo Games were the biggest Paralympic Games to date with over 4,400 athletes competing. Tokyo hosted the most female athletes ever to compete in a single Games.
So how does that information break down for USANA?
A Bakers Dozen
For two weeks, nine of USANA's para athletes competed in Tokyo where they represented four different countries—Mexico, Indonesia, Thailand and the United States. They competed across events in athletics, judo, shooting, swimming, wheelchair fencing and wheelchair tennis.
USANA Athletes left Japan with a record 13 medals—seven gold, three silver and three bronze—and set six world records, four Paralympic records and two American records along the way!
A Little #MayhughMagic
Breakout American star and dual athlete Nick Mayhugh made his Paralympic debut in athletics after seven-a-side soccer was excluded from this year's Games. Having only taken up sprinting 18-months prior, the Virginia native quickly became a household name after his first event when he broke his own world record to became the fastest and first T37 athlete to run the 100m in under 11-seconds.
Mayhugh left Tokyo with medals in each of his four events, the men's 100m T37 (gold), 200m T37 (gold), 400m T37 (silver), and the 4x100m universal relay (gold)—setting five world record times and two American records. It should also be noted that his lone silver medal was captured in a distance he had never run before in an official competition until the Games.
"To go to Tokyo and represent my country on the biggest stage is something I've always dreamed of." says Mayhugh. "I dedicated everything I had physically, mentally, and emotionally to the sport of track and field the last year and a half. To come home having medaled in every event and with a handful of world records means everything to me. It's a testament to all the hard work my brother, team, and I put into my craft. I hope it inspires those watching at home that no matter what life has dealt you, you're in control of your own limits. If you believe in yourself and work hard you, too, can be a champion."
Learn more about Nick's story and what it he thinks it takes to be a part of the Winner's Circle. Or on the blog, Scoring 'Impossible' Goals with Nick Mayhugh.
Making #HERstory
Decorated veteran swimmer Jessica Long captured six medals to further solidify her name in history as the second-most decorated U.S. Paralympian with 29 total medals. As a five-time Paralympian, Long swam to the podium with medals in the women's 100m butterfly S8 (gold), 200m medley SM8 (gold), 4x100m medley relay (gold), 400m freestyle S8 (silver), 100m breaststroke SB7 (silver), and 100m backstroke S8 (bronze), respectively.
"It has been so special being in Tokyo and having so many people follow along these last few weeks," says Long. "The support I have received has been out of this world. Seeing how much the Paralympics have grown since my first Games is incredible! Thank you everyone for the special words of encouragement."
Learn more about Jessica's story on the blog, Jessica Long: Swimming StrongHER! or re-watch her big Toyota commercial you've seen all over TV.
Notable Highlights
Be sure to follow USANA Athletes on Instagram (@usanaathletes) for the latest updates, accolades and testimonies from our athletes!
*The mentioned athletes are either distributors or dedicated USANA product users who have received compensation and/or complimentary USANA products for their partnership with USANA.