USANA's CoQuinone® 30 — the Cellular 'Youthergizer'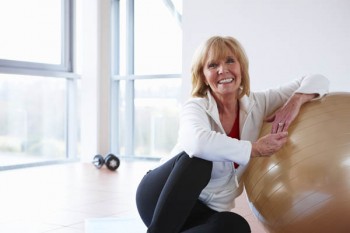 Happy World Health Day! Every year, on April 7, the World Health Organization highlights a priority area of global health concern. The theme for this year is "Good health adds life to years." The message? That good health throughout life can help older men and women lead full and productive lives and be a resource for their families and communities.
At USANA, we couldn't agree more. So for this Supplement Spotlight, we focus on one of the most powerful supplements USANA offers to help support cellular health so we can maintain our vitality with age: CoQuinone® 30.
If you are looking for something to put the youthful spring back in your step, a Rev3 may give you a short-term (and mighty delicious) fix, but to truly make a difference in your body's energy for the long-term, you need more than caffeine.
The Importance of CoQ10
Coenzyme-Q10 is a critical cofactor in the process that generates 95% of the human body's cellular energy (ATP), including the considerable energy needed to power our heart and brain. This important vitamin-like, fat-soluble substance is found in highest concentrations in the inner membrane of the mitochondrion, the power plants in each and every cell.
All metabolically active tissues are sensitive to CoQ10 deficiency, and low blood levels of CoQ10 have been associated with all sorts of negative health consequences. And as we age, our body slows down the production of CoQ10 (some say this starts at age 20!).
So, to maintain healthy levels, you can fill up on two pounds of beef, one pound of sardines, or two and half pounds of peanuts. If those options don't sound very appetizing, take one CoQuinone 30 capsule twice a day to keep your youthful energy high (or just one CoQuinone 100, available in MyHealthPak).
Trivia: Because CoQ10 is so ubiquitous in every cell, it is often called "ubiquinone"; hence, "CoQuinone."
Also a fat-soluble antioxidant, CoQ10 gets a boost in CoQuinone 30 with the addition of alpha lipoic acid, a fat and water-soluble antioxidant that attacks the waste products created when the body turns food into energy. Both nutrients help recycle other antioxidants to help make them active again, giving you a powerful one-two punch when it comes to fighting the chemicals that threaten to damage your cells.
Celebrate your age today! And make sure to keep your body feeling youthful, healthy, and energized tomorrow by energizing your cells with ample amounts of CoQ10 every day. Of course, USANA's product is highly bioavailable, and absorption will be even better if you take CoQuinone 30 with food that contains some fat.
Learn More…
Learn more about the benefits of CoQuinone 30 in this short video from Howard Goldfine, a recent addition to USANA's scientific staff.
[youtube]79mt5X1nuzs[/youtube]
If you're unable to view the video, please visit the USANA YouTube channel.
To learn more, an excellent introduction to coenzyme-Q10 can be found here: http://faculty.washington.edu/ely/coenzq10.html
*These statements have not been evaluated by the Food and Drug Administration. This product is not intended to diagnose, treat, cure, or prevent any disease.
We're proud to bring you the freshest content on the web! Follow USANA on Twitter, like our USANA Facebook page and enjoy the latest videos on the official USANA YouTube channel.
http://whatsupusana.com/wp-content/uploads/2019/11/USANA_Logo_Black.png
0
0
Camille Fletcher
http://whatsupusana.com/wp-content/uploads/2019/11/USANA_Logo_Black.png
Camille Fletcher
2012-04-07 06:29:10
2012-05-01 17:09:37
USANA's CoQuinone® 30 — the Cellular 'Youthergizer'