Busy Mom, Fitness Model, & USANA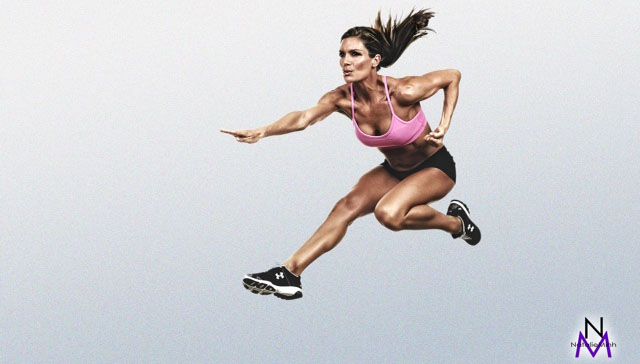 The great thing about social media — well, there are many, but here's one — is that it provides an opportunity to make connections you likely wouldn't make otherwise.
Case in point: Carissa Hills, a USANA Associate and good friend of social media (who's won a USANA social media contest or two in her day), recently messaged me on Facebook about one of her longtime friends.
Jessica Lamoureaux Barnard, a professional fitness model whom Carissa introduced to USANA a little over a year ago, recently was featured in Muscle & Fitness Hers magazine.
"It was so amazing to prove to myself that I could stick with a rigorous fitness routine," Jessica says of her fitness competition experiences. "Now, fitness is just a way of life for me. Preparing for competitions adds a new layer of fitness devotion, and right now I am just happy being active and healthy."
Carissa posted an outstanding blog about the busy mother of three — whose children are ages 5, 4, and 2 — and put us in touch with Jessica so we could share her story with What's Up, USANA? readers as well.
WHAT'S UP USANA: What is the most rewarding part of being a fitness model? Most challenging?
JESSICA LAMOUREAUX BARNARD: For me, fitness is just a way of life. I feel blessed that I have reached a level of fitness where I can perhaps inspire others, especially moms! The most challenging part of being a fitness model is being a mom. As moms, we put our families first, and so I have to find tricks to make my fitness a little easier. Much of that comes with my meal preparation. I mass produce my food! I love taking ground turkey meat, adding a little teriyaki sauce, baking it in a little cupcake pan for about 17 minutes. (Doesn't everything taste better in a cupcake pan!) This way, I always have lean protein I can easily access in my refrigerator. Throw the turkey meatballs on a bed of baby arugula or make a hummus wrap, and you have a quick, healthy, delicious meal!
WUU: Health and nutrition is obviously important to you. What motivates you to lead such a healthy lifestyle?
JESSICA: I want to have a lot of energy to take care of my 3 kids. They are all under the age of 5! Plus, a good diet and exercise is the fountain of youth! I can tell when someone leads a healthy lifestyle. Healthy is beautiful!
WUU: Any tips for busy moms such as yourself to ensure their kids develop healthy eating/exercise habits?
JESSICA: As a family, we love to enjoy the outdoors whether it be hiking, swimming, or bike riding. These are great activities that get us all moving, and the kids enjoy them! Also, with every meal, I make sure my kids have protein and veggies along with their carbs. I have to find what veggies each one likes and I always have them on hand. My little girls love raw, red peppers and carrots and broccoli. My son loves sugar snap peas, cooked carrots, and broccoli. We also make these yummy "green" smoothies with our blender. We put the nutrient rich kale, baby carrots, Greek yogurt, mixed in with frozen strawberries, blueberries, etc! and it is usually sweet enough for them to enjoy. It's OK to disguise veggies in smoothies with a little fruit. But, we try not to use too much fruit. Fruit naturally contains more sugar.
WUU: How did you first get introduced to USANA and what made you decide nutritional supplements were important not only for you but also your family?
JESSICA: One of my best friends, Carissa Hills, introduced me to USANA's products. I did my own little test to make sure the supplements (Chelated Mineral, and Mega Antixodant) actually dissolved in a short amount of time. As soon as I received my first shipment I put each supplement in a little vinegar. Vinegar resembles the acid in our stomachs. I knew that if they dissolved my body would be able to absorb them. And, they dissolved! So, I kept on re-ordering them! My kids love the Usanimals. They beg for them, and I have to remind them they can only have two per day!
WUU: What is next for you? Any upcoming competitions or media placements we should keep an eye out for?
JESSICA: For now, I am not preparing for any fitness competitions. I'm taking time to just be with my family and wind down the school year. We are planning for a busy summer!
Photos courtesy of Jessica Lameroueaux Barnard
We're proud to bring you the freshest content on the web! Follow USANA on Twitter, like our USANA Facebook page and enjoy the latest videos on the official USANA YouTube channel.
https://whatsupusana.com/wp-content/uploads/2012/05/Jessica-Barnard-USANA-Featured.jpg
364
640
Tim Haran
http://whatsupusana.com/wp-content/uploads/2019/11/USANA_Logo_Black.png
Tim Haran
2012-05-19 07:57:24
2017-09-11 08:56:01
Busy Mom, Fitness Model, & USANA