Influencer Insider: Kathy Kaehler's Jammin' Journey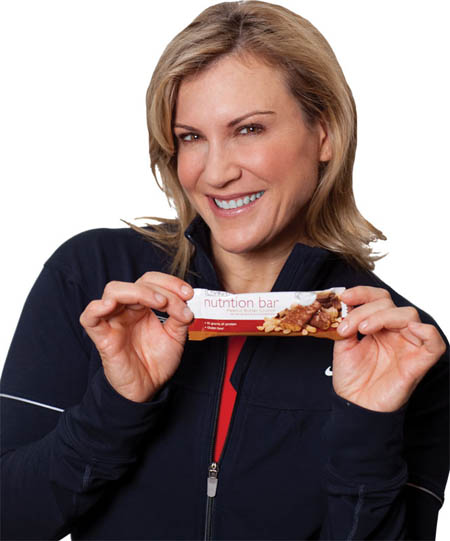 Question: What do Jennifer Aniston, Cindy Crawford, Ellen DeGeneres, Drew Barrymore, Julia Roberts, Barbara Streisand, Claudia Schiffer and Michelle Pfeiffer all have in common?
Answer: KATHY KAEHLER!
USANA's fitness queen is the trainer responsible for many of Hollywood's healthiest bodies.
A Passion for Exercise
Kathy, a USANA spokesperson, has spent her entire life exercising her passion for exercise. She turned it into a career after earning a B.S. degree in physical education at Michigan's Hope College.
She started off in Corporate Fitness and Wellness at Coors. It was one of the first companies in the nation to take on the fitness initiative. Kathy helped create and run the company's program.
From there she took her talents to the Health Club Industry where Jane Fonda caught wind of her expertise.
Fonda hired Kathy to do one-on-one training with her friends in the entertainment business at Laurel Springs Retreat, which is located on the actress's private property. Kathy actually lived at the retreat.
Personal Training Business Takes Off
That venture spawned Kathy's personal training business.
"It was stressful not having a guaranteed paycheck or insurance," she recalls. "I didn't even have business cards in the beginning. My clients came by word of mouth."
Word of Kathy's star-studded results spread through the Hollywood community.
Taking life by the horns, in 1991, Kathy sent an email to the Today Show's Katie Couric. In it she stated how much she liked the show, but was concerned that nothing was ever focused on fitness. To her surprise, Couric actually called Kathy and brought her in for an interview.
The women shared an instant connection and one month later Kathy did her first exercise segment on the Today Show. She sealed the deal and became a weekly contributor to the show. Kathy jump-started every Friday morning with fabulous fitness tips.
A Relatable Figure
Kathy's personal life was blooming as well. She attended the premiere of "Other People's Money" and met Billy Koch, a dashing man in the business of buying and selling racehorses. The two married in 1994. It may surprise you though, that before she met Koch, Kathy dated three A-list Hollywood hunks. Can you guess who? Kathy's lips are sealed.
The nation fell in-love with Kathy in 1996. Pregnant with twins, mothers everywhere related to Kathy's honest experiences of bloating, gaining and losing baby weight.
After those twin boys bounced into Kathy's world, she scaled back her TV appearances on the Today Show to every other week. Three years later she gave birth to her third son.
Kathy spent 14 years activating America on the Today Show. She left shortly after Katie Couric did.
Juggling a Full Plate
But that certainly wasn't the end of her exercise road. Kathy continued her daily celebrity trainings in Los Angeles, wrote seven books and dozens of magazine articles, became the spokesperson for food and exercise companies, appeared on numerous TV shows, and traveled to hundreds of book signings — all while raising three children.
At this time she also moved her family to Las Vegas for a few months to train Julia Roberts during the filming of "Ocean's Eleven." Here's a recent HollywoodLife.com article in which she talks about training Julia for "Mirror Mirror."
Like most over-worked moms, Kathy sometimes wonders how she will ever physically, mentally and emotional accomplish all the things on her very full plate.
"In my head, I only tackle what is right now," she says. "I check that off and then move to the next item."
She considers herself highly organized and that she consciously works on it. She says that is what allows her to stay on track and propel forward.
"You have to prioritize," Kathy advises. "I figure out what must be done in the next hour, what I can do in the next three hours and what must completed before bed."
Kathy admires other busy moms who make exercise a priority. She says a healthy life is all about choices. She loves a good Reuben sandwich, but she chooses not to eat it. Good thing her one sweet craving is proving to be a healthful treat — dark chocolate.
Joining Forces with USANA
In the spring of 2009, another harmonious union took place in Kathy's life — the partnership with USANA Health Sciences.
Kathy says she realized the value in the product. She won't endorse something she does not believe in.
"A lot of product pitches come my way," she says. "To determine if it's something I want to be associated I ask myself: Does the product speak to me? Do I like the way it's put together? The way it looks? Is it realistic and not just a promise? Can I bring it into a celebrity's home? Am I confident to put it on TV? Is it something I feel comfortable talking about, promoting and ultimately endorsing?"
The answer is a resounding "yes" when it comes to USANA.
Her favorite product is Procosa, and as a personal trainer she knows she has to take extra-special care of her joints.
No Slowing Down
Kathy is still going strong. She is writing her eighth book, training celebrities and expanding her Sunday Set-Up program. It's a great way for anyone to stay healthy, not just her celebrity clients.
For more information go to: www.kathykaehler.net and click on the Sunday Set-Up buttons on the home page. Check out previous What's Up, USANA? posts featuring Kathy — including a series of exclusive workout videos.
"You can't sell a lifestyle," Kathy says. "If you have direction and motivation, that's the way to create community."
Be in the know! Follow USANA on Twitter and like our USANA Facebook page for the latest news and notes.
The mentioned celebrity is either a distributor or dedicated user who has received compensation for her partnership and/or complimentary USANA products.
*These statements have not been evaluated by the Food and Drug Administration. This product is not intended to diagnose, treat, cure, or prevent any disease.

https://whatsupusana.com/wp-content/uploads/2012/03/Kathy-Kaehler-Nutrition-Bar-Blog.jpg
541
450
Angie Larsen
http://whatsupusana.com/wp-content/uploads/2019/11/USANA_Logo_Black.png
Angie Larsen
2012-03-22 08:03:34
2017-02-22 16:52:24
Influencer Insider: Kathy Kaehler's Jammin' Journey