4 Tips to Help Athletic Kids Succeed in a Healthy Way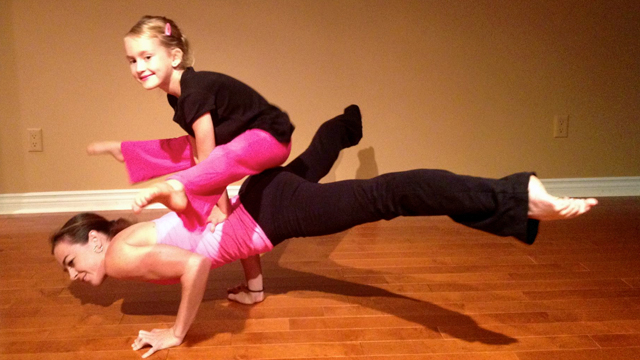 The following is taken from a post written by Kristy Lee Wilson, fitness champion, successful entrepreneur, certified personal trainer, and former Cirque du Soleil star, on her website, www.kristywilson.com.

Kristy recently contributed to the best-selling The Definitive Guide to Youth Athletic Strength, Conditioning and Performance and is also a fitness expert for Dr. Mehmet Oz's ShareCare site. She is a USANA Associate and wrote the following in support of USANA's United for Youth campaign.
The road to raising young athletes today is more often than not filled with hazardous conditions.
As a young athlete myself, I was over-trained, burned out, in constant pain, and developed some extremely unhealthy dietary habits. This is what it took to be an elite athlete. Or so I was told. In fact, if I wasn't in pain this meant I was not training hard enough. If I couldn't handle the pain this meant I was weak. By the time I was 13 years old, I'd had three knee surgeries in the space of a few months and my career was over.
Had I have known how to do things differently I am certain my story would have had a different ending. The good news is things can absolutely be done differently.
It's always so refreshing when I visit places where this is being done, as was the case during a recent visit to London, Ontario, where I met my mini me. My Mini-Me was raised a USANA baby. She is taking a much different path than I took and was taught the right way to do things from the beginning. It goes to show things can be done differently and I am so excited to watch her grow, and succeed, in her chosen sports and do so in a healthy and fun way.
How can we keep kids motivated and help them achieve their sports goals without burning out?
Shift the emphasis from winning at all costs to having fun and playing. Let your child decide what their sports commitments will be. Your job as a parent is to help set healthy limits and realistic expectations. Our ultimate goal is to instill a lifelong love of fitness and sports. Coaches and parents who are able to do this will be the ones who are the real winners.
Choose the right coach for your children. A good coach is critical in helping children develop the skills and abilities they need to excel in their chosen sport. The best coaches are ones who are positive, offer lots of encouragement, emphasize kill development and good sportsmanship, and know how to progress children at the right speed.
Expose your children to a variety of sports and let them choose which sport they love best. A parent, or coach, cannot force a child to succeed as an athlete. Although many try! If you find yourself doing this, take a step back and examine your own reasons for wanting your child to compete in sport.
Keep your comments positive and encouraging. Let your child know that it's not the end of the day if they do not win an important game or meet — this could be their most important lesson.
The habits children create today will have a striking impact on their health throughout adolescence and adulthood. Be sure you're setting a good example. Our ultimate goal is to guide children to a lifelong enjoyment of sports and physical activity.
—————————————-
We're proud to bring you the freshest content on the web! Follow USANA on Twitter, like our USANA Facebook page and enjoy the latest videos on the official USANA YouTube channel.

Learn what USANA is doing to make the world a better place.
Discover what USANA products can do to boost your health by taking this brief online Health Assessment.
https://whatsupusana.com/wp-content/uploads/2012/09/Kristy-and-Miki.jpg
360
640
USANA Health Sciences
http://whatsupusana.com/wp-content/uploads/2019/11/USANA_Logo_Black.png
USANA Health Sciences
2012-10-03 07:53:15
2014-02-26 11:28:39
4 Tips to Help Athletic Kids Succeed in a Healthy Way