Fact or Fiction: There's Not Enough Time to Work Out at Lunch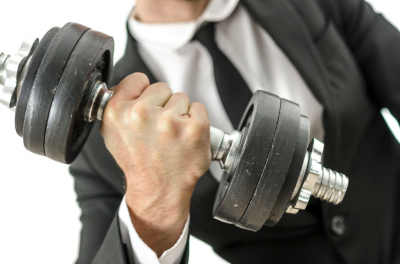 Here at the home office, we are lucky to have a full gym at our disposal. We can easily pop in for a quick jog on the treadmill or lift some weights on our lunch break, but what if you don't have a full setup at your work place and maybe your company isn't quite as health-conscious as USANA is? Turns out, you probably still don't have any excuses for missing that quick lunchtime workout.
You don't have to take our word for it. We asked fitness expert, Sergio Rojas, if it really is possible to fit in a good-quality workout with a limited amount of time and get back to your desk without smelling like your gym bag. Here's what he had to say:
1. How much time is needed to get an effective workout?
Truthfully, a person can get an effective workout in as little as 15 or 20 minutes. With a 3- to 5-minute warm up, then 10 to 15 minutes of full-body exercises, a person can get a great workout that builds lean muscle and also burns fat. If you have more time, getting in 25 to 35 minutes of exercise may provide a little more benefit, especially if you are not able to exercise at higher intensities.
2. Are there certain routines or exercises that provide the maximum benefit in the least amount of time?
Anytime you can do exercises that are full-body, combining strength and cardio, you are going to get the maximum benefit. Depending on your fitness level and experience, you can add high-impact and explosive exercises for maximum benefit, but that is not absolutely necessary, especially for beginners to intermediate exercisers. Anyone can do some squats, overhead presses, lunges, and curls, which all work the entire body and get your heart rate elevated at any fitness level, giving you the best results in the least amount of time.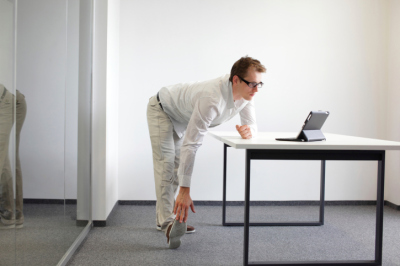 3. Assuming I have one hour for lunch, what tips do you have that will maximize my workout—taking into account that I'll probably need to change, exercise, shower and make it back to my desk (hopefully with some lunch) in that time? Is it even possible?
It's absolutely possible to change clothes, work out, shower, eat (or pick up) lunch, and be back at your desk—all within an hour. The most important thing you need to remember for an effective workout is to warm up properly. Start warming up in the office if possible by doing some leg swings, arm rotations, hip rotations, mini-squats, etc. If you walk to the fitness center/gym, walk briskly to add to the warm-up.
I also suggest using an app that will customize the total time of your workout, as well as the intervals and rest periods for each exercise. Most of these apps include a warm-up and cool-down feature, too. This is a great way to stay focused and on track during your workout so you can be done within 20–30 minutes.
4. Are there any benefits or drawbacks to working out in the middle of the day?
I'm a firm believer that anytime you can fit fitness in is a good time. It's more important that a person exercises on a consistent basis, so the time of day is far less important. Everybody has energy peaks at different times of day, so that is something you may want to consider to help you get better results and stick with it; but ultimately, it has to work with your schedule and lifestyle.
I think the huge benefit of exercising during lunch is that it does not extend your time away from home. You don't have to leave the house extremely early or get home super late because you have to hit the gym before or after work.
5. Is there anything else I should know?
A great benefit of exercising during lunch is that most people tend to eat healthier after a workout. So if you've been struggling making healthier choices at lunch, this is the perfect opportunity to get your workouts in and improve your nutrition. A smoothie with protein, carbs, fat and fiber is the perfect post-workout lunch.
SERGIO ROJAS, FAFS, CSCS, CNS
With over 17 years experience as a fitness professional and nutritionist, Sergio Rojas has established himself as a renowned expert in functional movement and cellular nutrition, working with many professional and amateur athletes, professional sports teams, as well as celebrities and top executives. He is the owner of Infinite Motion Fitness; a fitness, nutrition and wellness facility that also manages several corporate fitness sites, and ImFIT Wellness, which provides corporate wellness programs to a variety of businesses and community organizations.
Sergio is a Today Show correspondent, the fitness expert for NBC5 news in Chicago, as well as a regular contributor for Men's Fitness Magazine and several other publications.
Sergio is a certified Fellow of Applied Functional Science and an NG360 Golf Performance Specialist from the Gray Institute, the leaders in movement science, as well as a Certified Strength & Conditioning Specialist, Corrective Exercise Specialist, a Certified Nutrition Specialist and a USANA Fitness Expert.
We're proud to bring you the freshest content on the web! Follow USANA on Twitter, like our USANA Facebook page and enjoy the latest videos on the official USANA YouTube channel.

Learn what USANA is doing to make the world a better place.
The future of personalized health and nutrition is now available with USANA's True Health Assessment.
https://whatsupusana.com/wp-content/uploads/2015/01/Lunchtime-Workout-Featured.jpg
408
725
USANA Health Sciences
http://whatsupusana.com/wp-content/uploads/2019/11/USANA_Logo_Black.png
USANA Health Sciences
2015-01-06 08:00:44
2015-07-02 08:10:57
Fact or Fiction: There's Not Enough Time to Work Out at Lunch