From the USANA Test Kitchen: Celiac-Safe, Gluten-Free Recipes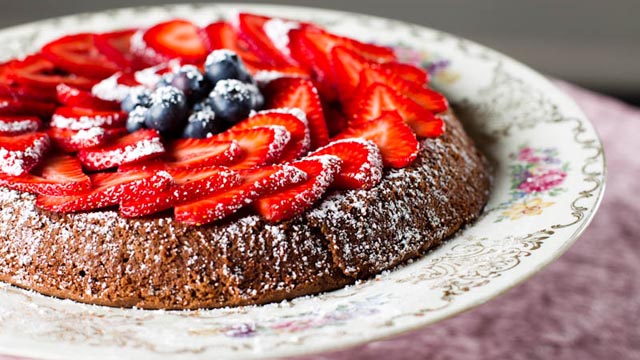 If there's one confession I can make during National Celiac Awareness Month, it's that I honestly haven't taken other people's gluten sensitivities very seriously.
In fact, I've sometimes regarded it as an inconvenience, having once gone to three different grocery stores to hunt for gluten-free hamburger buns for what I originally thought would be a simple cook-out. Gluten intolerance sounds kinda made up, I remember thinking to myself.
After speaking with Dr. Nancy Steely, USANA's in-house naturopathic physician, I felt a little tinge of shame. I realized that my dismissive attitude about Celiac Disease and gluten intolerances was largely the result of being poorly informed.
According to the doctor, those with Celiac Disease experience an immune reaction to gluten (a protein found in wheat, rye, and barley) that causes damage to their small intestine and poor absorption of nutrients. This is in addition to a wide range of seemingly random symptoms, such as muscle cramping, diarrhea or constipation, fatigue, skin rashes, joint pain and so on that can also occur.
Some research has even shown connections between Celiac Disease and autism, depression, ADHD and other concerns. In Dr. Steely's case, she suffered neurological symptoms associated with CD that went away a month after she was diagnosed and stopped eating gluten.
A Complex Condition
But why are the symptoms so varied? Dr. Steely explained it's because Celiac Disease is an auto-immune condition in which your body attacks your own cells, so how it manifests in each person is different. That's also why it's often misdiagnosed.
In fact, according to the National Foundation for Celiac Awareness, people usually go 6-10 years before they're correctly diagnosed and about 95% of celiacs today are undiagnosed or misdiagnosed with other conditions.
It also explains why it seems like suddenly everyone is gluten intolerant — because in the past, doctors didn't know to test for Celiac Disease and the technology for testing wasn't as advanced.
While it may seem like gluten-free lifestyles are an American fad, you might be surprised to hear that European countries have been addressing gluten intolerance for decades.
For example, in Italy, a country famous for its gluten-laden pastas, children are screened for Celiac Disease by age 6 and Italians of any age are tested for the disease as soon as they show symptoms. WebMD quotes a CD sufferer as saying: "It may be a fad diet, but it's not a fad disease."
That said, a patient diagnosed with Celiac Disease is different from someone who simply has gluten sensitivities, where negative reactions to gluten exist without visible damage to the small intestines. The numbers suggest that about 3 million Americans have CD while another 40 million Americans have gluten sensitivities.
"Many people find it difficult to digest gluten, and they simply feel better by eating a gluten-free diet," explains Dr. Steely.
However, because of the lack of understanding about gluten intolerance, celiacs and people with gluten sensitivities will simply tell people they are allergic to gluten, since allergies are an easier concept to understand. But Celiac Disease isn't by definition an allergy. It's a chronic illness.
When asked if there was one thing she wanted readers to take away from this blog post, Dr. Steely said: "If you have a chronic health condition that doctors cannot seem to diagnose, get tested for Celiac Disease. It's better to rule it out than suffer longer than you need to."
Gluten-Free Recipes
Below the doctor shares her favorite Frozen Tropical Chocolate Smoothie, while I've prepared a USANA Gluten-Free Chocolate Cake made with pureed garbanzo beans (everyone here loved it!). It was inspired by USANA's in-house nutritionist and senior scientist, John Bosse, who is a big fan of bean cakes and brownies because of the extra protein they provide.
Taste these dishes and let us know what you think!
Frozen Tropical Chocolate Smoothie
Courtesy Dr. Nancy Steely
Ingredients
2 scoops Chocolate Whey Nutrimeal
1 banana
1 cup coconut milk
1/2 cup water
1 cup ice
Preparation
Blend all ingredients at high speed until creamy.
USANA Gluten-Free Chocolate Cake
Ingredients
1-1/2 cups semisweet chocolate or carob chips
2 cups cooked garbanzo beans (rinse and drain, if using canned)
4 eggs or equivalent egg white substitute
2/3 cup ultra-fine cane sugar or low-glycemic equivalent, such as Stevia for Baking
1/2 tsp baking powder
2 Tbs Chocolate Whey Nutrimeal
1/2 Tbs Fibergy Plus
1 cup sliced fresh strawberries or preferred fruit
(optional) 1 Tbs confectioners' sugar for dusting
Preparation
Preheat the oven to 350 degrees F. Grease a 9-inch cake pan.
Melt the chocolate chips in a double boiler or in the microwave on medium, stirring frequently.
Combine the beans and eggs in a blender or food processor; process until smooth.
In a large bowl, combine bean mash, sugar, baking powder, Nutrimeal and Fibergy Plus; whisk until thoroughly combined.
Stir in the melted chocolate and blend until smooth, scraping down the corners to make sure chocolate is completely mixed. Transfer the batter to the prepared cake pan.
Bake for 35 minutes in the preheated oven or until toothpick inserted into the center of the cake comes out clean.
Cool for 10 minutes before inverting onto a serving plate; cover with desired fruit and dust with confectioners' sugar, if desired, just before serving.
Your Turn
Are you living with gluten intolerance or have a loved one who eats gluten-free? What are some recipes that you love to prepare?
Eating well is an important part of being healthy. From the USANA Test Kitchen is a monthly column offering useful nutrition tips, as well as delicious, healthy recipes that use USANA products in creative ways.
We're proud to bring you the freshest content on the web! Follow USANA on Twitter, like our USANA Facebook page and enjoy the latest videos on the official USANA YouTube channel.

Learn what USANA is doing to make the world a better place.
The future of personalized health and nutrition is now available with USANA's True Health Assessment.
https://whatsupusana.com/wp-content/uploads/2012/05/USANA-Test-Kitchen-Gluten-Free-Chocolate-Cake-2.jpg
360
640
Diana Yin
http://whatsupusana.com/wp-content/uploads/2019/11/USANA_Logo_Black.png
Diana Yin
2012-05-11 07:42:38
2014-04-24 17:01:43
From the USANA Test Kitchen: Celiac-Safe, Gluten-Free Recipes