Over the last 19 weeks, we've highlighted many of the individuals, groups, organizations, and products that have helped build USANA into the company it is today.
And now, we conclude the USANA @ 20 series by recognizing the most important element: You.
It's not a secret; it's a well-known fact. USANA Health Sciences' success over the last 20 years has been due in large part to our hard-working, health-conscious, and results-driven team of Independent Associates and Preferred Customers.
That's it. Employees in 18 markets worldwide — from customer service representatives to researchers and developers to shipping and manufacturing personnel and more — understand they wouldn't be able to do what they do without you.
You are changing lives. You are helping promote Dr. Wentz' vision of a world free from pain and suffering. You are, as Dr. Wentz says, helping to make the USANA Family the healthiest family on earth.
Tested. Proven. We Are USANA.
Celebrating You
Each quarter, we welcome our newest Gold Directors and Million Dollar Club members to the Home Office. Employees gather in the lobby and enthusiastically congratulate the visitors on their achievements.
And each time, our executive management team offers the same reminder to the visitors: This is your office. These are your employees. They work for you.
Sense a theme here?
USANA is more than simply a half-billion dollar corporation. It's a family — a very large family that grows bigger and stronger each day. As employees, we're proud to work for a company whose core values include community, integrity, excellence, and health. We're honored that we have more than 200,000 individuals worldwide who share in our determination to change lives.
We're well aware we couldn't do it without you. In a sentence, and to paraphrase Canadian singer Bryan Adams, everything we do, we do it for you.
Thank you.
According to…
"We are nothing without our Associates! Their vision and passion are what make USANA great. Our Associates and Preferred Customers are our company's voice to the world and our reason to continually strive to be the best in our field. Together, I know we can accomplish big things."
— Dave Wentz, USANA CEO
You Might Not Know…
When thousands of Associates and Preferred Customers gather in Salt Lake City this week for our annual "family reunion" — also known as the 2012 USANA International Convention — we will be celebrating a milestone. In 2012, we'll have more million-dollar earners in the company than we had people attend the first USANA International Convention. That's a lot of changed lives.
It Happened in '11…
In an effort to help protect families from hidden household dangers, Dave Wentz and Dr. Wentz authored the best-selling The Healthy Home. Released in March 2011, the practical guide filled with tips to help keep families safe from toxins, climbs several best-sellers lists and in May hits No. 2 on the prestigious New York Times list in the "Advice, How-to and Miscellaneous" category.
——————–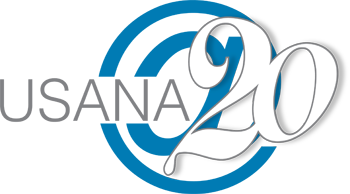 About the Series: We're celebrating USANA's 20th anniversary with USANA @ 20, a series featuring difference-makers — not only individuals, but departments, products, and more — who have had a significant impact on USANA and are poised to propel us into the future. We hope you enjoy learning more about just a few of the reasons USANA is, and will continue to be, a world-class company. To learn more about this series and to read previous installments, please visit USANA @ 20.
https://whatsupusana.com/wp-content/uploads/2012/08/USANA-20-You-Featured.jpg
360
640
Tim Haran
http://whatsupusana.com/wp-content/uploads/2019/11/USANA_Logo_Black.png
Tim Haran
2012-08-13 07:07:44
2017-09-11 08:50:27
USANA @ 20: YOU!