Weight-Loss Success Story: One Man's Journey to the Finish Line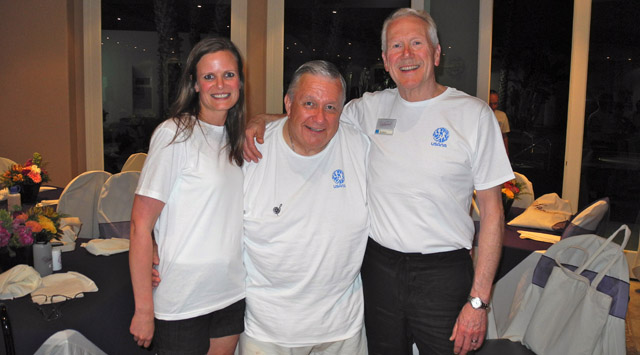 As most of you know by now, I was the lucky writer who was sent to Sanoviv to cover the RESET™ Challenge grand prize winners' stay at the exclusive medical institute.
While there, I met Dennis Smith, one of the winners in the overall weight loss category. He was one of the most lovable, genuine people I'd come across in a long time. And believe me, I know that if any of the other RESET Challenge winners are reading this, they'd totally agree with me.
During my interview with Dennis, he confessed that he had struggled with weight his entire life. At age 65, he realized that every diet he'd ever tried had always led to temporary results. He'd even had gastric band surgery back in the '80s, losing more than 150 pounds, only to gain all the weight back.
It wasn't until Dennis' friend Bob — an Associate in his USANA upline — convinced him to join the Destination Transformation challenge that he finally started seeing results.
"When I was getting started, Bob told me 'you have to set a goal,'" Dennis said. "Not knowing what to say, I started with 40 pounds. The weight shed so quickly, and I reached that within five weeks. So then I upped my goal to 80 pounds, thinking it would never happen."
Fortunately, Dennis was wrong. At the end of the Challenge, he'd lost almost 81 pounds! Taking second place in the total pounds lost category of the Challenge, he'd won the grand prize trip to Sanoviv.
Meeting Bob
After speaking with Dennis, I had a long day of interviews that eventually brought me to Robert Moore and Amy Pederson — a nice couple from Minnesota who'd won in the partners category by losing a combined 111 pounds. Their story was just as inspiring as the others, and I was happy to be able to speak with them.
As the interview came to a close, I asked Robert if there was anything I hadn't asked him about his weight-loss journey that he wanted people to know. Suddenly, I saw the tears in his eyes. Both his and Amy's emotions ran high as they explained how proud they were of their good friend Dennis who'd lost more than 80 pounds.
[youtube]http://www.youtube.com/watch?v=C8-BK9I8hY8[/youtube]
If you're unable to view the video, please visit the USANA YouTube channel
Robert told me that Dennis was ready to get help with his weight, so he pushed him to join the Challenge. And because Dennis had no access to a computer of his own, Robert would call him every Sunday night to record his weight-loss numbers for the week and to discuss ways to continue his progress.
I was completely stunned. This was Bob. The Bob that Dennis had told me about earlier in the day — the one who helped him stay on track throughout the Challenge.
I had no idea there was even a connection between Dennis, Robert and Amy. It was so incredible that they'd all made this journey to Sanoviv together! (OK, at this point I may have shed a tear or two myself.)
Friends Continuing the Journey
Of course, once I discovered this connection, I realized that even though the details of their weight-loss journeys were great, the bond that the three of them shared was the real story here.
Robert and Amy were completely invested in Dennis and his future weight loss. Even though he had already shed more than 80 pounds, he had confessed to me that he was ready to start on the next 80 right when he got home. And I knew he'd have the support and guidance of his friends Robert and Amy.
"Throughout this whole thing, I've seen such a dramatic change in Dennis' appearance and his mobility," Robert said. "But most of all, his commitment and attitude about his lifestyle changes have been the most inspiring thing to watch. Amy and I couldn't be any more proud of him."
[youtube]http://www.youtube.com/watch?v=mSuYLM7hzRc[/youtube]
If you're unable to view the video, please visit the USANA YouTube channel
*Individual results may vary. RESET weight-management system lowers your daily caloric intake and recommends moderate exercise for best results. Average results are 4.5 lbs. in five days.
We're proud to bring you the freshest content on the web! Follow USANA on Twitter, like our USANA Facebook page and enjoy the latest videos on the official USANA YouTube channel.

Learn what USANA is doing to make the world a better place.
The future of personalized health and nutrition is now available with USANA's True Health Assessment.
https://whatsupusana.com/wp-content/uploads/2013/05/Dennis-Smith-RESET-Weight-Loss-Success-1-USANA-Blog-Featured.jpg
355
640
Nick Peterson
http://whatsupusana.com/wp-content/uploads/2019/11/USANA_Logo_Black.png
Nick Peterson
2013-05-21 08:00:05
2017-03-10 10:24:18
Weight-Loss Success Story: One Man's Journey to the Finish Line