Chris & Heather Hartridge: Ride for True Health
When Chris and Heather Hartridge hop on their bikes and leave their home in Quesnel, British Columbia, today, they'll be starting a journey that will take them through some of the most scenic areas of western North America.
But even more than that, the avid cyclists hope the 2,250-kilometer, 48-stop, 54-day tour will inspire others to truly live life to the fullest.
"The physical act of cycling is a non-impact activity that our bodies naturally love," says Chris, 60. "To feel the body adapt over time to the long, slow, physical nature of the tour is quite addictive."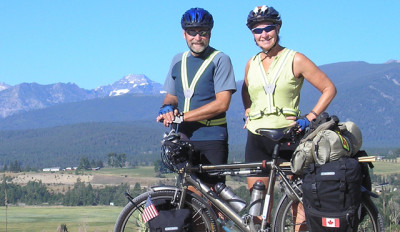 He calls it "meditation on two wheels." And this tour has an even greater purpose.
Chris and his wife, Heather, are cycling to raise money and awareness for the USANA True Health Foundation, an organization whose mission is to provide the most critical human necessities — nutrition, clothing, shelter, medical assistance, and health education — to those who are suffering or in need.
The couple has a deep appreciation for Sanoviv Medical Institute, which offers alternative, holistic and integrative health programs. One facet of the USANA True Health Foundation is the Sanoviv Medical Assistance Program, which strives to provide aid for people in need who could not otherwise afford to experience Sanoviv.
"A contribution supporting this program is truly a gift of life," Chris says.
The USANA Silver Directors and members of Team Vitality are planning to leave Kamloops, British Columbia today and they expect to arrive in Salt Lake City in mid-August. Part of the couple's upcoming retirement plans includes extended tours in North America and countries overseas.
"Everything working, enhanced senses, being close to nature, breathing fresh air and the motivation that comes with meeting every day's new adventure," Chris says. "It is a continual and ever-changing landscape of new horizons that one has plenty of time to ponder as you travel through."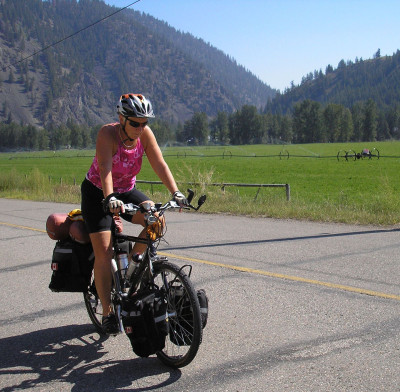 The trip will include a ride through the Okanagan Valley as they leave Canada south of Christina Lake. The couple will cross the Continental Divide at the top of the Lost Trail Pass and ride the high desert of Western Montana south toward Yellowstone National Park. Thy will ride past the Grand Tetons near Jackson, Wyo., and ultimately head south toward Utah's Wasatch National Forest.
The 2,250-kilometer ride, which translates into about 1,400 miles, will culminate in downtown Salt Lake City in time for the 2013 USANA International Convention.
The theme for this year's convention is "Live It!" and for Chris and Heather, cycling embodies living life to the fullest.
"We've been cycle touring since 2005 and we generally choose large circle routes that can last up to two months," Chris says. "Since we started attending the USANA International Convention we have talked about cycling rather than flying as a means to get there. We openly promote cycle touring as a healthy alternative method of travel both for the environment and for our bodies."
The efforts are in line with the overall mission of their USANA organization.
"Heather and Chris are an inspiration to all the members of Team Vitality," says Laura Kalina, a USANA Ruby Director. "As a team, we are so active. Heather and Chris exemplify our team because they are building the business within their passion for fitness."
The Hartridges emphasize that this tour isn't a race, and as such the cyclists plan to take plenty of time to enjoy the splendor of the journey.
After all, cycling is how Chris and Heather prefer to love life and live it.
[youtube]http://www.youtube.com/watch?v=KnVOHsQ9gRM[/youtube]
Ride for True Health
What: a 2,250-km (1,400-mile) bike ride from Kamloops, British Columbia, to Salt Lake City in about 54 days.
When: June 23-Aug. 14, 2013
Why: To raise money and awareness for the USANA True Health Foundation. Here's how to donate.
Follow Along: Chris and Heather will be blogging about their journey on their Ride for True Health blog. They also would love to meet people along the way, so be sure to look for them coming through your town!
Up for the Challenge?
Embarking on an extended cycling tour can be exhilarating (and great exercise). But make sure you've done your homework and are prepared before you start pedaling on the open road.
Chris offers some advice for those who may want to create their own version of a Ride for True Health:
Set a Goal: Make sure you know why you're doing it.
Educate Yourself: Research various types of touring bikes and invest in one that is comfortable for you. Learn a few basics about the bike and be sure you know how to change a flat tire.
Start Slowly: Build up your mileage and time "in the saddle" by starting in your own backyard and then taking short day trips.
Be Prepared: Compile a list of the essentials — sunscreen, water, food, a tire repair kit, some basic tools and clothing to suit the weather.
Extend Your Rides: On a multi-day trip, make plans to stay at a nearby campground, motel or even a bed and breakfast.
The More You Know: Plenty of online resources are available to help you plan your trip. The Adventure Cycling Association in Missoula, Mont., is one Chris recommends.
We wish Chris and Heather the best on their trip and thank them for helping support the USANA True Health Foundation.
Be sure to keep an eye on their blog — as well as on USANA's social media (Facebook and Twitter) — for updates on their remarkable adventure.
[wp-imageflow2]
We're proud to bring you the freshest content on the web! Follow USANA on Twitter, like our USANA Facebook page and enjoy the latest videos on the official USANA YouTube channel.

Learn what USANA is doing to make the world a better place.
The future of personalized health and nutrition is now available with USANA's True Health Assessment.
View Tim Haran's profile
https://whatsupusana.com/wp-content/uploads/2013/06/USANA-Ride-for-True-Health-Featured.jpg
372
640
Tim Haran
http://whatsupusana.com/wp-content/uploads/2019/11/USANA_Logo_Black.png
Tim Haran
2013-06-23 08:00:44
2017-09-11 08:40:27
Chris & Heather Hartridge: Ride for True Health