Nancy Drew Inspires Teen Health
Nancy Drew, international bikini model and fitness expert, is passionate about making a difference. Instead of focusing on her own accomplishments, she chooses to use her successes to help others.
Just recently, she taught several "at-risk" teenagers at a high school in California the basics of nutrition and exercise. Her goal? Motivate these youngsters into choosing healthy habits now to help create a better future for themselves and their families.
What Nancy discovered was something she had never dreamed. Most of these children didn't have the means to eat properly. Many were starving most of the day and found it difficult to concentrate at school.
But the most shocking fact of all was that the teens seemed to lack anyone who cared about them.
So, Nancy asked USANA to step in and help these underprivileged youth by providing them with a 30-day supply of Essentials™, Nutrimeal™ meal-replacement shakes, and Protein Snacks. Neither Nancy nor USANA anticipated the impact their actions would have on these students.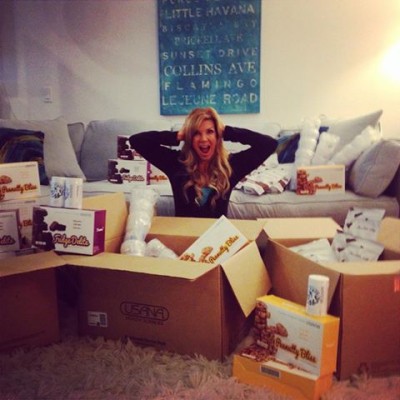 "The supplements give me a lot of energy. I take the shake each morning and love the taste and how it fills me up until lunch. Before, I was starving and never feeling full. Now after having the shake, I feel full, and it gives me lots of energy! Thank you!" — Antonio

"After my run, I'm exhausted, but then I have a USANA Nutrimeal™ shake. Afterward, I feel reenergized, and I have so much energy; I can't believe it! I've lost 2.5 pounds in a week and a half. I don't have cravings for candy anymore. Thank you! I love USANA!!" — Jamie

"Every morning, I have a USANA Fudge Delite. It keeps me fuller than the cereal or fish crackers I had before. I was so hungry, had no energy, and couldn't concentrate, but now I'm full until lunch and have so much more energy! It's my favorite thing to eat!" — Anecia
Just recently, Nancy participated in an award celebration honoring the achievements each student made to become more healthy. Sadly, only one parent of 28 attended, but having Nancy there made all the difference.
"The kids gave a very heartfelt speech about how much better they feel when they work towards being healthy," Nancy says. "They even gave me an award for having a positive impact on their lives and helping them grow into healthier, better people."
Nancy plans to continue working with even more at-risk youth in the future.
*These statements have not been evaluated by the Food and Drug Administration. This product is not intended to diagnose, treat, cure, or prevent any disease.

We're proud to bring you the freshest content on the web! Follow USANA on Twitter, like our USANA Facebook page and enjoy the latest videos on the official USANA YouTube channel.

Learn what USANA is doing to make the world a better place.
The future of personalized health and nutrition is now available with USANA's True Health Assessment.
https://whatsupusana.com/wp-content/uploads/2014/06/photo11.jpg
418
743
Misty Dangel
http://whatsupusana.com/wp-content/uploads/2019/11/USANA_Logo_Black.png
Misty Dangel
2014-06-17 07:30:53
2017-02-22 12:56:55
Nancy Drew Inspires Teen Health