Challenge, Growth, Inspiration: USANA Associate Shines in Bikini Competition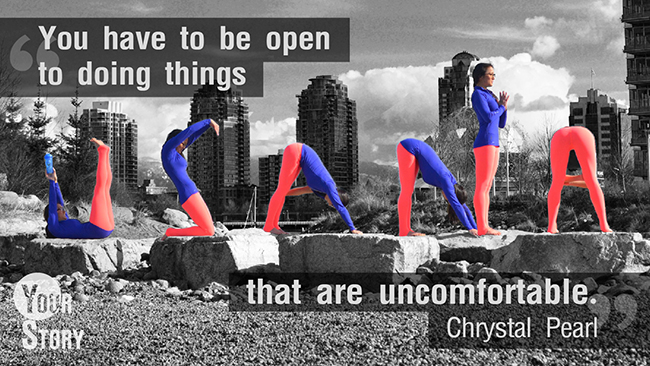 The thought of standing in front of a panel of judges wearing nothing but a bikini is some people's worst nightmare. USANA Associate Chrystal Pearl* saw it as a challenge, and it was one she was willing to face. The event? The 2014 Sandra Wickham Fall Classic.
The Challenge
Chrystal has never shied away from difficultly, and when it comes to health and fitness, she is an extraordinary example. As a yoga teacher and USANA Associate, she has fitness and health constantly on her mind. But when her good friend—and fellow USANA Associate—Steve Yu strongly encouraged her to look into the competition, she couldn't imagine doing it.
"Everything was new to me. I had never lifted heavy weights consistently at the gym in my life, and I had only really started exercising on a consistent basis starting in 2011. People I had grown up with were shocked when I started exercising regularly, shocked when I went for my yoga training, and when I committed to this competition, I was even shocked at myself," she laughs.
Despite her initial hesitations, Chrystal believes in the importance of never letting yourself get too comfortable, and along with the encouragement of others, Chrystal signed up for the challenge.
"Sometimes the greatest journeys and growth in life happen because someone else believes in you."
Always Improving
A bikini competition isn't something you just decide to do. For nearly 18 weeks prior to the November event, Chrystal spent hours working and toning her body, in addition to having extremely strict meal plans.
"I did weight training five days a week for 90 minutes, eventually going to up to seven days a week for two to three hours a day," she recalls. Chrystal was exhausted every day, but she never gave up. "I would come home from the gym, clean up, and crash on my bed in exhaustion."
After nearly four months of training, the day of the Sandra Wickham Fall Classic arrived, and Chrystal was ready. More than 420 athletes competed in various categories, and Chrystal competed against 187 in her category. The competition was fierce, but out of 21 other women in her height class, Chrystal placed seventh.
"I was so close to the top five which would have qualified me for the provincial level," she says. "But being totally new to the competition, I am extremely proud of my accomplishment," she says.
Inspiring Others
In the weeks since the competition, Chrystal has had a chance to reflect on the entire process, and while she isn't currently training for a competition, she knows she is capable of doing it.
"The plan I followed for the competition did not stop after the competition ended," she says. "Everything I did for the competition has become part of my life, and I hope others can see it is possible to make changes in their lifestyle, too."
Chrystal knows the power of believing in yourself, and she does it every day as a USANA Associate. "USANA has helped me develop a number of business skills and confidence in myself. Never in my life did I think I would be able to stand in front of a group and present, but I do it every week giving USANA presentations. I used to be incredibly timid and shy, but thanks to USANA, I am no longer that person."
For Chrystal, The Sandra Wickham Fall Classic was more than just a competition—it taught her the importance of setting a goal that seems impossible and then completing it.
"You have to be open to doing things that are uncomfortable," she says. "I share my experience in hopes of giving others inspiration and motivation to act upon whatever it is they want to accomplish in their lives. I want others to believe in themselves. I did, and I did it."
*Chrystal is a USANA Silver Director and Social Media Ambassador from Vancouver, BC.
We're proud to bring you the freshest content on the web! Follow USANA on Twitter, like our USANA Facebook page and enjoy the latest videos on the official USANA YouTube channel.

Learn what USANA is doing to make the world a better place.
The future of personalized health and nutrition is now available with USANA's True Health Assessment.
https://whatsupusana.com/wp-content/uploads/2015/01/Pearl-Feat.-Image-01.jpg
366
650
Suzanne Houghton
http://whatsupusana.com/wp-content/uploads/2019/11/USANA_Logo_Black.png
Suzanne Houghton
2015-01-13 08:00:19
2017-02-22 11:13:45
Challenge, Growth, Inspiration: USANA Associate Shines in Bikini Competition