NFL Sports Broadcaster Jenn Brown Talks Weight Loss With USANA's RESET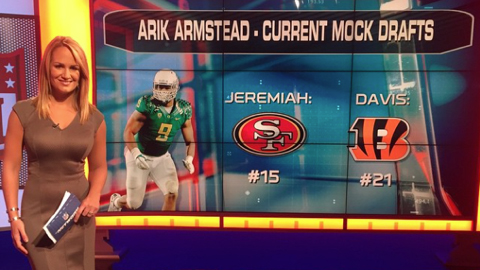 Editor's Note: The following was written by Jenn Brown, two-time Emmy Award-winning sports broadcaster and TV host. For more, check out her Facebook Q&A.

I have always considered myself a healthy person. I try to eat healthy and exercise regularly.
When I got pregnant last year, my goal was to keep with my "healthy lifestyle" ways and I did a pretty good job. I worked out a couple times a week and only succumbed to those pregnancy cravings of cheese grits or cookies every once in a while…ok maybe a little more than once in a while. 🙂
When all was said and done, I ended up gaining 35 pounds.
I have to say I was surprised that after Nash was born, I didn't drop right back down to my pre-baby weight quickly. I was breastfeeding which certainly helps burn calories and I was back in the gym and eating pretty healthy, but the weight wasn't coming off like I wanted it to.
It seemed like no matter what I did, I couldn't get the last 15 pounds to go away.
At this point I was back at work for NFL and although I knew I had come a long way in getting back in shape, I still didn't feel my best. My clothes didn't fit the way I
wanted them too, I was self conscious of the little belly I still had and the way it looked on camera.
And when you don't feel your best, it can definitely affect your confidence on camera.
That is when a friend of mine told me about USANA's RESET weight-management program. She was doing the program and had one of her shakes at my house and offered a taste. It was so yummy…think Vanilla Milkshake! Well, after she let me try her Peanutty Bliss bar, I was hooked.
I started the program at the beginning of April. The Jumpstart Phase was surprisingly easy. I thought it might be tough to replace each meal with a shake, but not only do they taste good, but they are incredibly filling.
My favorite flavor of the shakes is Strawberry but I like that you get Vanilla and Chocolate for variety too. The first week I lost 2 pounds! It was such a rewarding feeling stepping on the scale and seeing the number go down—talk about the perfect motivation to keep going.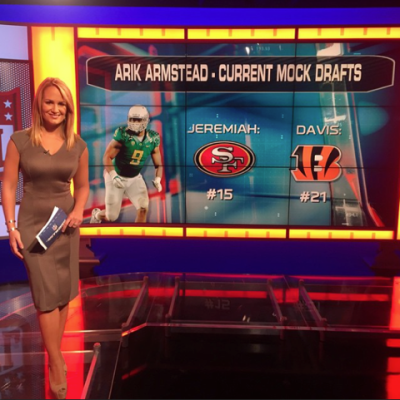 I went right into the Transform Phase, which I am still currently doing. I was happy to get back in the gym and it was also nice to start incorporating a healthy low-glycemic meal each day. I usually chose dinner and would cook fish or chicken with steamed veggies for me and the hubby.
It was fun coming up with healthy new recipes to try. Halfway through the program I lost 5 pounds and at this point I've lost 9 pounds total!*
I've got a few more weeks left, but I am so happy with my results so far! The summer is almost here and I can't wait to head to the beach with my son!
Jenn Brown is a two-time Emmy Award-winning sports broadcaster. Currently she works as a host for NFL Network, NBC, UFC and Direct TV. This past summer you saw Jenn on the sidelines of NBC's hit primetime summer show, American Ninja Warrior. In addition to her studio duties at NFL Network, Jenn also hosts a weekly show for the UFC called UFC Now and is a reporter for Direct TV's Big Knockout Boxing.   
Prior to working with NFL Network, Brown spent 8 years as a reporter and host for ESPN. She spent 3 years reporting from the college football sidelines on ESPN's Thursday Night Primetime Game along with ABC and ESPN's Saturday Noon Package. She also served as a reporter for the College World Series, Little League World Series, Summer and Winter X Games, the NFL Draft, National Signing Day and the ESPYS. Jenn was a Los Angeles based Bureau reporter for ESPN contributing interviews and reports for ESPN's news-gathering operation for SportsCenter, College GameDay and College  Football Live. She also co-hosted ESPNU's popular college football show RoadTrip which covered the biggest college football and basketball rivalry games throughout the year.
*Individual results may vary. RESET weight-management program lowers your daily caloric intake and recommends moderate exercise for best results. Typical results are 4.5 lb. in 5 days. It is suggested that you take these products to your physician and secure his/her advice if you intend to change your diet, begin an exercise program, are pregnant or lactating, have allergies, are taking medications, or are under the care of a physician.
Children under the age of 18 should not participate in the RESET program, except on the advice of their physician and/or dietician.
*The mentioned celebrity is either a distributor or dedicated user who has received compensation for her partnership and/or complimentary USANA products.
We're proud to bring you the freshest content on the web! Follow USANA on Twitter, like our USANA Facebook page and enjoy the latest videos on the official USANA YouTube channel.

Learn what USANA is doing to make the world a better place.
The future of personalized health and nutrition is now available with USANA's True Health Assessment.
https://whatsupusana.com/wp-content/uploads/2015/06/featured-jenn-brown.jpg
270
480
USANA Health Sciences
http://whatsupusana.com/wp-content/uploads/2019/11/USANA_Logo_Black.png
USANA Health Sciences
2015-05-21 04:00:10
2015-09-29 09:39:51
NFL Sports Broadcaster Jenn Brown Talks Weight Loss With USANA's RESET