Guess What? I Got to Try the New MySmartFoods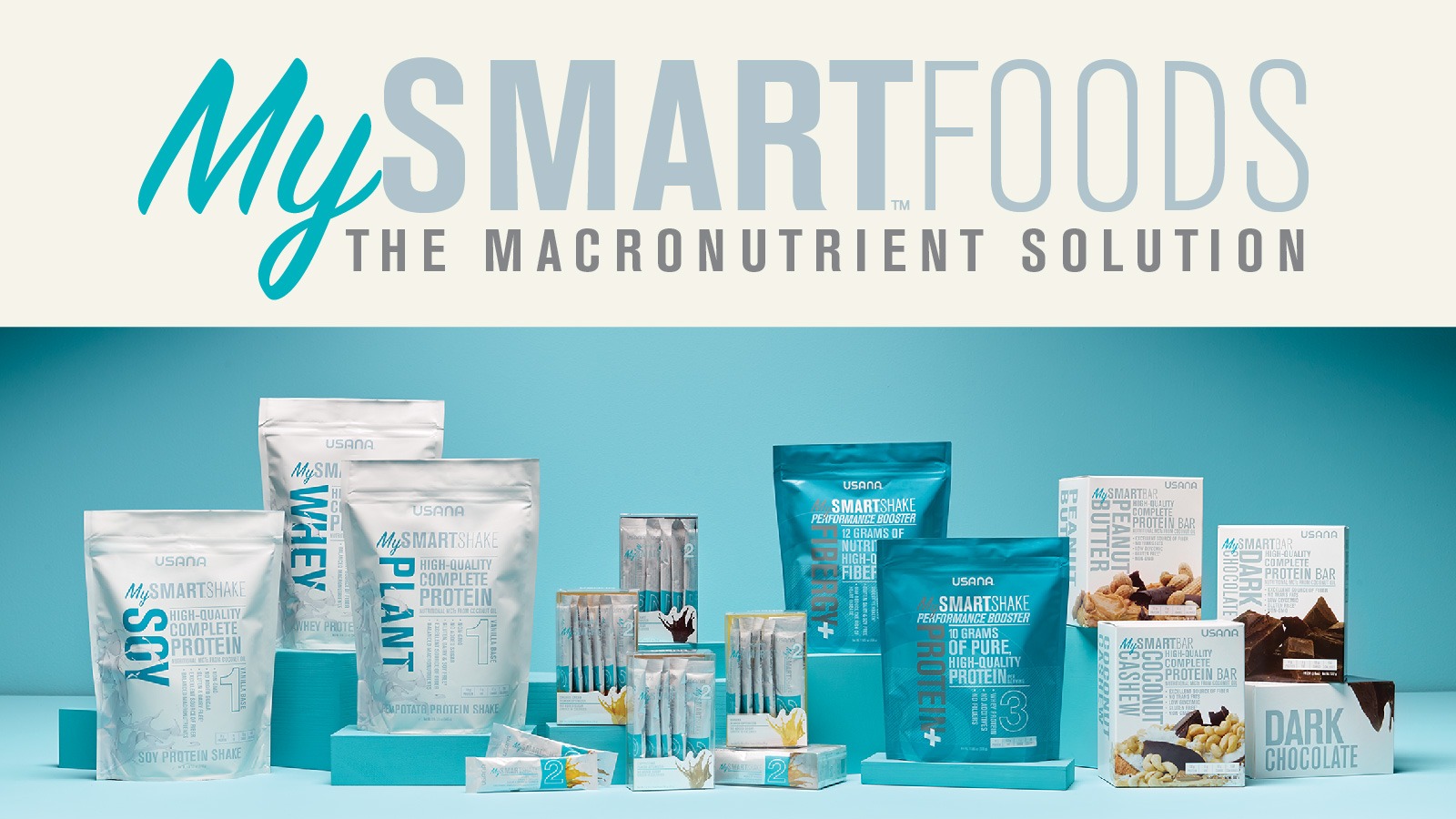 Editor's note: This story was written by a USANA employee who was granted special access to our new MySmartFoods line of protein shakes and bars. He tailored the current RESET Challenge to work with MySmartFoods. We hope you're excited to try them for yourself once they're officially launched in mid-April!
If you're like me, the official end of the holiday season is the final whistle at the Super Bowl. For two months, I've shoveled any and all food and drink down my gullet with no concern for family or friends.
That's why after two months of waking up pickled, bloated and exhausted, I knew I needed to take on the Jumpstart Phase of USANA's RESET Challenge—five days of our new MySmart™Foods, nonstop water drinking, and a lot of walking—and use it to kick-start a healthier lifestyle.
How Hard Could It Be?
Day one started with my first MySmart Protein Shake Base. I went with the plant base with the Cappuccino Flavor Optimizer. Two scoops and a flavoring packet went into my shaker and I went to work. I gave it a pretty good shake, topped it off with a little more water and chugged it down.
Not bad.
It tasted a lot better than the protein shakes I've had in the past and the Cappuccino Flavor Optimizer had a really satisfying coffee taste. The thicker consistency made me feel fuller and best of all, it didn't have a gross aftertaste. Too often, my diets fail because the meal substitution has too foreign of a flavor for me, but the shake actually tasted like breakfast.
Now, let's be honest—it's no bacon and eggs, but with only 250 calories, I felt a lot lighter heading into work.
I was surprised the shake held me over until 10:30, which was perfect because that's when I got my first diet treat. The Coconut Cashew MySmart™Bars aren't just 140 calories—these things are tasty! I don't eat a lot of sweets, but I really liked the texture of the shredded coconut and the rich, decadent chocolate flavor. It's almost like a candy bar.
Between the shake and the bar, I easily made it to lunch without any slipups.
For lunch, I powered down another shake and had an apple. I held strong, but I'd be lying if I said by the end of the day I wasn't ready for something a little more substantial. To offset my desire to eat an entire pot roast when I got home, I drank a lot of water and took the dogs on a long walk.
The water was to keep me hydrated and the walk was to keep me away from my refrigerator filled with beer and frozen burritos. I kept the walk to residential areas, far away from taco carts, but I found that I was limping toward my evening meal with a bit of a headache and a rumbling stomach.
Nobody said changing your ways was easy.
For dinner, I had a bowl of kale with lemon juice the size of a thoroughbred's feedbag and my last shake. Since I usually like to have three to four post-dinner snacks before bed, I cut out the middleman and hit the rack early.
I slept like the dead—I might have wanted more to eat, but I woke up in the morning feeling strangely good.
Day One Complete
Day two was a repeat of the first day, but I had my first hiccup on the third day. Our department went out for lunch and my willpower collapsed. I ended up eating chicken and broccoli for lunch with my teammates.
A momentary setback, but I didn't take it as a defeat. In fact, it was kind of a personal victory. In the past, I would have ordered the biggest, heaviest bowl of creamy pasta and washed it down with a gallon of soda pop. Ordering a lighter entrée felt like I was mentally making some positive changes with my food choices.
By day four, my dogs were accustomed to the rattlesnake shake of my morning meal and the lack of sizzling ham in the frying pan. Because the shakes only took a moment to prepare, I was actually saving time by substituting a greasy breakfast with a healthy alternative.
In the End…
With the exception of wanting a hearty meal for dinner, using MySmartFoods was working for me. And in the end, I was happy with the results.
I lost 11 pounds and walked around the globe twice (actually, 31 miles in five days).*
More importantly, the day after the challenge didn't mean I ate a mountain of flapjacks for breakfast. I just had my morning shake and celebrated with a moderate lunch and dinner.
Changing your lifestyle is difficult, and doing the RESET Challenge alone is a herculean task. Get a friend if you want to take some of the sting out of the challenge. Trust me, you'll want somebody to commiserate with and to keep you honest.
In the end, it's about making small changes. I'm sure I'll screw up my diet from time to time, but using MySmart Protein Shake Base first thing in the morning gave me the confidence to make better food decisions throughout the day. It's given me the motivation to get back into the gym and to start losing some serious weight.
I'm sure my dogs are happy the RESET Challenge is over because they did most of those 31 miles with me. I haven't had the heart to tell them that we're going to keep up our evening walks around the neighborhood.
*Individual results may vary. RESET weight-management system lowers your daily caloric intake and recommends moderate exercise for best results. Average results are 4.5 lbs. in five days.
We're proud to bring you the freshest content on the web! Follow USANA on Twitter, like our USANA Facebook page and enjoy the latest videos on the official USANA YouTube channel.

Learn what USANA is doing to make the world a better place.
The future of personalized health and nutrition is now available with USANA's True Health Assessment.
https://whatsupusana.com/wp-content/uploads/2015/08/MySmart-featured-image.jpg
900
1600
Ben Raskin
http://whatsupusana.com/wp-content/uploads/2019/11/USANA_Logo_Black.png
Ben Raskin
2016-02-18 04:00:09
2019-05-22 11:54:07
Guess What? I Got to Try the New MySmartFoods