5 Must-Have Kitchen Gadgets for 2017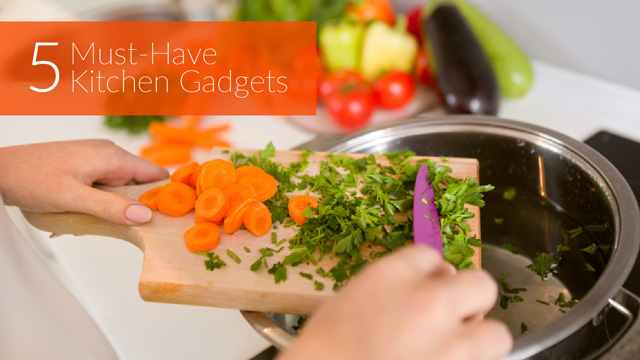 Kitchen Gadgets Make Great Gifts
It's the most wonderful time of the year. The time of year spent with loved ones and giving sweet gifts that blow everyone else's out of the water. But buying the perfect present can be seriously stressful and can make a major dent in your wallet.
If you are scrambling trying to find a gift for that special person in your life that considers themselves a Top Chef, Iron Chef, Food Network Star, or MasterChef, I have five options for you that would make even the hardest people to shop for happy.
KitchenAid® Artisan Stand Mixer ($250-$400)

I tried my best picking out gift ideas that wouldn't break the bank—but sometimes you just have break that piggy bank open and spend that money.
The KitchenAid® Artisan Stand Mixer is the perfect gift for the hardcore baker. It comes with a hefty price—but if you shop smart you can find a good price online. The mixer has a 5-quart stainless steel mixing bowl, 10 speeds, and over 20 different color options.
This mixer is very versatile and is the best you can find on the market. It's so good that I am literally getting my fiancée (sorry ladies) one for Christmas. Hopefully she doesn't read this post…
Hamilton Beach Set & Forget® 6 Qt. Programmable Slow Cooker ($49.99)
Slow-cooker meals are one of my favorite and they are becoming a very trendy cooking style. Using a slow cooker is so easy and you can literally turn it on when you leave for work and have a delicious, tender meal ready for when you get home.
The Hamilton Beach Set & Forget® 6 Qt. Programmable Slow Cooker is a modern, high-tech slow cooker with three different cooking options that allow you to: set the exact cooking time you want, set the exact internal temperature you want your roast or chicken to be, or just traditional low, high, or warm temperature cooking.
This brings modern sophistication to slow cooking while still keeping the ease of use and simplicity that comes with conventional slow cookers.
Javelin PRO Duo Food Thermometer ($49.99)
One cooking tool I never knew I couldn't live without until I got one was a food thermometer. They are a life and dinner saver.
With all the possible diseases lurking in undercooked meat, you always want to make sure you hit the safe internal temperature. But how do you know when it's at a safe temperature? If you don't have a food thermometer you run the risk of overcooking your chicken or salmon to the point where they become dryer than the Sahara.
Food thermometers are also great for checking the temperature of the oil for deep fried food and for candy cooking.
The Javelin PRO Duo food thermometer from Lavatools is like the Tesla of the thermometer world. It's sleek and sexy but intelligent and reliable. It has a huge display screen that can rotate to favor right or left-handers, antimicrobial coating, backlit display, and a battery life of over 4,000 hours. Obviously, there are much cheaper options on the market—but this thermometer is definitely worth the extra few bucks and makes an outstanding stocking stuffer.
Victorinox FIBROX® Pro 8-inch Chef's Knife ($45)
The most important tool for a chef is their knife—the knife is the paintbrush of their culinary masterpieces. Nothing is more frustrating than having a dull knife that can't even slice a dice a banana. That's why buying a knife for the chef in your life is a great gift idea.
The Victorinox FIBROX® Pro 8-inch Chef's Knife is made by the Swiss Army Knife people, so you know you are getting a quality product. This knife doesn't have the huge price tag of $100-$200 like some of its competitors—but slices with the same ease and efficiency. The knife handle has great balance and is ergonomically shaped for comfortable use.
Williams-Sonoma Prep Tools Julienne Peeler ($16.95)
Everyone knows taste is very important when it comes to food—but just as important is presentation. We eat with our eyes first—and if a meal doesn't look good—it most likely won't taste good either.
To Julienne means to cut a food item into long, thin, matchstick-like strips. Doing this as a garnish adds an element of beauty and flair to your dish.
The Williams-Sonoma Prep Tools Julienne Peeler is the best tool for the job when you want to Julienne your carrots or radishes. This peeler's design allows for an efficient, comfortable, and sharp cutting motion that creates stunning strips of art.
The best stocking stuffers are little things that are practical and useful to the receiver and this peeler checks all the boxes. Not to mention its wallet-friendly price point.
0
0
Steve Kostrencich
http://whatsupusana.com/wp-content/uploads/2019/11/USANA_Logo_Black.png
Steve Kostrencich
2016-12-06 04:00:32
2017-03-10 10:20:31
5 Must-Have Kitchen Gadgets for 2017