Team USANA Captures Gold in Rio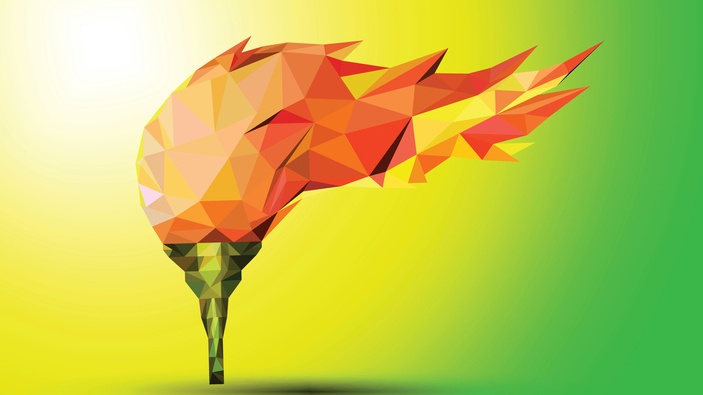 After two weeks of grueling competition, the 2016 Summer Games have officially come to a close. But for a handful of Team USANA athletes, the excitement is only just beginning as they travel home with new hardware.
Competing in everything from tennis to track and field, swimming to shooting, and boxing to badminton, Team USANA successfully captured two gold, three silver and one bronze medal while in Brazil!
Historic Gold
Among Team USANA's accomplishments, the most notable comes from Women's Tennis Association Brand Ambassador, Monica Puig who captured historic gold for Puerto Rico in the women's singles event!
Facing a tough draw from the very beginning, Monica went on to defeat defending Australian Open champion Angelique Kerber, two-time Wimbledon champion Petra Kvitová, and defending Roland-Garros champion Garbiñe Muguruza before ultimately defeating World No. 2 Angelique Kerber of Germany in three sets (6-4, 4-6, 6-1) during the gold medal match. Not only was the win the cherry on top of Monica's first Olympic experience, it signifies much more to her home country of Puerto Rico.
In winning, Monica become the first athlete — male or female — to win a gold medal for Puerto Rico, and is the first Puerto Rican female to ever medal at the Summer Games since the nation's first appearance in 1948.
"I still can't describe how it feels to be an Olympic champion and to have won the gold medal in Rio! The last two weeks have been incredible, and the support I've received from USANA and fans around the world means a lot to me."

                                                                               — Monica Puig, USANA Brand Ambassador
Monica has been a Brand Ambassador for USANA since 2014, and was one of more than 70 USANA-sponsored athletes that competed in Brazil earlier this month. For the full list Team USANA athletes that competed in Rio, click here!
More Notable Highlights from Team USANA
American David Verburg helped Team USA capture gold in the men's 4 x 400 relay.
French handball athlete Allison Pineau scored five points over Russia to help secure France's first ever Olympic medal — a silver — in the sport.
Diver German Sanchez of Mexico captured silver in the men's 10m platform event.
Bo-kyeong Jeong of Korea took home silver in the women's 48kg judo competition.
Korea's Gwak Dong-han captured bronze in the men's 90kg judo event.
Madison Keys of the United States came in 4th overall in women's singles tennis and recorded the longest match in Rio at 3 hours and 14 minutes, over fellow Brand Ambassador Kristina Mladenovic of France.
New Zealand's Brooke Neal finished 4th overall in women's field hockey.
Australian swimmer David McKeon helped secure a 4th overall placement in the men's 4 x 200 freestyle relay.
American Alev Kelter scored 33 of the U.S. Women's Rugby Sevens' 98 points during the tournament, including the first goal ever for Team USA. They went on to place 5th overall.
Brand Ambassador Caroline Wozniacki carried Denmark's flag in the Opening Ceremonies.
French hurdler Reina-Flor Okori acted as flag bearer for Equatorial Guinea at the Opening Ceremonies.
Canadian sailor Nikola Girke competed in her 4th consecutive Games, in her third boat class.
Pistol shooter Daniel Repacholi also wrapped up his 4th appearance at the Games where he has represented Australia.
"We congratulate Monica on her historic performance and all of our sponsored athletes on their achievements this past month," said USANA Chief Communications Officer Dan Macuga. "We are honored to partner with such elite and diverse athletes, and look forward to watching them grow in their respective sports as they prepare for their next steps in their athletic careers."
[slideshow_deploy id='50371′]
Tune in
Official coverage of the Paralympic Games begins on September 7 on NBCSN. For local listings (US only), check out their schedule to make sure you don't miss any of the action, or visit the official site of the Games.
From July 27–August 24 (Olympics) and August 30–September 21 (Paralympics), the International Olympic Committee (IOC) will be enforcing Rule 40 of the Olympic Charter, which limits what USANA and its Associates can do to promote its sponsored athletes on all social media outlets and through any marketing or advertising tools. Rule 40 prohibits competitors, coaches, trainers, and officials who participate in the Olympic Games from allowing their person, name, picture, or sports performance to be used for advertising purposes during the Games.

This means that during the Games, you CANNOT use the listed Paralympians for promotional purposes. It could jeopardize their standing at the Games and can put them at risk of being disqualified from competitions and/or losing their medals. With that in mind, we kindly ask that you refer to Team USANA's social media outlets—Facebook, Twitter, and Instagram—for all approved and shareable content in order to avoid violating the IOC's guidelines. 
For more information on the 1,000-plus athletes who trust their health to USANA, visit the official Team USANA website and be sure to follow Team USANA on Facebook, Twitter and Instagram.
*The mentioned athletes are either distributors or dedicated USANA product users who have received compensation and/or complimentary USANA products for their partnership with USANA.
We're proud to bring you the freshest content on the web! Follow USANA on Twitter, like our USANA Facebook page and enjoy the latest videos on the official USANA YouTube channel.

Learn what USANA is doing to make the world a better place.
The future of personalized health and nutrition is now available with USANA's True Health Assessment.
https://whatsupusana.com/wp-content/uploads/2016/08/ThinkstockPhotos-534897310.jpg
395
703
Allie Henderson
http://whatsupusana.com/wp-content/uploads/2019/11/USANA_Logo_Black.png
Allie Henderson
2016-08-29 04:00:00
2016-09-07 17:01:21
Team USANA Captures Gold in Rio