Team USANA Heads to Brazil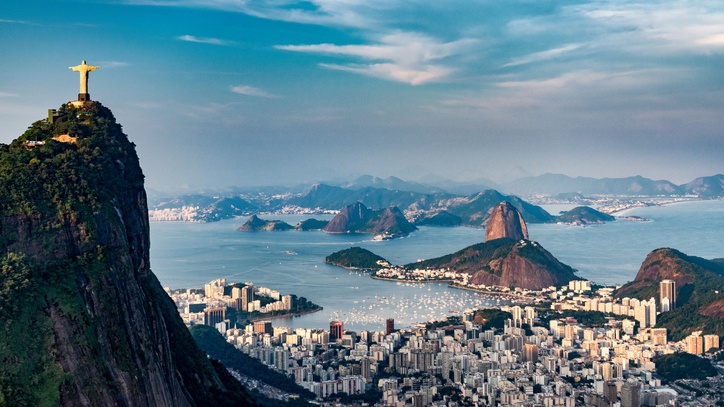 USANA is proud to sponsor more than 1,000 of the world's elite athletes and offer them our high-quality and NSF-tested products. We're even more proud to announce that over 70 of those elite athletes are making their way to Brazil over the coming weeks for a chance to capture gold for their respective countries.
Competing in everything from tennis to track and field, swimming to shooting, and boxing to badminton, Team USANA is one to watch.
So, what should you know as we head into the summer's biggest sporting event?
These Summer Games will be the first time in Olympic history that a South American country has hosted the global event.
According to NBCnews.com, over 10,000 athletes from more than 200 countries are expected to take part in 17 days of the Olympiad, competing across 306 events. Team USANA will represent 13 nations and compete in 15 of the 42 sports.
These Games will include rugby sevens for the first time since 1924. The women's U.S. team is considered a medal contender, which features Brand Ambassador Alev Kelter.
In London, Team USANA captured four gold and one bronze medal in swimming, kayaking, football, rowing, and judo, respectively.
There are four venue clusters: Barra, Copacabana, Deodoro, and Maracana. The Olympic Park, with multiple venues, is in Barra, while the Copacabana zone will feature events like beach volleyball, triathlon, rowing, and sailing. Deodoro features equestrian, shooting, and rugby sevens, and athletics will be staged in Maracana.
STAYING COMPLIANT IS KEY!
From July 27–August 24 (Olympics) and August 30–September 21 (Paralympics), the International Olympic Committee (IOC) will be enforcing Rule 40 of the Olympic Charter, which limits what USANA and its Associates can do to promote its sponsored athletes on all social media outlets and through any marketing or advertising tools. Rule 40 prohibits competitors, coaches, trainers, and officials who participate in the Olympic Games from allowing their person, name, picture, or sports performance to be used for advertising purposes during the Games.

This means that during the Games, you CANNOT use the above athletes for promotional purposes. It could jeopardize their standing at the Games and can put them at risk of being disqualified from competitions and/or losing their medals.

With that in mind, we kindly ask that you refer to Team USANA's social media outlets—Facebook, Twitter, and Instagram—for all approved and shareable content in order to avoid violating the IOC's guidelines.
Who to Watch
Team USANA athletes that have qualified as of July 21, and their respective sport.

Tune in
Official coverage begins on NBC on August 5. For local listings (US only), check out their schedule to make sure you don't miss any of the action, or visit the official site of the Games.
For more information on the 1,000-plus athletes who trust their health to USANA, visit the official Team USANA website and be sure to follow Team USANA on Facebook, Twitter, and Instagram.
*The mentioned athletes are either distributors or dedicated USANA product users who have received compensation and/or complimentary USANA products for their partnership with USANA.
We're proud to bring you the freshest content on the web! Follow USANA on Twitter, like our USANA Facebook page and enjoy the latest videos on the official USANA YouTube channel.

Learn what USANA is doing to make the world a better place.
The future of personalized health and nutrition is now available with USANA's True Health Assessment.
https://whatsupusana.com/wp-content/uploads/2016/10/ThinkstockPhotos-534215078.jpg
407
724
Allie Henderson
http://whatsupusana.com/wp-content/uploads/2019/11/USANA_Logo_Black.png
Allie Henderson
2016-07-19 04:00:50
2017-02-23 06:14:30
Team USANA Heads to Brazil