French Track Champion Reïna-Flor Okori Joins Team USANA
Reïna-Flor Okori is a gifted athlete who excels at the 100-meter hurdles. She has earned the title of French Junior Champion and, in 1999, Junior European Champion.
In 2004, she began her international career by placing as a semifinalist in the Athens Summer Games. She was also a semifinalist in the Helsinki World Championships in 2005 and returned to the 2008 Summer Games in Beijing. In July 2012, she ranked among the top four Europeans in her event and among the top 20 worldwide with a semifinal time of 12.72 seconds in the London Games.
Unwavering Determination: A Characterizing Factor
Beyond just the titles she has earned, Reïna-Flor is an example of perseverance, ambition and courage. Her goal is to earn the most medals possible during the next championship event. And she is preparing herself for the 2016 Games in Rio, where her goal is to win gold.
Reïna-Flor has encountered many obstacles along her way, but has never given up. Her rise to the top has been slowed considerably by problems with her Achilles tendon. Not only did she rupture her left tendon in 1997, she had to undergo surgery to repair her right tendon in 2002. She didn't let those injuries hold her back, however, and at the 2004 Games, she set a personal best with a time of 12.81 seconds in the semifinal competition.
In 2007, Reïna-Flor had surgery on her left tendon to ease suffering from inflammation. Once again, she didn't let that slow her down. In 2008, she became French champion and turned in the third-best French time ever at 12.65 seconds. She followed that up with a semifinals run in the 2008 Beijing Games.
Unfortunately, history repeated itself a few months later. During training, Reïna-Flor ruptured both her anterior cruciate ligament and lateral collateral ligament while also distending the left popliteal tendon.
Now, after two years off, Reïna-Flor has come back even stronger. She has already won two French indoor championships and was the French leader in the 100-meter hurdles in the 2012 Games. You might understand now how she earned her nickname "The Phoenix."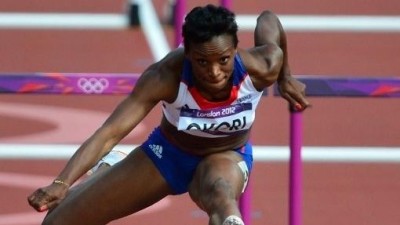 Welcome to USANA
Why did Reïna-Flor choose USANA? She had experienced numerous problems with her Achilles tendon that slowed her down on the path to her championship destiny. With determination, she always recovered from these injuries. However, she always had two questions in mind: "Why does my body continue to suffer these injuries?" and "Why am I so easily tired."
After plenty of research about her injuries, she became interested in the topic of nutrition. She also discovered that she had a metabolic syndrome due to poor assimilation of foods that did not correspond to her physiology. She then took responsibility to radically change her poor eating habits and became aware of the role of good nutrition in her performance.
With the help of her coach, Reïna-Flor started a nutritional program that she rigorously followed (food choices, eating schedules, etc.) She also understood the importance of supplementation, which led her to USANA. Convinced of the power of USANA products, she uses HealthPak™, Procosa®, USANA BiOmega®, Proflavanol® C100, Nutrimeal® and Nutrition Bars.
Reïna-Flor's hard work and perseverance is inspiring. We support her and wish her the best in her career and her personal life.
*The mentioned athlete is either a distributor or dedicated user who has received compensation for her partnership and/or complimentary USANA products.
*These statements have not been evaluated by the Food and Drug Administration. This product is not intended to diagnose, treat, cure, or prevent any disease.

We're proud to bring you the freshest content on the web! Follow USANA on Twitter, like our USANA Facebook page and enjoy the latest videos on the official USANA YouTube channel.

Learn what USANA is doing to make the world a better place.
The future of personalized health and nutrition is now available with USANA's True Health Assessment.
https://whatsupusana.com/wp-content/uploads/2013/09/Reina-Flor-Okori-picture-1.jpg
287
510
Marine Flatres
http://whatsupusana.com/wp-content/uploads/2019/11/USANA_Logo_Black.png
Marine Flatres
2013-09-18 11:00:48
2013-09-18 10:49:32
French Track Champion Reïna-Flor Okori Joins Team USANA