Sport is the most compelling kind of reality television, with its perfect narrative arcs, well-defined heroes, and edge-of-your-seat endings. It's more than just excitement or entertainment, though.
At its best, athletic competition reaches higher, embodying ideals and wrapping the triumph and tragedy of the human experience in a flash of incredible physical skill.
Team USANA — the collection of 600-plus elite athletes who trust their health to the best nutritional supplements on the market — turns in more than its share of awe-inspiring performances.
From medal ceremonies to tournament finals, you'll see them climbing podiums and hoisting trophies. But before the competition even begins, you could see these amazing athletes taking the same pills and eating the same bars as your average Associate.
It's this connection that makes Team USANA a big part of the past, present, and future of the company.
More than having a common trust, Team USANA carries the flag for the company and its Associates, exciting, inspiring, and representing the ideals of true health. And having the trust of the WTA, Olympic teams — US Speedskating, US Ski and Snowboard Association (USSA), Speed Skating Canada, Women's Ski Jumping, and many more — and a variety of professional athletes speaks volumes.
[youtube]ntAAA4zt2eo[/youtube]
If you're unable to view the video, please visit the USANA YouTube channel.
Here's a complete Team USANA playlist.
Celebrating You
These are elite athletes for whom a tenth of a second means the difference between winning and losing. These are competitors for whom nothing short of superior is acceptable. These are men and women who trust USANA because they can't afford to compromise, especially with their health.
Within the 600-plus athletes who make up Team USANA, you'll find the embodiment of the optimal health USANA strives for. They set a standard. They inspire. They lend their excellence to the cause of spreading true health. More than anything, Team USANA — through their incredible performances on the world's stage — shows us what's possible through hard work, dedication, and passion.
These athletes represent the whole USANA family. In some ways, their victories are our victories. And it's nice to be a part of such an amazing team.
According to…
"I started taking USANA when I was into my 11th season as a professional athlete in the WNBA. I had been told my entire career that I couldn't take supplements due to a lack of regulation in the industry that posed a huge risk for a positive drug test. One failed drug test as an Olympian would have meant no gold medal for me, or my team! When I found out about USANA and Dr. Wentz, I was so grateful to finally have a product I could trust. When I started taking USANA in my mid-30s, I felt better than I ever did in my 20s! Now as a coach, I am able to share USANA with my team and see USANA making a big difference in their lives. And I still take USANA products every day!"
— Jennifer Azzi, Olympic gold medalist, USANA Ruby Director
You Might Not Know…
Nearly 100 members of Team USANA competed in the 2010 Vancouver Winter Games. They totaled an impressive 22 medals, including six golds. If USANA were a country, that would've put us in fifth place in the medal count.
If you added in the medals won by post-Vancouver additions — the USSA and members of Korean Short Track and Speedskating—that total would've been a whopping 56 medals, more than any country can claim.
It Happened in '99…
The last year of the millennium was a big one for what would eventually become Team USANA. In 1999, USANA became the official supplement supplier to US Speedskating and Speed Skating Canada. These are two of USANA's longest-standing and most successful athlete sponsorships, and they paved the way for future members of Team USANA.
——————–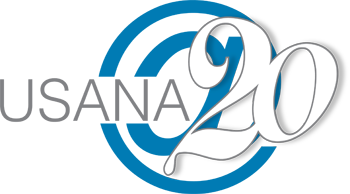 About the Series: We're celebrating USANA's 20th anniversary with USANA @ 20, a series featuring difference-makers — not only individuals, but departments, products, and more — who have had a significant impact on USANA and are poised to propel us into the future. We hope you enjoy learning more about just a few of the reasons USANA is, and will continue to be, a world-class company. To learn more about this series and to read previous installments, please visit USANA @ 20.
https://whatsupusana.com/wp-content/uploads/2012/05/Team-USANA-Banner.jpg
360
640
David Baker
http://whatsupusana.com/wp-content/uploads/2019/11/USANA_Logo_Black.png
David Baker
2012-05-21 08:01:40
2012-05-24 11:19:54
USANA @ 20: Team USANA