Some Companies Settle, USANA Innovates
We're fidgety. We don't just go with the flow. We're never satisfied. We basically have zero chill—especially when it comes to the status quo.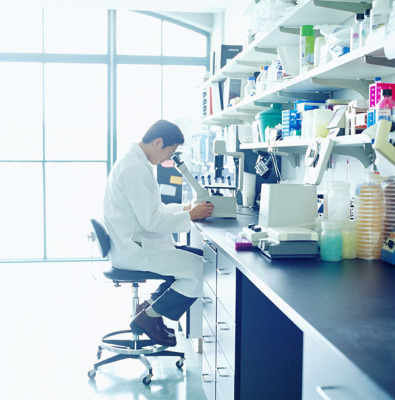 That's not what you want to read in a dating profile. You don't want those phrases to appear on a note from your kid's teacher. But all those descriptors are exactly what you want in a nutritional company.
And we're proud to cop to every one of those allegations. Because we aren't satisfied and we simply can't go with the flow. We're always working on the next, big, important innovation that can impact your health.
Ingrained Innovation
We're this way for a reason. We were founded on a big, bold idea that disrupted nutritional science. And our attitude—call it a dislike of the status quo or an innovative spirit—has stuck with us for more than two decades.
That's why the timeline of USANA history is a connect-the-dots from one major innovation to the next.
It starts in 1992 with the USANA® Essentials™—antioxidants in optimal doses—and continues to Olivol® and self-preserving skin care, and MyHealthPak™, and Nutritional Hybrid Technology, and the True Health Assessment, and USANA MySmart™Foods. And we're missing almost as many as we listed.
Continuing the Legacy
It's time to lengthen that timeline, because we aren't done innovating.
We really just can't help ourselves. Right now, in a building on the west side of Salt Lake City, another major innovation is in the works. And it's a big one.
Do we know what it is? Sure we do. Have we been sworn to secrecy about it? You could say that. But we can tell you when it will be unveiled: August 25, 2016, at the USANA International Convention.
Start your countdown clock now.
We're proud to bring you the freshest content on the web! Follow USANA on Twitter, like our USANA Facebook page and enjoy the latest videos on the official USANA YouTube channel.

Learn what USANA is doing to make the world a better place.
The future of personalized health and nutrition is now available with USANA's True Health Assessment.
https://whatsupusana.com/wp-content/uploads/2016/06/Innovation_featured.jpg
900
1600
David Baker
http://whatsupusana.com/wp-content/uploads/2019/11/USANA_Logo_Black.png
David Baker
2016-06-07 04:00:27
2016-06-06 15:06:41
Some Companies Settle, USANA Innovates