To Give and to Get: A Philanthropic Tale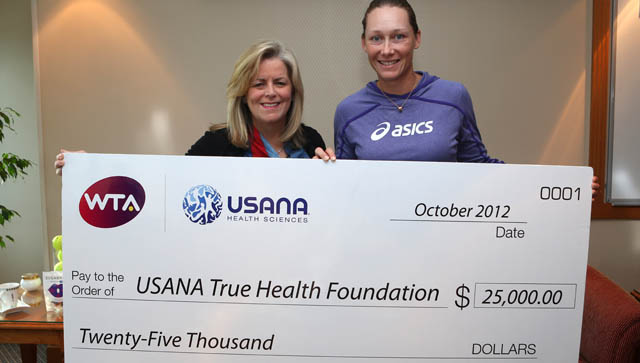 Once Upon A Time…
…in a land not so far away, there was a company. But not just any company — an industry leader in the fields of health and nutrition. With more than 200,000 independent distributors worldwide, they're able to provide hundreds of thousands of families with award-winning, science-based nutritional supplements.
This company was known as USANA Health Sciences.
In its quest to create the best nutritional supplements available, USANA experienced great success. And from this success, a dream was born — a dream that came to them in a slumber.
With great excitement, the knights of USANA's round table — Dave Wentz, Elaine Pace, James Bramble, David Haynes and Karen Taylor — gathered to discuss a plan of action. An idea had been conjured: "We shall create a charitable foundation! Through this foundation, we will help alleviate suffering by providing basic necessities for those in need. From this moment forward, it will be known as the USANA True Health Foundation."
Little did they know, this one, simple act of kindness would spark a movement that would alter the fate of all mankind … forever. And so a legend was born…
Recent Heroic Tales:
In August 2012, tragedy struck the Philippines. Wasting no time, the USANA True Health Foundation, teamed up with another nonprofit, international humanitarian organization, International Relief Teams, to donate $50,000 worth of supplies to the recent flood victims in Manila, Philippines.
"The foundation was created to rapidly, and effectively help deserving populations in times of need, and to help improve both their health and living conditions," explained Elaine Pace, president of the USANA True Health Foundation.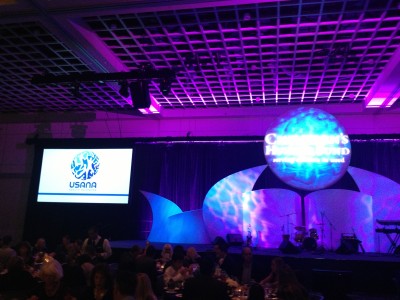 As a result of the two organization's collaboration, 1.4 million water purification tablets and several thousand rehydration salts were delivered to those impacted by the country's seasonal monsoon rains and widespread flooding. Food for nearly 5,000 people was also conveyed to the ailing region.
October marked Children's Hunger Fund's 20th anniversary. USANA joined in the celebration by sponsoring its fundraising charity gala in Pasadena, Calif. At the event, USANA's logo was projected on the stage where the emcee thanked USANA for its ongoing support. Bramble and Pace attended the event. The goal of the evening was $2 million and as of now it's half way there.
 "USANA has been in an effective partnership with Children's Hunger Fund to bring nutrition to children for many years now," Bramble said. "And to be asked to take part in their special day with a table full of USANA family members, made the evening even more extraordinary."
USANA and Children's Hunger Fund have been working together on charitable efforts since 2001 and have donated more than 44 million bottles of Usanimals™. Additionally, USANA Associates worldwide have helped CHF distribute more than 290,000 food boxes and other aid through more than $15 million in product donations and monetary support.
At the WTA's season-ending championships in Istanbul, Turkey, the Women's Tennis Association changed things up with a surprise to USANA. The WTA's Chairman and CEO, Stacey Allaster and Sam Stosur, one of USANA's brand ambassadors, presented a $25,000 check to the USANA True Health Foundation.
"The WTA applauds USANA's humanitarian efforts through the establishment of the USANA True Health Foundation," Allaster said. "We are honored to play a role in helping USANA fight suffering worldwide and support this worthwhile cause."
USANA is one of the WTA's leading partners and serves as its Official Health Supplement Supplier. Since 2006, USANA has provided high-quality nutritional supplements and meal replacement products to over 160 WTA players, including USANA Brand Ambassadors Kim Clijsters, Samantha Stosur, Zheng Jie, Aleksandra Wozniak, Melanie Oudin and Liezel Huber.
And the legend continues …
The USANA True Health Foundation continues to give and get donations from all over the world. If you'd like to join and fight suffering worldwide, you'll always find the door open for more heroes.
We're proud to bring you the freshest content on the web! Follow USANA on Twitter, like our USANA Facebook page and enjoy the latest videos on the official USANA YouTube channel.

Learn what USANA is doing to make the world a better place.
https://whatsupusana.com/wp-content/uploads/2012/10/WTA-UTHF-Donation-Featured.jpg
363
640
Mallory Moger
http://whatsupusana.com/wp-content/uploads/2019/11/USANA_Logo_Black.png
Mallory Moger
2012-10-29 07:43:44
2012-10-29 08:02:32
To Give and to Get: A Philanthropic Tale