USANA World News: A Trip Across the Pacific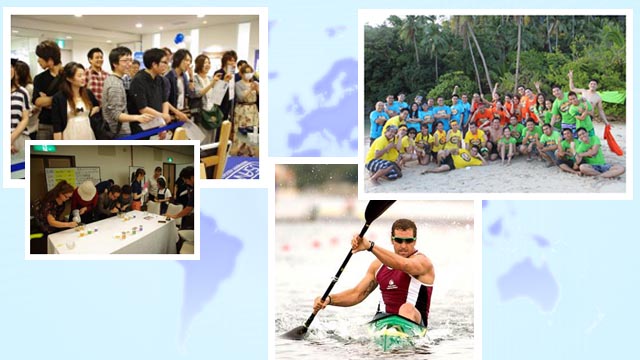 Sit back, unwind and enjoy the ride as we take you across the Pacific in this month's installment of USANA World News.
USANA's vibrant growth throughout the world has been tremendous in recent years and the three markets we're visiting are prime examples of a perfect blend of culture, hard work and the living embodiment of the USANA spirit that is creating true health and true wealth around the world.
USANA Australia/New Zealand
First of all, I would be remiss if I didn't give an immediate plug to the fine folks in this market and the fantastic work they do in the realm of social media. You'll certainly want to follow the successes of USANA Associates on USANA, word! — an energetic blog that is the living embodiment of the people in this market.
There is much to share from the land down under; here are the highlights:
USANA Australia and New Zealand are very happy to welcome world-class Kayaker, Tate Smith, as their newest Sponsored Athlete onto the USANA Athlete program! Tate has led Australia's K4 1000m men's team to new heights and will be competing (with the assist of great USANA products) at the London games later this summer. Learn more.
Product of the Month — USANA Australia and New Zealand shine the spotlight on a product each month through a campaign that explores the importance and relevance of the product in a daily nutritional regime, and explains its ingredients, functions and benefits in a manner that is easily understood. The initiative aims to gear Associates and Preferred Customers with knowledge on the product and provide them with information aids for prospecting or personal use. Click here to learn more about May's product spotlight and visit USANA, word! for future product spotlights and ideas.
Social Media competition — Happy faces with BiOmega Jr. Participants are required to upload a funny picture of their kids (4-12 years old) taking BiOmega Jr. to the USANA corporate ANZ Facebook wall. They will upload the subscribed photos to a dedicated photo album for voting (LIKEs). The photos of the kids who get the most "likes" will be the winner (one top winner to receive a 6-month supply of BiOmega Jr. and the other 5 will receive a 3-month supply of BiOmega Jr.). Therefore, the more creative the photo is, or the more people the participant shares the photo with, the better the chance to win. The competition period: 4th June to 25th June. They will have a blog to go up on 1st June, so please keep an eye out for it.
USANA Philippines
Not to be outdone, the folks in the Philippines have a tremendous online presence, as evidenced by thousands of Facebook followers and active social media community. The Philippines market is extremely active — especially in the area of events and meetings. When it comes to drawing a crowd, this market is second to none. Let's take a look:
Living the Dream Meeting in Manila 2012 — This event, held at ULTRA Stadium (a sports arena) drew over 6,000 attendees. Guests were treated to informational and inspirational speakers like Roy Truett, David Mulham and Caleb Edpao. Edpao spoke on self-development as a key ingredient for success. Today, Caleb is one of the many Gold Directors whose income is ROCK SOLID and recently, bought his dream car — a Nissan 370 Fair Lady Red sports car. Some other highlights from the meeting were the announcement of the matching bonus and the presentation of rank advancement for Diamond Director Duard & Rosanne Ricalde.
The momentum created by this event will continue with the upcoming "True Health, True Wealth Meeting 2012" that will feature special guests like USANA's CEO Dave Wentz, Executive Director of R&D John Cuomo, Ph.D. and a host of Associate leaders. Expected attendance is approximately 3,500.
Earlier this year, the market hosted their annual Leadership Summit in El Nido Palawan. The top 15 growth and top 10 income earners of the market were treated to 3 days and 2 nights at a world-class resort where, among other things, they participated in a "Survivor" style team building activity (see picture below).
Learn more and follow the progress of this exciting market on their USANA Philippines Facebook page.
USANA Japan
USANA Japan is showing steady progress and providing ample opportunities for Associates to participate in meetings, product fairs and online through social media.
Product fairs were recently held in Tokyo and Osaka, allowing Associates, customers and other prospects to focus on a variety of products and their health benefits. Those in attendance were able to participate in quizzes and other games to test their knowledge and their competitive spirit. Future product fairs are planned for September.
USANA is an official sponsor of the WTA 5 premiere event, the Toray Pan Pacific Tennis to be held in Japan.
Marketing and social media efforts have been ramping up in Japan as well. Check out their blog and Facebook pages! If you're like me and don't read Japanese, click here and use Google to translate it.
USANA World News is a regular series highlighting achievements, accomplishments, and noteworthy events across many of USANA's international markets. If you have news you'd like to have considered for an upcoming post, please e-mail [email protected].
We're proud to bring you the freshest content on the web! Follow USANA on Twitter, like our USANA Facebook page and enjoy the latest videos on the official USANA YouTube channel.

Learn what USANA is doing to make the world a better place.
https://whatsupusana.com/wp-content/uploads/2012/05/World-News-Featured.jpg
360
640
USANA Health Sciences
http://whatsupusana.com/wp-content/uploads/2019/11/USANA_Logo_Black.png
USANA Health Sciences
2012-05-24 08:16:04
2017-02-23 08:41:21
USANA World News: A Trip Across the Pacific