Manny Pacquiao: The Champ Chooses USANA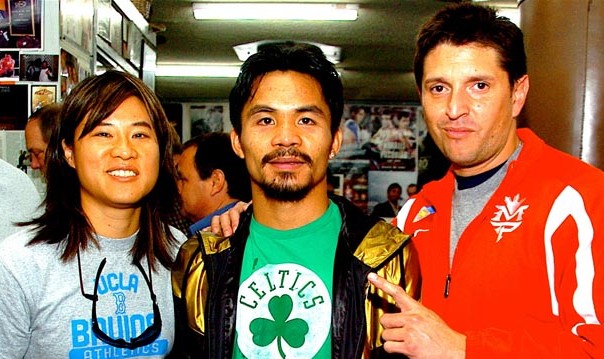 The Internet is buzzing with news that Manny Pacquiao, who is widely considered the best pound-for-pound boxer in the world and one of the greatest boxers of all time, officially takes USANA's award-winning nutritional supplements.
Pacquiao's proverbial rags to riches story has not only inspired an entire nation of 95 million Filipinos, but also has captured the hearts of millions of people around the world.
Pacquiao is the first boxer in history to hold world titles in 8 different weight divisions, having fought at 106 pounds, all the way to 150 pounds. He is presently the WBO Welterweight World Champion and, amazingly, is also a congressman serving in the House of Representatives for the province of Sarangani in the Philippines.
With a worldwide endorsement deal from Nike along with having appeared on the cover of Time magazine and featured on CBS's 60 Minutes, numerous pundits assert that Pacquiao may one day run for president of the Philippines. You should expect to see a lot more of Pacquiao and USANA in future. In fact, as we write this blog, CBS and Showtime are heavily promoting Pacquiao's upcoming fight on May 7 against former three division World Champion, "Sugar" Shane Mosley.
A Natural Partnership with Manny Pacquiao
So how did this partnership between Pacquiao and USANA come about? We turn to Alex Ariza, the elite strength and conditioning coach for Pacquiao and a number of other professional fighters.
With a B.S. in exercise and nutritional sciences from San Diego State University and 2 years of extensive medical training at Health Science College of Medicine, Ariza stands out as one of the top strength and conditioning coaches in the world. In preparing Manny to challenge welterweight boxing sensation Oscar De La Hoya in late 2008, Ariza began working with Teri Tom, a distinguished registered dietician who introduced Ariza to USANA's award-winning nutritional supplements.
As part of Pacquiao's nutritional overhaul, Tom noticed that the fighter had previously been taking one of the world's most popular multivitamins. Knowing about the USANA difference firsthand, Tom and Ariza convinced Pacquiao to give USANA a try in the fall of 2008, and the three have not looked back. Initially a huge underdog, Pacquiao went on to defeat De La Hoya in a lopsided fight that later convinced De La Hoya to retire from boxing. After seeing Pacquiao take out Ricky Hatton and Miguel Cotto to win an unprecedented world title in 7 weight divisions, Ariza decided to partner with Tom and USANA to provide his high profile fighters and others with the best nutritionals on the market.
To take this partnership with USANA global, Ariza and Tom collaborated with Silver Director David Weinberg, an attorney and former estate planner for a number of Forbes 400 clients, and Gold Director David Block, who, prior to USANA, founded his own hedge fund and was an award-winning research analyst in the health and nutrition sector.
Making a Difference
Aspiring to make a difference in peoples' lives and educate the masses about true health and the importance of nutrition, the dynamic core formed The Pacquiao Team (TPT), which is currently conducting a large scale USANA campaign in the Philippines that aims to bring both financial security and optimal health to as many Filipinos as possible.
Pacquiao and his training camp have been approached by countless nutrition companies and supplement suppliers in the past, but seeing that uncompromising product quality, effectiveness, and safety is the most important consideration for athletes and consumers, USANA became the obvious choice for Pacquiao's personal nutritional regimen.
"Based on Alex's experience and expertise, he chose USANA (as they were) the best products on the market," according to a post on Pacquiao's official website entitled Alex Ariza and USANA: The Truth About Manny Pacquiao's Pills, which was published on March 14, 2011.
We at USANA would like to congratulate all of the parties involved in making this partnership a reality. It is an honor knowing that elite champions like Manny Pacquiao choose to take our nutritional products to help them optimize their heath and perform at their best. It is also inspiring to see how hard work and persistence can pay off if we all continue to work together to spread Dr. Wentz's message of true health.
https://whatsupusana.com/wp-content/uploads/2011/03/Teri_Manny_Alex_Blog_Banner-e1336239047266.jpg
359
604
USANA Health Sciences
http://whatsupusana.com/wp-content/uploads/2019/11/USANA_Logo_Black.png
USANA Health Sciences
2011-03-29 06:46:15
2017-11-07 13:10:42
Manny Pacquiao: The Champ Chooses USANA