USANA True Health Foundation: An Impressive First Year
Practice makes perfect!
At least, that's what you've been told. However, the USANA True Health Foundation is proof that it doesn't take years of experience to make a difference. Still less than a year old, the nonprofit organization has already made numerous partnerships and donations that have affected thousands of lives around the globe.
"It's been a year filled with sudden tragedy," said USANA True Health Foundation board member David Haynes. "It gives me peace of mind knowing that people can count on us to offer assistance in their time of need. Although the foundation is new, I look forward to a long and meaningful future making a difference around the world."
Making a Difference
Since its inception in March, the foundation has given aid to disaster victims and children in need all around the world. When a powerful monsoon hit the Philippines in late August, flooding many of the islands, the True Health Foundation partnered with International Relief Teams and donated $50,000, which was used to purchase much-needed supplies such as food, water purification tablets, and rehydration salts.
When Hurricane Sandy swept through the Caribbean and East Coast of the United States this fall, USANA stepped in with $30,000, which will be used to rebuild homes for the poor and elderly who were not insured. Most recently, when the island of Mindanao in the Philippines was hit by Typhoon Bopha this December, we were ready with $10,000 to send to their aid.
Looking Forward
If this year has taught the foundation anything, it's that being prepared for the future is always smart.
No one knows what tomorrow may bring, but each time a disaster has caught us off guard, we have been equipped to lend a helping hand.
But our reach doesn't just end there.
Donations to the Sanoviv Medical Assistance Program fund will help people find the answers they need to get them back on the path to better health through alternative, holistic, and integrative health programs. Grant applications for this program will be online at usanafoundation.org the first quarter of 2013.
A Lasting Partnership
For more than 10 years, USANA has worked closely with Children's Hunger Fund to provide food and supplies to children in need across the globe. To date CHF has received more than $18 million in Usanimals™ and monetary donations — all thanks to contributions from USANA employees and Associates around the world.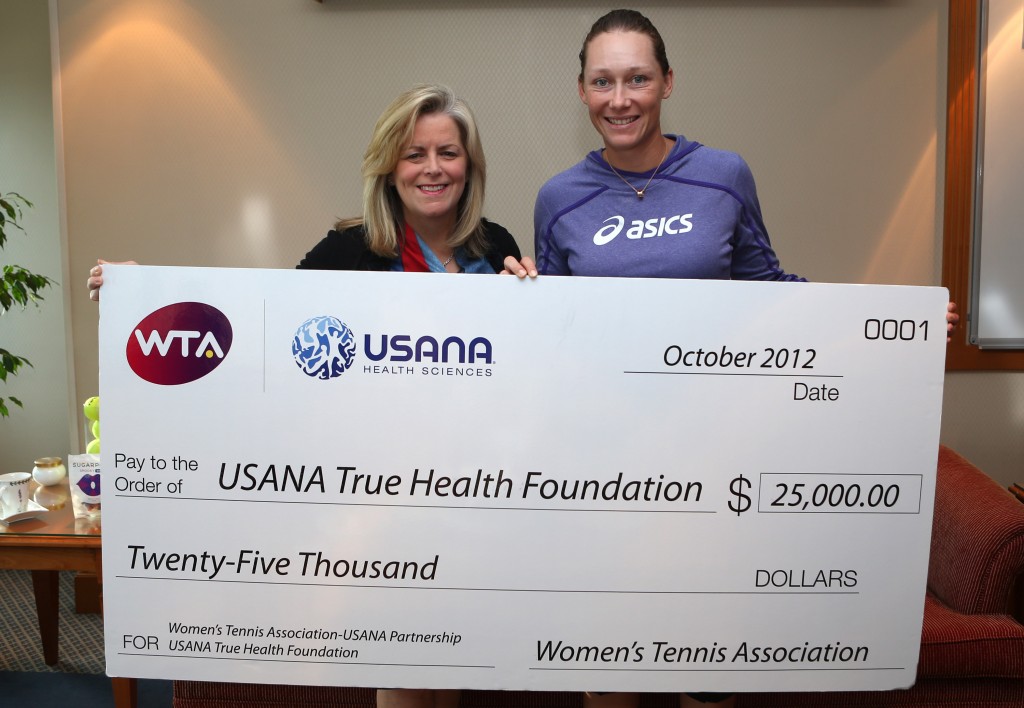 Powerful Allies
USANA and the Women's Tennis Association have been longstanding and loyal partners since 2006. Being the WTA's Official Health Supplement Supplier, the two organizations have established a strong and productive relationship. In October, the WTA made a generous donation of $25,000 to the USANA True Health Foundation.
"The WTA applauds USANA's humanitarian efforts through the establishment of the USANA True Health Foundation. We are honored to play a role in helping USANA fight suffering worldwide and support this worthwhile cause," said Stacey Allaster, WTA chairwoman and CEO.
Thank You
Charity foundations don't thrive without the help from people who share the same vision. The True Health Foundation is less than a year old and has already made a huge impact. And you are the reason all this possible. Your donations to the foundation have provided relief to thousands, and with your continued support, the foundation can expand its circle of aid to include even more desperate people in need.
"The only way we are able to do so much good is through the generous donations from USANA Associates and employees," said USANA True Health Foundation President Elaine Pace. "We have exceeded our goal for donations this past year, even though we wer active for only eight months. With the support of additional associates and preferred customers adding a donation to their monthly autoship, I expect our ability to do good will grow again in 2013 and beyond."
'Tis the Season to Give
In honor of the season of giving, USANA Associate and Bench Grinder band founder Chris Collier is making a special offer. From now until January 31, 2013, all proceeds from the song "Alone on Christmas" will be donated to CHF through the USANA True Health Foundation to help children in need. The song can be purchased on most pay-for-music sites, including iTunes and Spotify.
You can also give the gift through the USANA True Health Foundation with an "In Honor Of" card for someone else. It's a great way to give a gift that truly matters, and to recognize someone you love. Call the USANA North America customer service number to donate, at (801) 954-7200.
See You In 2013
The USANA True Health Foundation may be new, but that doesn't mean we don't have high expectations as we begin the new year. Just wait and see what we do next. The possibilities are endless.
———————-
We're proud to bring you the freshest content on the web! Follow USANA on Twitter, like our USANA Facebook page and enjoy the latest videos on the official USANA YouTube channel.

Learn what USANA is doing to make the world a better place.
https://whatsupusana.com/wp-content/uploads/2012/12/UTHF.jpg
768
1280
Mallory Moger
http://whatsupusana.com/wp-content/uploads/2019/11/USANA_Logo_Black.png
Mallory Moger
2012-12-20 07:55:52
2012-12-20 07:55:55
USANA True Health Foundation: An Impressive First Year