5 Tips to Prepare for the USANA Champions for Change 5K
USANA's International Convention is right around the corner. Which means we're gearing up for our annual USANA Champions for Change 5K. We've laced up our running shoes and we're ready to make a difference. Are you?
Here are five tips to help you prepare for this one-of-a-kind event.
Register NOW
First things first, get registered. To receive a special discount, make sure to register for the 5K before August 27 at USANAfoundation.org. Go to the "Events" page to get more info and sign up for the race. Early registration also helps guarantee that you get an awesome 5K t-shirt (more on that below). Trust me, this year's shirts are super cool!
Pro tip: After August 27, the registration price increases, and it will increase again the day of the race.
Know Your Cause
Many people run for a cause. Sometimes it's for breast cancer awareness, starving children, or even for someone they know who's going through a hard time.
Whatever your cause, know it and own it.
This year, when you register for the USANA Champions for Change 5K you'll receive a free commemorative t-shirt and on the back it will ask one question: "Why do you run?". Make sure to know your cause and write it on your shirt. As you run this year, enjoy reading the back of everyone's t-shirt and find out why your fellow runners are out there! (Plus, if you're not much of a runner like me, this is a great distraction from the burning in your legs!!)
Embrace the "Champion" Theme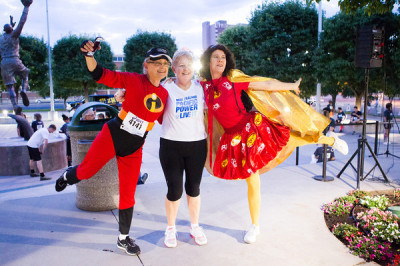 Use your creativity and dress up as your favorite superhero (Superman, Iron Man, Incredible Hulk). Or, use your imagination and create your own hero (Super RevMan?). Have some fun with it! This may take some thought, so start working on it now. And remember, you have to bring your hero gear with you, so make sure you get a costume that is easy to pack and easy to run in.
Don't forget, the person that gets the most votes for "Best Costume" will win a prize after the race.
Find a Running Buddy
Serious runners already know this, but a buddy makes everything better. Grab a friend (or 12) and run the 5K together.
Establish Your 5K Goal
I know, I know! When you think of setting a goal for a 5k, immediately your mind jumps to times or rankings or winning, but it doesn't have to. There are so many goals that have nothing to do with the clock! Maybe you want to have the best costume or you'd like to help other runners out there that are struggling (remember Salt Lake City is at high altitude!).
My personal goal every time I run is to have fun and to finish with a smile on my face.
Whether you're sprinting, jogging, walking or crawling, remember we're all out there for one common goal: helping others. Every dollar of your entry fee goes to the USANA True Health Foundation which then uses that money to help those that need it most. None of your donation goes to administrative costs!
This year, in addition to raising money through entry fees, you have the option to create a team or individual fundraising page and make an even bigger impact!
We're proud to bring you the freshest content on the web! Follow USANA on Twitter, like our USANA Facebook page and enjoy the latest videos on the official USANA YouTube channel.

Learn what USANA is doing to make the world a better place.
The future of personalized health and nutrition is now available with USANA's True Health Assessment.
https://whatsupusana.com/wp-content/uploads/2014/08/featured1.jpg
450
800
Mallory Moger
http://whatsupusana.com/wp-content/uploads/2019/11/USANA_Logo_Black.png
Mallory Moger
2014-08-20 08:00:21
2017-02-22 10:54:29
5 Tips to Prepare for the USANA Champions for Change 5K