USANA12: Superheroes Abound at Champions for Change 5K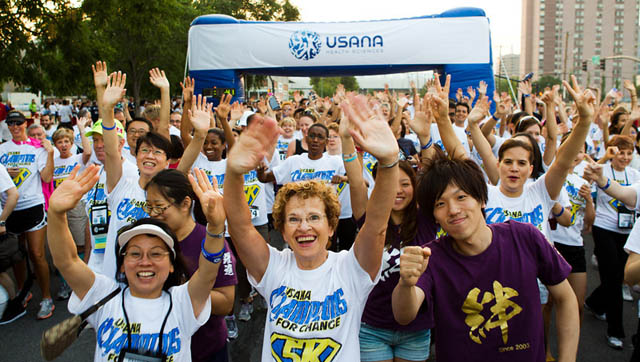 Everyday superheroes strapped on their tights, secured their masks and tightened their capes for the first USANA Champions for Change 5K.
About 2,500 participants awoke early on Saturday to run or walk for a good cause, the USANA True Health Foundation.
In what proved to be the most fun and energetic run in USANA's history, the Champions for Change 5K helped raise nearly $60,000 for the foundation!
Warming Up in Style
The morning started with on-site registration and participants gathering their superhero-themed 5K T-shirts. Music filled the air as people mingled in anticipation for a couple of all-stars.
Celebrity trainer Kathy Kaehler and Olympic gold medalist Jennifer Azzi arrived and began the warm-up. How many people can say they received warm up training from Julia Roberts' personal trainer? Or from an Olympian?
A special surprise guest showed up on site as well…it was Superman!
OK, it wasn't really Superman, but it might as well have been. USANA CEO Dave Wentz showed up in a full Superman costume to show just how dedicated he is to the USANA True Health Foundation.
Associates flocked to the man in red as if he saved the world…well, he is trying. Each day the USANA True Health Foundation accepts donations to help humanity. That's a broad term, "humanity," but that's because Dave and the USANA family believe it's their duty to do all they can to make the world a better place.
And the Winners Are…
The first USANA Champions for Change 5K celebrated the first man, first woman, first man or woman 60+, and first child 12 or younger, who crossed the finish line. I'm pleased to announce the fastest runners in each category:
Brayden McLland — 1st man
Teresa Espenosa — 1st woman
Keven Slotta — 1st person 60+
Sam Macuga — 1st child 12 or younger
Wait, that wasn't all. How could we possibly honor all these people who came to run in the superhero-themed race and not recognize the best representation of a superhero?
We did, and it was a close race.
The decision came down to two people — Chris Guzman, who was the Green Lantern, and Mark Olsen, who was Robin. The decision was so hard that it came down to a crowd vote where the loudest applause from the attendees made the choice.
And the winner was…..
Robin AND the Green Lantern!
Both costumes were so impressive that the crowd found them equally worthy.
All winners received gift baskets filled with USANA items and goodies from our various sponsors around Utah.
Did You Miss Out?
If you're reading this and are a bit upset that you didn't attend the wildly successful event, don't fret. Next year is sure to be even better, with bigger prizes, more participates and crazier costumes!
Thank you to all the Utah locals and USANA Associates who participated in the 2012 USANA Champions for Change 5K event. It was a huge success!
We're proud to bring you the freshest content on the web! Follow USANA on Twitter, like our USANA Facebook page and enjoy the latest videos on the official USANA YouTube channel.

Learn what USANA is doing to make the world a better place.
Discover what USANA products can do to boost your health today by taking this brief online Health Assessment.
https://whatsupusana.com/wp-content/uploads/2012/08/Champions-Group.jpg
362
640
Mallory Moger
http://whatsupusana.com/wp-content/uploads/2019/11/USANA_Logo_Black.png
Mallory Moger
2012-08-21 08:03:25
2017-02-22 11:19:15
USANA12: Superheroes Abound at Champions for Change 5K