Proflavanol C100 for Youthful Looking Skin
Editor's Note: Updated 10/2016
You know how sometimes you think bad things only happen to other people and you are somehow super-human and won't be affected? I thought that about the sun.
I have always loved being outdoors, I "fake baked" when I was younger, and in 2008, I took up distance running and was outside for hours. Most of this activity happened without much sunscreen on, despite the warnings about how UV damage could make my skin look older. It totally wasn't going to happen to me!
Uh … well … please consider me a cautionary tale.
I am now the proud owner of some serious sun damage on my face. This has made me keenly interested not only in sunscreen and specialized skin care products like Sensé Serum Intensive, but also in nutritional approaches to protecting my skin and keeping it looking as youthful as possible.
In a previous blog post, I noted that beta-carotene, lycopene, lutein, zeaxanthin, and vitamin D are all helpful for protecting your skin. Vitamin C and grape-seed extract make Proflavanol® C100 another great product to help keep your skin healthy and youthful looking in two ways.*
Proflavanol C100 Defends Against Damage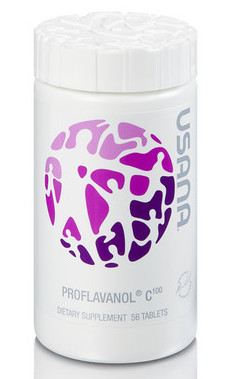 Exposure to UV can lead to oxidative stress. Oxidative stress in the skin can lead to visible wrinkles, sagging, and pigmentation. Vitamin C is a potent antioxidant and the grape-seed extract in Proflavanol C enhances that antioxidant activity. By helping your skin protect itself from UV exposure, taking Proflavanol C100 and using daily sunscreen could help protect against visible signs of premature aging caused by the sun. Double up on photoprotection by using topical vitamin C, like Proteo-C®, along with the SPF 15 in Sensé Daytime Protective Emulsion. This high-performance moisturizer helps decrease the risk of skin cancer and early skin aging if used as directed with other sun protection measures.*
Proflavanol C100 Supports Collagen Production
Collagen is the stuff that gives your skin elasticity. And collagen tends to start breaking down as we age (UV exposure along with the pull of gravity when running can actually speed up the facial sagging … sigh). Vitamin C, which must be obtained from the diet, stimulates collagen production. This essential nutrient has been linked to better appearance of aging skin because it helps support skin elasticity and firmness.*
Totally not related, but I found one study that showed grape-seed extract even helps with leg swelling after you've been sitting at your desk all day!*
A Tip for Taking Proflavanol C100 and Other Supplements
The body can only absorb a limited amount of vitamin C at one time. So, if you are taking the CellSentials™, Procosa, Booster C 600, or Visionex, consider taking Proflavanol C100 at a different time to help keep your vitamin C levels at a consistently higher level throughout the day.*
Proflavanol C100 Also Supports Heart Health and Healthy Immune Function*
Skin health is only one of the many benefits of Proflavanol C100. Watch this short video to learn more.
[youtube]http://www.youtube.com/watch?v=bV72yO-y7NY&feature=share&list=PLM8ZVFQ3_uk-kWgwv_QKFKcjvavsgrhVK&index=1[/youtube]
*These statements have not been evaluated by the Food and Drug Administration. This product is not intended to diagnose, treat, cure, or prevent any disease.
We're proud to bring you the freshest content on the web! Follow USANA on Twitter, like our USANA Facebook page and enjoy the latest videos on the official USANA YouTube channel.

Learn what USANA is doing to make the world a better place.
The future of personalized health and nutrition is now available with USANA's True Health Assessment.
https://whatsupusana.com/wp-content/uploads/2013/11/bigstockphoto_Sweet_Girl_238631.jpg
720
1280
Camille Fletcher
http://whatsupusana.com/wp-content/uploads/2019/11/USANA_Logo_Black.png
Camille Fletcher
2013-11-27 08:02:17
2016-10-31 14:46:48
Proflavanol C100 for Youthful Looking Skin