USANA InCelligence™ Unlocks Vibrant Health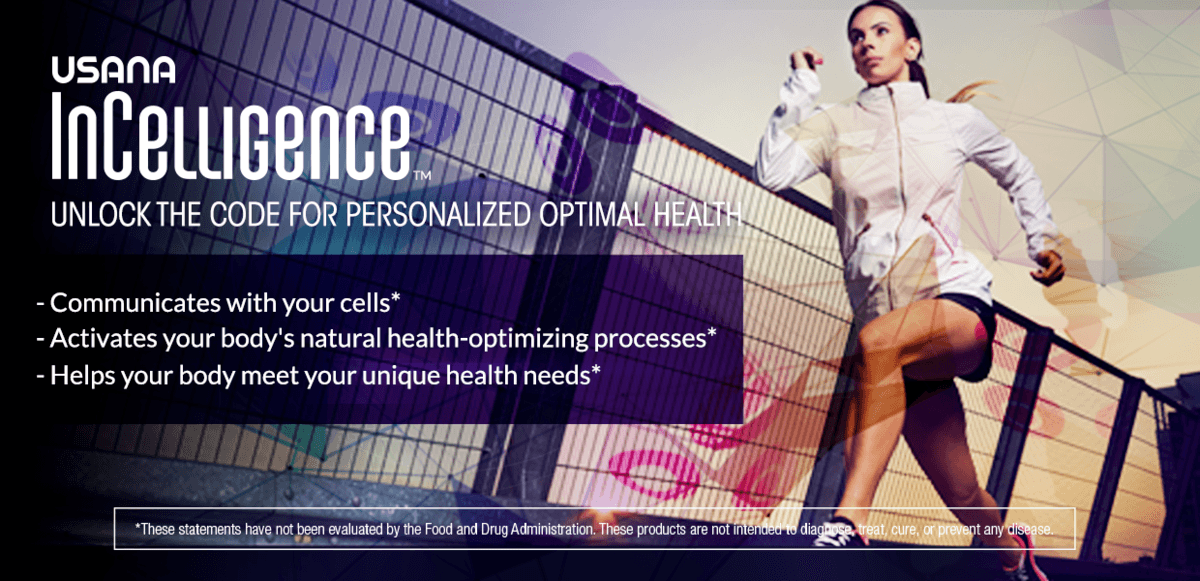 Hey there readers! Tomorrow, April 7, is World Health Day. And to celebrate, we are highlighting the newest way USANA is working toward our founder Dr. Myron Wentz' vision of creating the healthiest family on earth: creating smarter, more effective products that are made with USANA InCelligence Technology™!
Our world today tells us that we are never enough. Be more. Buy more. Achieve more. But you know what? You're pretty awesomesauce. And the potential for greatness is already within you. It all starts with your health.
Fortunately, the potential for vibrant health is already within you, too.
The following are three ways USANA's  proprietary technology helps you unlock the code for personalized optimal health*:
1. InCelligence Harnesses What Your Body Already Does to Keep You Healthy
Your body is smart. Really smart. It was designed to keep you healthy. But with age or other lifestyle factors, sometimes things don't work as well as they used to or they slow down. InCelligence jumpstarts your body's health-promoting processes by working with the innate cellular intelligence your body was designed with. This is a whole new approach to smart supplementation: going beyond providing support to using nutrients to activate what your body already does to keep you healthy.
2. InCelligence Opens the Lines of Communication
It's not just the secret to a happy marriage or good working relationships. Good communication is vital in our cellular world as well. Our cells constantly sense and communicate with their environment and with each other. Sending and receiving clear signals is important for keeping everything working properly. InCelligence nutrients help cells speak clearly to each other, and it goes a step further. It also starts a conversation between cells, so they start telling each other to proactively trigger specific processes that are beneficial for your health.
3. InCelligence Helps Your Body Meet Your Personal Health Needs Caused by Your Lifestyle
Your lifestyle is different than anyone else's, which means your health needs are unique to you, too. By proactively triggering cellular processes, InCelligence formulas help personalize your health from within because that action encourages your cells to build more resilience. In turn, your cells' can adapt and thrive even if you need extra support because you're stressed, living in a polluted urban area, or don't always eat the way you should.*
Each USANA product made with InCelligence Technology has been designed to target different, very specific resilience-building processes to promote very specific types of health benefits. Start with the CellSentials or HealthPak for the broadest range of benefits and then build from there.*
It's time for a smarter approach to supplementation. With USANA InCelligence Technology, the next era of nutritional science is here. Use it to unlock the potential for natural vibrant health that is already within you, so that you can live your best life today.*
Visit our InCelligence Technology website to learn more.
*These statements have not been evaluated by the Food and Drug Administration. This product is not intended to diagnose, treat, cure, or prevent any disease.
We're proud to bring you the freshest content on the web! Follow USANA on Twitter, like our USANA Facebook page and enjoy the latest videos on the official USANA YouTube channel.

Learn what USANA is doing to make the world a better place.
The future of personalized health and nutrition is now available with USANA's True Health Assessment.
Save
Save
https://whatsupusana.com/wp-content/uploads/2017/04/InCelligence_Runner_Feature_16x9.png
581
1200
Camille Fletcher
http://whatsupusana.com/wp-content/uploads/2019/11/USANA_Logo_Black.png
Camille Fletcher
2017-04-06 11:00:25
2017-09-28 10:41:02
USANA InCelligence™ Unlocks Vibrant Health