Scientifically Speaking: Heart Health Month
This month's Scientifically Speaking post is courtesy of Dr. John Cuomo, USANA's executive director of research and development.
When it comes to heart health, we all can't get enough prevention.
It's February, which means it's once again Heart Health Month.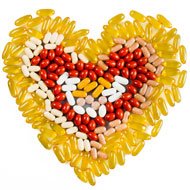 Our heart is our most important muscle. We depend on it every day of our life to pump continuously and to supply a steady stream of blood, replete with oxygen and nutrients, to every organ and tissue in our bodies.
All too often, though, we forget to take the proper care of our heart and circulatory system. Way too many of us don't worry until it's too late and we already have problems, such as high blood pressure, atherosclerosis, circulatory dysfunction , arrhythmias and more. For many, the first sign of cardiovascular disease is a heart attack or stroke.
Don't be part of this all-too-persistent problem. Here at USANA we know the best time to take care of your heart and cardiovascular system is before any symptoms are seen.
Help Your Heart
The World Health Organization estimates that 16.7 million deaths per year — or nearly 30% of all deaths — are attributed to various forms of cardiovascular disease. But we know that most of these untimely deaths can be prevented with simple lifestyle modifications, including healthier diets, physical activity, stopping smoking and taking the right supplements.
Obesity is one of the leading risk factors for developing heart disease and diabetes. Our fast food, highly refined, high glycemic diets combined with a sedentary lifestyle are the major contributors to obesity and heart disease.
We all need to take stock of everything we put in our mouths every day. Eat more fruits, vegetables, whole grains, fiber, lean meats and fish, and nutrient dense foods. Stay away from over refined, high fat, high glycemic nutrient depleted foods. And get out of your chairs or couches, and away from your TV or computer screen and get some exercise every day.
USANA Research
Our research has shown that when you eat low glycemic foods, get some moderate exercise like walking, and get a good quality supplement like the Essentials, you'll be well on your way to shedding the pounds and gaining health (Wyatt HR, Ogden LG, Cassic KS, Hoagland EA, McKinnon T, Eich N, Chernyshev V, Wood T, Cuomo J, Hill JO. Successful internet-based lifestyle change program on body weight and markers of metabolic health. 2009.)
But USANA has done much more than just provide a solid low glycemic food option in our Nutrimeals and Nutrition Bars, and excellent antioxidant protection in our Essentials and HealthPak. We also offer a line of excellent Optimizers designed with your heart in mind.
Products such as BiOmega™, Proflavanol® C100, CoQuinone® 30, Vitamin D, and Fibergy® Plus should be part of every regimen designed to help protect your heart.
So join with me and make every month Heart Health Month. Eat plenty of fruits and vegetables every day, to get antioxidants, bioflavonoids and fiber, get out and get some exercise, and take the right supplements so we can all celebrate Heart Health Month next year and well into the future.
We're proud to bring you the freshest content on the web! Follow USANA on Twitter, like our USANA Facebook page and enjoy the latest videos on the official USANA YouTube channel.

Learn what USANA is doing to make the world a better place.
The future of personalized health and nutrition is now available with USANA's True Health Assessment.
http://whatsupusana.com/wp-content/uploads/2019/11/USANA_Logo_Black.png
0
0
Lisa Kuftinec
http://whatsupusana.com/wp-content/uploads/2019/11/USANA_Logo_Black.png
Lisa Kuftinec
2012-02-09 07:38:41
2017-02-23 08:18:28
Scientifically Speaking: Heart Health Month