Snowboarder, Skier Named USANA Brand Ambassadors
Pro Snowboarder Lindsey Jacobellis, Alpine Skier Nolan Kasper to Represent USANA
Team USANA is excited to welcome Olympic pro snowboarder Lindsey Jacobellis and alpine skier Nolan Kasper as its newest brand ambassadors.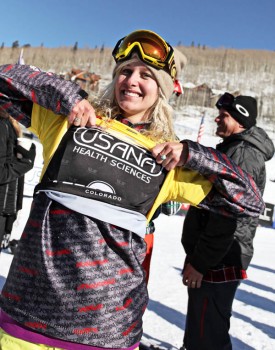 Arguably the most dominant snowboardcross rider in the business, Jacobellis secured the title of winningest female in Winter X Games history after capturing her fourth consecutive gold medal during the 2011 trial.
She also holds three World Cup wins, a silver medal from the 2006 Olympic Winter Games, and most recently, the Telluride FIS Snowboard World Cup title. She became the only American to take first in the event at Telluride.
"My demanding training schedule really taxes my body, so I'm excited to be partnering with a nutritional company I can trust to safely and effectively replenish my strength and health," Jacobellis said. "USANA understands that every person has different health needs so they've really focused on providing personalized nutrition. I love that I can choose which vitamins and nutritional products will help me perform at my personal best."
During the 2011 season, Kasper won the Europa Cup slalom title to take his first World Cup podium, and finished the season 17th in slalom after beginning the winter with a ranking of 56th.
"USANA makes products that work and fit every lifestyle which is extremely important for an athlete like myself," Kasper said. "I'm grateful USANA has chosen to partner with the USSA. I wouldn't trust my health to any other company and look forward to working with them."
As USANA brand ambassadors, Jacobellis and Kasper will represent the company publicly and help to educate consumers about the value and importance of using supplements that are safe, effective and manufactured to the highest quality.
Welcome to the team!
Here's a video of Lindsey giving USANA a shout-out following her USANA Snowboardcross Cup victory in December.
[youtube]ixZ2E5aixlg[/youtube]
If you're unable to view the video, please click here.
And here's a video that accompanied the announcement in August that USANA had been named an official partner of the U.S. Ski Team, U.S. Snowboarding and U.S. Freeskiing.
[youtube]XpRv1LU5Xmo[/youtube]
If you're unable to view the video, please click here.
Lindsey Jacobellis photos courtesy of Sarah Brunson/US Snowboarding; Nolan Kasper photo courtesy of Tom Kelly/US Ski Team. And here are additional photos from the USANA Snowboardcross Cup in Telluride, Colo.
http://whatsupusana.com/wp-content/uploads/2019/11/USANA_Logo_Black.png
0
0
Tim Haran
http://whatsupusana.com/wp-content/uploads/2019/11/USANA_Logo_Black.png
Tim Haran
2012-01-04 08:12:45
2017-09-11 09:00:34
Snowboarder, Skier Named USANA Brand Ambassadors