USANA: A Company You Can Truly Trust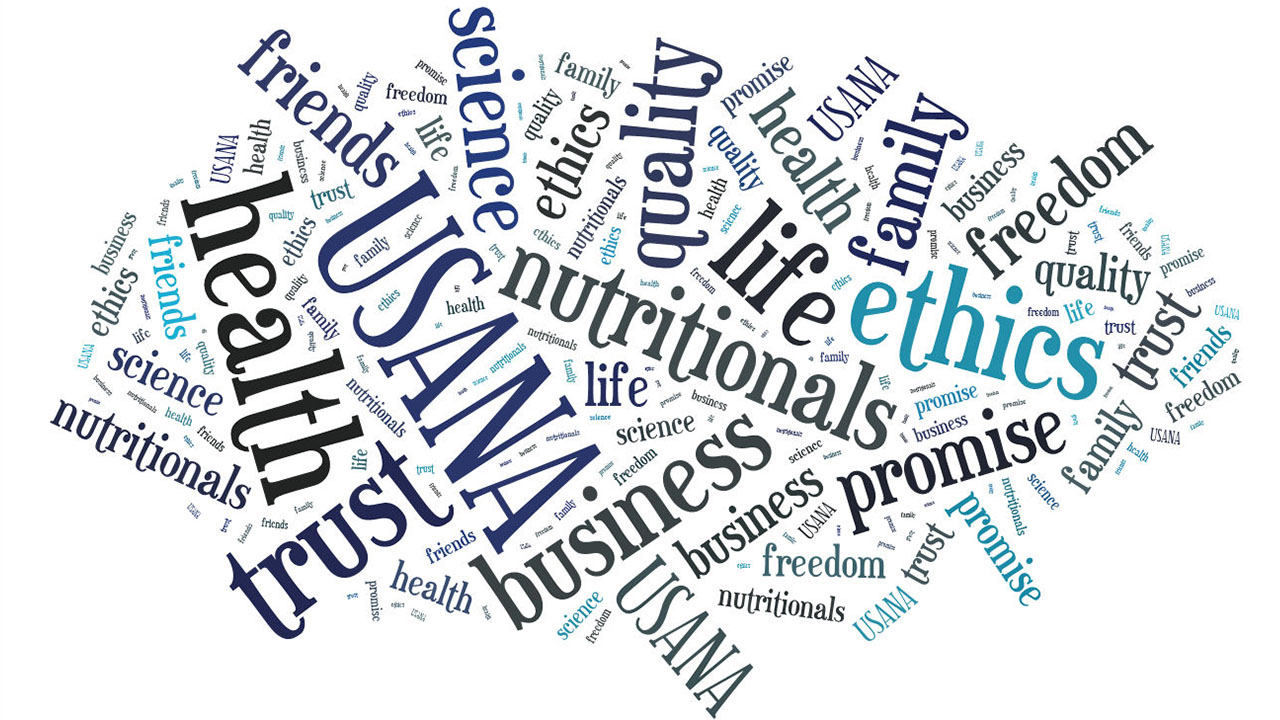 OK everyone, take out a pencil and a piece of paper. It's time for a pop quiz. Don't worry, there's no punishment for an incorrect answer.
1) USANA has been in business for more than 20 years and continues to grow stronger with each passing day. Why is that?

a)  Because of our high-quality, personalized nutritionals
b)  Because we are a company built on a solid scientific foundation
c)  Because of our incredible business compensation plan
d)  Because we help you love life and live it
e)  All of the above
Answer: All of the above. Yes, from quality products to a compensation plan with more than six ways to earn income, USANA has everything you need to love life and live it — but there's more to it than all that. As you know, every relationship begins with trust. And USANA is certainly a company you can trust — and we can prove it.
You see, USANA is a voluntary member of the Direct Selling Association, an association dedicated to protecting and promoting ethical business practices within the industry. To ensure that companies follow the highest level of business ethics, the Association requires members to adhere to its Code of Ethics.

2) What is the DSA Code of Ethics?
Answer: The DSA Code of Ethics is a set of guidelines that ensures each member company follows through on their promises and doesn't mislead prospective consumers. It protects customers from unfair business practices and is constantly evolving to stay current with the times.
3) How do you know we're adhering to the Code?
Answer: In order to become a member of the DSA, each company is examined to make sure they adhere to the Code. To ensure that company continues to stay in compliance, they must appoint a Code Responsibility Officer. It is the CRO's job to make sure their company's practices and policies continually meet the criteria laid out by the DSA. While some companies divide the role between many people, at USANA, this position is the primary focus of one man — Dan Whitney, our vice president of ethics and market expansion.
"The job of being a CRO is really easy because the code is in line with our business practice already," Dan says. "Others have to modify their policies to fit the bill, but we already do it voluntarily." In fact, he fills the position while also focusing on market growth and expansion.
Not only does USANA meet all of the ethical criteria, but we also go above and beyond to get the word out by linking to the DSA website from our sites and by sharing stories — such as this one — to help you understand the importance of these regulations. Our efforts have not gone unnoticed — for the past three years, we have participated in the DSA's Code Communication Initiative and have received recognition for our efforts to raise awareness of the Code.
4) Why should this matter to you?
Answer: As a member of the DSA who follows the Code of Ethics, it shows that USANA is going the extra mile to prove that we are in this business for the long run. While some companies are focused on immediate gain, you know USANA only has one focus: you. "It's very refreshing in this industry to be a part of a company that is willing to sacrifice immediate profit for the long-term health of the company," Dan says.
As a member of the USANA family, you can feel confident sharing the products and business plan with your family and friends because you know that we are truly a company you can trust — inside and out.
Surely you can see why we've been around for 20 years, and how we plan to stay in business even longer — all while helping you love life and live it to the fullest!
To learn more about the DSA Code of Ethics visit the DSA website or click on the DSA link at the bottom of the page on USANA.com.
Get the Word Out
OK. Time's up. Pencils down. What did you learn? Now here's the real test: how will you get the word out about USANA's adherence to the DSA Code of Ethics? Be sure to share this story with your friends and demonstrate your confidence in USANA.
We're proud to bring you the freshest content on the web! Follow USANA on Twitter, like our USANA Facebook page and enjoy the latest videos on the official USANA YouTube channel.

Learn what USANA is doing to make the world a better place.
The future of personalized health and nutrition is now available with USANA's True Health Assessment.
https://whatsupusana.com/wp-content/uploads/2013/04/DSASlider.jpg
720
1280
Katie Roundy
http://whatsupusana.com/wp-content/uploads/2019/11/USANA_Logo_Black.png
Katie Roundy
2013-04-04 07:55:20
2013-04-05 10:10:17
USANA: A Company You Can Truly Trust