Striking Gold (8 Times!) in the Special Olympics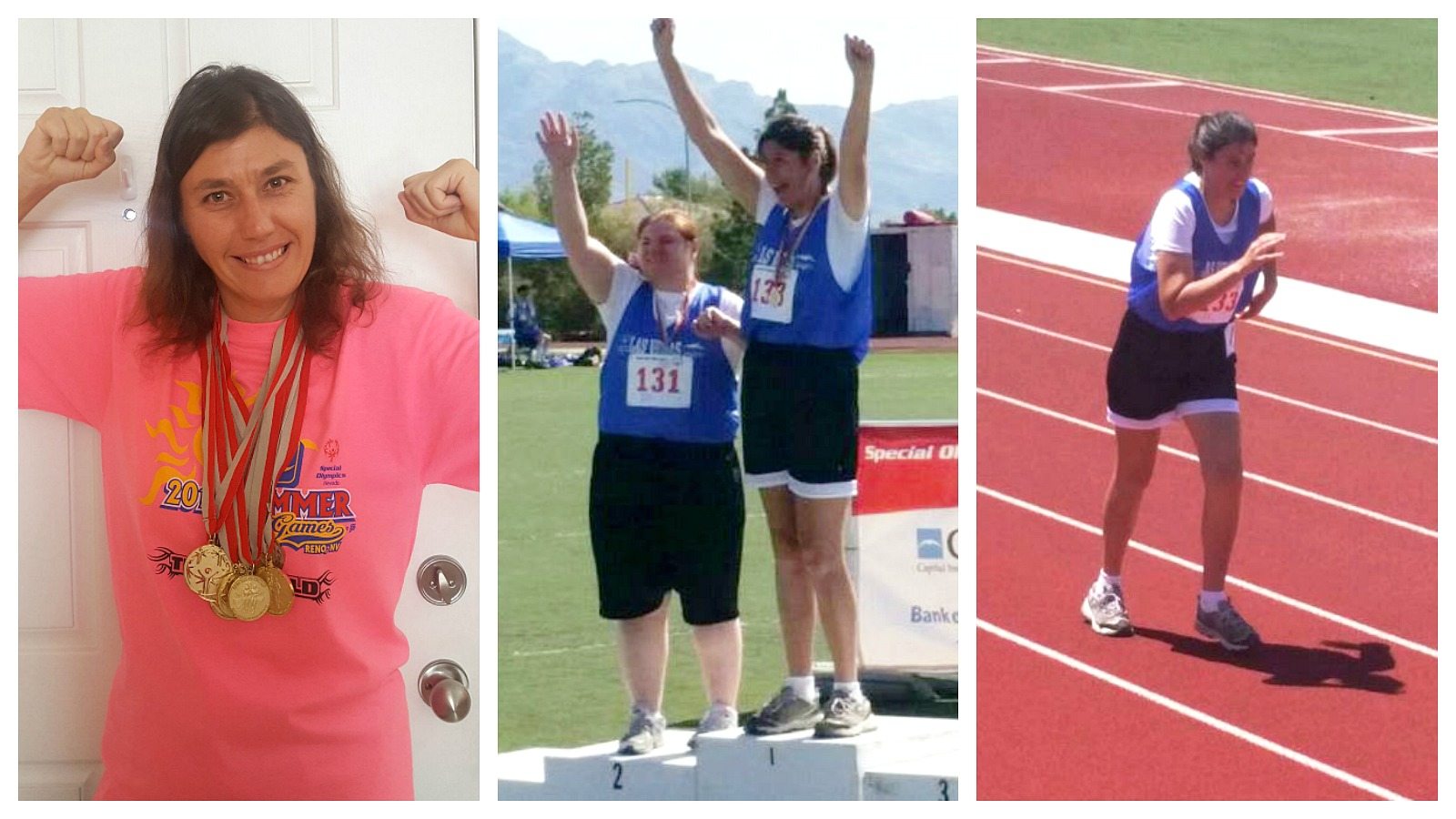 Jackie Jones returned to her home in Las Vegas from the 2016 Special Olympics Nevada Summer Games with her suitcase weighing a little more than when she left.
The multi-sport athlete won gold in each of the three events she entered at the 4,000-person Games—the short jump, the 400-meter walk and the 800-meter walk. Added to her previous medals, Jackie is now an eight-time Special Olympics gold medalist.
"Watching her in the Special Olympics, not even just her, but watching everyone else, it's so special watching them compete," her mom Barb Jones says. "They light up like Christmas trees."
Athletic Dreams
Jackie, 38, was born with the bones in her ankles fused together, preventing side-to-side movement and making it painful to walk. She also was diagnosed with mild mental retardation when she was 2 years old and juvenile rheumatoid arthritis at age 16.
As a young girl, she started competing in Special Olympics events in Ohio. When her grandfather—and one of her biggest supporters—passed away, she decided to take some time off.
Three decades later, she caught a glimpse of the Special Olympics World Games on television and asked her mom if she could get back into competing.
The rest, as they say, is history.
Jackie, whose rheumatoid arthritis has been inactive for eight years, began competing in bowling, golf, basketball, and track and field. In the nine months since returning to competitive sport, the athlete has taken home eight gold medals and a silver.
A Big Heart
"What's neat about her is she has such a big heart," Barb says. "At practice, even though she's practicing to help herself get better, if another athlete needs help, she's there to help."
That's not to say Jackie isn't competitive.
"When it comes down to competing, she's just like anyone else—she wants to win," Barb says.
Not only is Jackie a champion athlete, but she's also a business owner. Jackie became a USANA Independent Associate not long after Barb joined the company in 2007.
"Jackie has the heart of an Olympic athlete," says Dr. Paige Hunter, a longtime friend who met the Joneses through USANA. "She's proven to be an overcomer in so many ways. I am proud of her as an eight-time gold medal winner in the Special Olympics."
A Truly Special Olympics
Barb is determined to help raise awareness for the Special Olympics because she's seen first-hand the positive impact the organization has had on her daughter. She says only 10 percent of individuals with disabilities in Nevada competed in the state event in Reno in June.
"Just watching her and seeing the changes and difference it's made in her life," Barb says. "I know it's boosted her confidence. There's got to be a way to let other athletes know this is available to them."
Jackie, for her part, shows no signs of slowing down. She competes in many sports year-round, walks 12 miles a week and participates in 5k events.
"Believe me, she is just getting started," Paige says. "Her joyous demeanor and zest for true health and life makes her one of my favorite USANA athletes."
We're proud to bring you the freshest content on the web! Follow USANA on Twitter, like our USANA Facebook page and enjoy the latest videos on the official USANA YouTube channel.

Learn what USANA is doing to make the world a better place.
The future of personalized health and nutrition is now available with USANA's True Health Assessment.
https://whatsupusana.com/wp-content/uploads/2016/07/Special-Olympics.jpg
900
1600
Tim Haran
http://whatsupusana.com/wp-content/uploads/2019/11/USANA_Logo_Black.png
Tim Haran
2016-07-05 04:00:51
2017-09-11 08:23:02
Striking Gold (8 Times!) in the Special Olympics