Give Yourself the Gift of Self-Care

Less Self-Care Equals More Stress
December seems to be the month when we pay the least attention to ourselves. We're busy carting kids off to holiday programs, decorating, baking cookies, attending work and family parties, braving the stores to buy gifts, and even doing service to help others. We hardly have time for things like self-care.
Research has shown that people tend to really feel the stress during the holidays. Women feel the stress of the holiday more than men (44% of women as opposed to 31% of men reported an increased stress level during the holidays). While some amount of daily stress is normal and a good thing, too much can negatively impact health and well-being.
What's great about holiday stress (that felt weird to write) is that it's predictable. We pretty much know when holiday stress will begin and when it will end, so it is possible to proactively minimize the stress we experience and reduce the potential negative impact it can have on our health. We recently wrote about the health impacts of stress and included thirteen specific methods you can adopt to achieve peace and reduce the effects of the body's stress response. These methods included exercising, sleeping well, time management, yoga, meditation, and Progressive Muscle Relaxation.
We want to give you a few more holiday-specific ideas to add to that list.
Holiday Stress Relief in Six Steps
Step 1:  Close your eyes and picture your perfect holiday season. Visualize what you and the people in your life are doing and how you feel.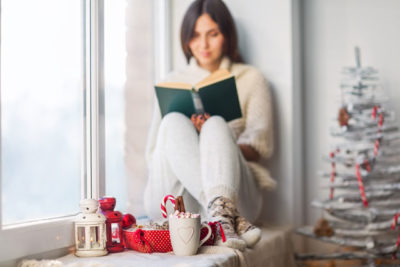 Step 2:  Write down what you visualized, including the feelings involved. For example, my list would include words like warm, togetherness, home, cooking, music, family, comfort, relaxation, solitude. You'll notice that I included both family and solitude. That's because in my vision, I have time for both. I need moments alone to be the best version of myself in a social situation.
Step 3:  Identify what preparation is needed for you to achieve your vision in each setting. Maybe you avoid the stores and purchase gifts online so that you aren't frazzled when you get home to your family. Maybe you skip a social outing and do yoga instead.
Step 4:  Under your words list, create a Holiday Sanity Plan. Here's an example of mine:
Cushion the stressful events with relaxing ones. (For example, having a favorite restaurant cook us dinner before we go stand in line to visit Santa, followed by a warm night in bed with a good book.)
Take my daily vitamins/supplements (especially MyHealthPak™ and Vitamin D).
Shop online.
Do Yoga at least every other day.
Do something for me at least once a day. (Reading, watching a movie, enjoying a bubble bath.)
Participate in a service project or donate money.
Keep the decorations to a minimum.
Avoid leaving the house as much as possible. (Cold weather makes me grumpy.)
Decline the majority of party invitations.
Skip my usual friends party that I've hosted in the past.
Be in bed by 11:00 pm each night.
Step 5:  Put this list somewhere that you can see it often- perhaps on your bathroom mirror. That way you can be reminded this season about what's most important to you, your health, your sanity, and your relationships.
Step 6:  Explain your vision to friends, family, or roommates and encourage them to participate. My daughter will love a night of self-care including bubble baths (Sensé Energizing Shower Gel makes a great bubble bath) and skin masques. I can help her pick out gifts online, leaving us more time to sit and watch a holiday movie together.
Give the Gift of Self-Care
Now that I've identified my vision of a peaceful holiday season, I want to give the gift of that peace and relaxation to others. This year I'm doing that in the form of gifts. Rather than the gifts I usually give, this year I will be giving my family USANA products.
My mom and sister will receive Sensé™ products, specifically Nutritional Crème Masque, Eye Nourisher, and Energizing Shower Gel. (Of course men also enjoy Sensé.) I'll include a loofah and some nail polish and tell them to pamper themselves for an evening of self-care. I'll also include this adorable tag with the gift (lyrics changed by yours truly). Feel free to print it out and use it:
My brother tends to load up on energy drinks, so this Christmas I'm giving him a case of Rev3 Energy® Drink (I'm sure he'll appreciate the additional vitamins, minerals, and antioxidants that support energy metabolism at the cellular level.*)
One observational study found that subjects that participated in a month-long food supplement intake experienced a significant psychological stress and fatigue decrease. I think we could all use a reduction in the stress that is brought on during the holidays. Because of that, I'm also giving my family members each a HealthPak™. My parents have bought vitamins and supplements in the past, but they tend to forget to take them. I'm sure they'll appreciate the day packs that they can quickly grab while eating or to take with them on-the-go.*
Set the Example
By encouraging my loved-ones to live a healthier, less stressful, self-care focused holiday season, perhaps they will learn that it's ok to focus on what's important and give health and wellness the priority this year. Perhaps you will, too.
*These statements have not been evaluated by the Food and Drug Administration. This product is not intended to diagnose, treat, cure, or prevent any disease.
Editor's Note: This article was a collaboration between myself and Toni McKinnon.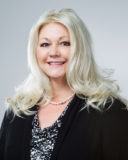 About Toni McKinnon
Toni is a licensed registered nurse, a certified clinical research professional, director of USANA's Health and Science Education Department, creator of USANA's Ask the Scientists and the weekly Essentials of Health eNewsletter, and oversees USANA's scientific product information and clinical research studies. She is involved with the research and clinical testing of various innovative nutritional compounds used in USANA's products and is a co-author of several scientific, peer-reviewed manuscripts discussing these findings.
Sources
Allaert FA1, Courau S, Forestier A. Effect of magnesium, probiotic, and vitamin food supplementation in healthy subjects with psychological stress and evaluation of a persistent effect after discontinuing intake. Panminerva Med. 2016 Dec;58(4):263-270. Epub 2016 Jun 16.
Berktold, J., Greenberg, A. Holiday Stress. American Psychological Association. 2006 Dec. 12.
We're proud to bring you the freshest content on the web! Follow USANA on Twitter, like our USANA Facebook page and enjoy the latest videos on the official USANA YouTube channel.

Learn what USANA is doing to make the world a better place.
The future of personalized health and nutrition is now available with USANA's True Health Assessment.
https://whatsupusana.com/wp-content/uploads/2016/12/Gift_Holiday_Planning_16x9inW-1.jpg
360
640
Erica Shaw
http://whatsupusana.com/wp-content/uploads/2019/11/USANA_Logo_Black.png
Erica Shaw
2016-12-08 04:00:07
2017-01-31 19:35:23
Give Yourself the Gift of Self-Care