5 Fun Ways To Burn Extra Holiday Calories
If you're like me, you just want to be with your family during the holidays. Sharing stories, having some laughs, drinking some wine and obviously eating some delicious food. But have you noticed that we tend to eat more often this time of year and our portions somehow always get bigger?
Well whether you notice it or not, it's happening, and the idea of going to the gym to burn those extra calories you're sure to consume probably doesn't sound too appealing.
But you don't need to spend precious time away from your family to get in some calorie burning activities. Here are some fun tricks that you can do throughout the day to cancel out some of those extra calories you may be eating while hanging out with your family or friends.
1. Friendly 5K
Not a runner? Don't worry, 5k's are a lot of fun! There's nothing to be apprehensive about—you don't have to be a competitive runner to join in the fun. Just grab some friends or family and set out to make a delightful memory this holiday season. Check your local area for different holiday races. You may not realize it, but many cities organize 5k or 10k races specifically for the holiday season.
Average calories burned: 300-400
2. Just Dance
You know the expression, "to dance your butt off?" It's a real thing and this is by far my favorite way to burn some calories with my friends and family. Just Dance is a video game with a variety of new and classic hits to dance to. Plus, it's super fun! Personally, I love to challenge my mom to a few of her favorite oldies like I Get Around by The Beach Boys. And trust me, my mom has got some serious moves. This fun activity is sure to get you laughing, sweating, and hopefully burning off that slice of apple pie.
Average calories burned in 30 minutes: 200
3. Flag Football
Turn off the T.V., put away your tablet and phone and get some fresh air! Whether you live in the Sunshine State or get hit with blizzards every year, flag football is a great way to get some exercise and it can even be played in the snow! Feeling bad about those two extra rolls at dinner? Don't. Now you know a fun way to work it off.
Average calories burned in 60 minutes: 350-450
4. Life's Ruff—Get a Dog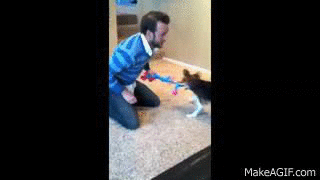 Playing fetch or tug-o-war with your canine friend can be quite a workout. I get exhausted just chasing my goofy beagle around the couch, so grab your pooch and have some playtime. Believe me, it'll pay off for you and your fury little buddy.
Average calories burned in 60 minutes of moderate playtime: 200
5. Build a Snowman
Strap on your earmuffs and lace up your boots because Frosty the Snowman is comin' to town! Grab your kids and start building the biggest, friendliest snowman your neighborhood has ever seen! It might be cold outside, but you'll hardly notice it once you start building.
Average calories burned in 60 minutes: No idea, so just have fun! Bonus points for snow forts. Snow forts are awesome.
If you're thinking, "Nah, I don't need these really fun and creative ways to burn extra calories this holiday season," then obviously you haven't seen this  infographic on calories consumed just on Thanksgiving dinner alone! AND how long it will take to work off all that deliciousness.
Don't let the holiday season get the best of you. Beat those extra holiday calories by having fun with your family and friends.
We're proud to bring you the freshest content on the web! Follow USANA on Twitter, like our USANA Facebook page and enjoy the latest videos on the official USANA YouTube channel.

Learn what USANA is doing to make the world a better place.
The future of personalized health and nutrition is now available with USANA's True Health Assessment.
https://whatsupusana.com/wp-content/uploads/2014/11/Fun-Holiday-Exercise.jpg
408
724
Mallory Moger
http://whatsupusana.com/wp-content/uploads/2019/11/USANA_Logo_Black.png
Mallory Moger
2014-11-18 08:00:47
2014-11-13 16:06:47
5 Fun Ways To Burn Extra Holiday Calories