Influencer Insider: Kathy Kaehler's Track Plus Challenge
As a USANA Associate, you already understand the importance of maintaining a healthy lifestyle. However, when you travel it's easy to let things slip. Bathing in the sun, celebratory drinks, sleeping in — it's all part of enjoying your vacation. And who can blame you? Finding the motivation to eat healthy and exercise regularly when on vacation isn't easy. But as many USANA Associates discovered during Success on the High Seas, having celebrity trainer and USANA's fitness expert Kathy Kaehler on board sure made it easier.
On the first day aboard the vast ship, all 700 USANA guests and staff gathered in the theater hall and were welcomed by the management team and given a run down of the exciting events to come. But before anyone had the chance to get too comfortable with the prospect of buffet-food comas and fancy, frozen, fruity drinks, Kathy dared everyone to take part in her Track Plus Challenge.
The six-day challenge was simple and designed to test the participants in four tasks:
How long does it take you to walk one mile?
How many push-ups can you do in one minute?
How many crunches can you do in one minute?
Can you hold a plank for one minute?
As a side challenge, Kathy also dared everyone to skip the elevator and use the stairs every chance they got. With 17 decks on the Allure of the Seas, that prospect didn't sound appealing to many, but Kathy insisted that by the end of the voyage those stairs would get much easier. And she was right.
Each day Kathy kept a record of everyone's walk times and strength challenge numbers. On day six Kathy was so proud, everyone who had participated significantly improved their strength training numbers and walk times.
Even those who didn't need much encouragement to stay active still found value in Kathy's challenge.
"As a 5K walk competitor and ranked in the top five in the country for my age group, 60 to 65 years old, I still found Kathy's challenge so helpful," said USANA Associate Elizabeth Pasquale. "She's amazing at showing people how to bite off small chunks so that everyone can improve. Many people shaved time off in the walking portion of the challenge and Kathy was at the center of that."
But staying active while aboard the Allure was only half the battle. With mouthwatering, all-you-can-eat buffets and delicious desserts available anytime of the day, choosing healthy meals can be a little tricky.
That's why Kathy likes to keep a food journal when she travels.
"My typical food journal consists of fruit, cottage cheese, eggs and some cucumber for breakfast," Kathy says. "For lunch I would go to the ships spa and have them make me a liquid lunch that usually included spinach, beets, carrots, apple, ginger and protein powder to keep my energy levels up. And for dinner I chose fish every night."
What, no dessert? Even the exercise guru and health nut Kathy Kaehler must indulge a little bit.
"Yes, I would have one bit of dessert each night to treat myself," she says. "You're on vacation. The trick is to enjoy yourself, just don't over indulge. One to two bites should suffice."
There's no doubt Kathy is an incredibly motivational USANA influencer. Whether she's training Hollywood's elite, building her USANA business, or just relaxing on the Allure of the Seas, Kathy is always tries to be a good example so you never lose sight of your health and wellness goals.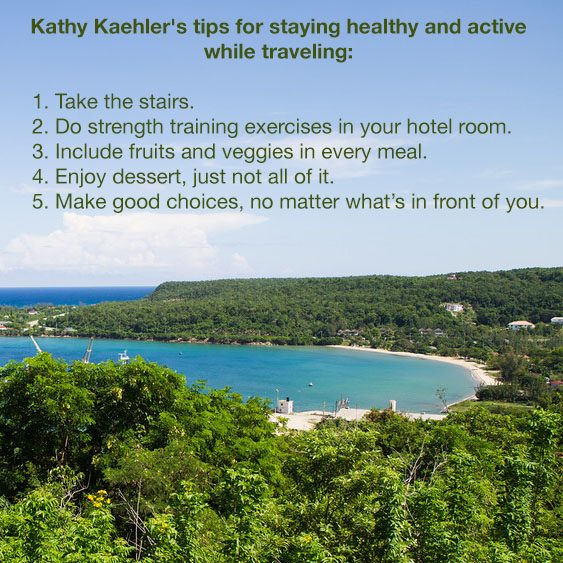 We're proud to bring you the freshest content on the web! Follow USANA on Twitter, like our USANA Facebook page and enjoy the latest videos on the official USANA YouTube channel.

Learn what USANA is doing to make the world a better place.
The future of personalized health and nutrition is now available with USANA's True Health Assessment.
https://whatsupusana.com/wp-content/uploads/2013/11/BenPieper_11042013_1827-XL-e1384448968755.jpg
488
867
Mallory Moger
http://whatsupusana.com/wp-content/uploads/2019/11/USANA_Logo_Black.png
Mallory Moger
2013-11-15 08:00:06
2017-02-22 12:56:59
Influencer Insider: Kathy Kaehler's Track Plus Challenge