5 Easy Ways to Travel Like a Pro
WANDERLUST (noun): A very strong or irresistible impulse to travel.
Synonyms: itchy feet, globe-trotting, travel junkie, gypsy blood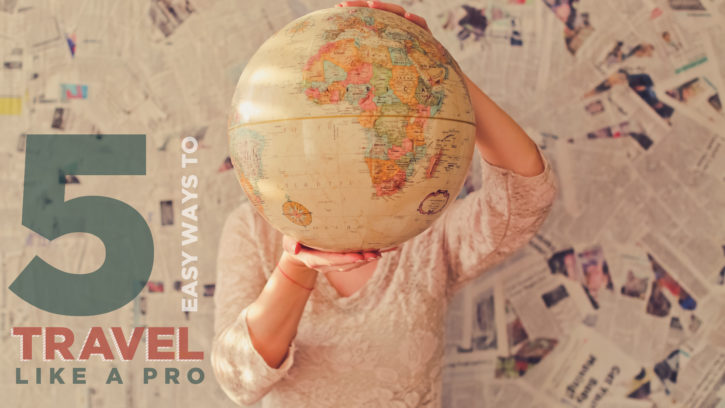 If you've got a bad case of wanderlust and can't wait to cross those dreamy destinations off your bucket list, check out the following tips to help you travel like a pro.
1: Packing Light Is Actually Possible
If you're like me, you try to cram your entire wardrobe, every shoe from your closet, and your entire bathroom cupboard into your bag. But even for long trips, this really isn't necessary.
Consider the following tips to keep your luggage on the light side.
You only need one: In reality, you only really need one of a lot of things (swimsuit, sneakers, light jacket, jeans).
Pack clothes that can serve a double purpose: When possible, throw in clothes that can serve double duty. A T-shirt or tank top can be worn when you're strolling along those lazy streets in Spain, but can also be worn when going out to dinner. A flannel shirt can be sported alone or layered on in cold weather.
Choose wrinkle-resistant fabrics: This allows you to wear outfits more than once without needing maintenance in between. You can also bring along a small, personal travel steamer to steam out any odors and wrinkles at the same time for a quick refresh.
Think neutral colors: Pack clothes that can easily be paired with other items.
Mail it home: If you're on an extended vacation somewhere, first off, lucky you. And second, if your bag is bulging, mail home that extra pair of khaki pants you're not wearing along with some souvenirs.
Another tip: if your suitcase is bursting at the seams and you just can't part with anything, try sitting on top of it. That little extra pressure might be the ticket to zipping it up!
2: Give Your Bag Some Bling
There are a million black bags in the world. (Actually, there's probably more than that. But math never was my strong suit.) And when you're checking luggage at the airport, the last thing you want to stress over is not recognizing your bag when it comes tumbling out on the luggage carousel. Or worse—a stranger mistaking your bag for theirs.
Make it easy on yourself by making your bag stand out. Here's a few ways to make your luggage pop.
Use a distinct luggage tag: Attach a bright neon luggage tag to your bag with your name and personal details printed on it. I've even seen some unique ones in the shape of flip-flops or Tetris tiles that are rather jazzy and easy to spot. You can also throw on some fun stickers from your travels, use brightly colored duct tape or washi tape or use zip ties, which are sturdier than tying a ribbon.
Buy a bright bag: If you have an orange bag that can be seen from the moon, you know you'll never lose it.
Wrap it in a luggage belt: Using a colorful luggage belt not only makes it easy to spot your fashionable bag, but also keeps it from bursting open unexpectedly.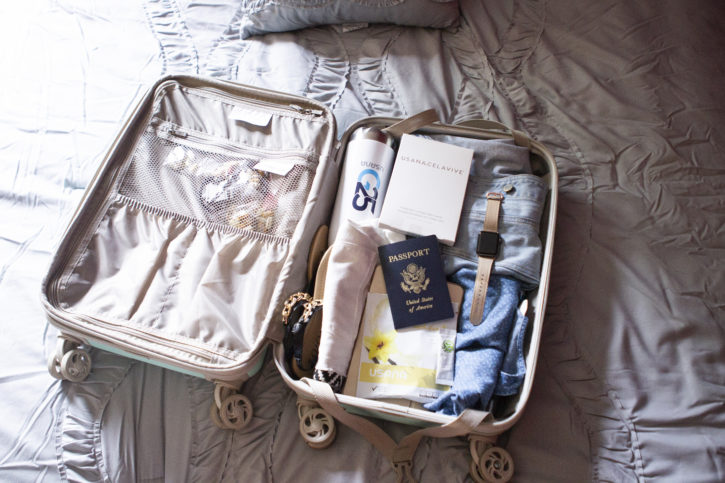 3: Packing Cubes Are Anything but Square
I recently discovered these beauties for myself on a trip to Texas and, I must say, they really are handy. They made packing for my trip a breeze. Not only do packing cubes fit conveniently within your carry-on luggage, but you can easily sort your stuff however you want.
For example: you can pack your shirts and pants in a larger cube, your swimsuit, socks, and Fruit of the Looms in a medium-sized one, and even use the smallest one as a toiletry bag (or a dirty laundry bag). Personally, I dread packing, but this made organizing almost fun.
And really, you can pack them however you like. Plus, they come in all kinds of fun colors and styles (I got a three-piece set), which makes it even more enjoyable to pack.
4: How to Survive the Airport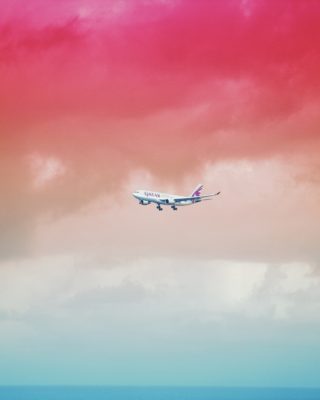 Let's be real—airports can be stressful and can even cause you to break into random bouts of hysterical laughter (even though things are far from funny) and/or cry big, fat crocodile tears when security rifles through your bags and tosses your expensive sunscreen.
Let's avoid that mayhem, shall we?
Here are a few handy tips so you can travel like a pro through the airport.
Keep the clutter at bay: it's never fun to dig through your bag while waiting in the security line so you can find your ID. Keep your important documents like passport/ID and boarding pass in an easy-to-reach spot. Also, keep your headphones, laptop, book, or anything else you'll want easy access to at the top of your bag. (This also makes it easier to get through security if you are required to remove your laptop or other large electronics.) On the flip side, stow out of reach anything you will not need between the time you leave home and arrive at your destination.
Pack your toiletries in a clear bag with a zip top: this is important if you are keeping your toiletries in a carry-on bag. Remember, airports have a strict rule that each liquid item must be 3.4 oz. or less. If you are checking a bag, these restrictions don't apply. And if that's the case, go big and pack as much sunscreen as you want.
Wear slip-on shoes: I wore high-top shoes with lots of laces my last time at the airport and I regretted it immediately. I was hobbling around in line, balancing on one leg like an ungraceful flamingo trying to get my shoes off. Don't be that person. Also, wear socks. You'll be walking barefoot on a dirty airport floor if you forget.
Whiz past the lines with TSA precheck: Members of this program are prescreened and can bypass those insanely long security lines without removing their shoes or laptops. What a luxury! This service is offered at more than 180 U.S. airports so, if you're a frequent traveler, this is definitely the way to go.
5: Leave the Jet Lag Behind
Traveling long distances isn't for the faint of heart. Sometimes adding up those sky miles also adds stress on your body.
Next time you travel, show your body some love by packing these travel-friendly products.
Pure Rest™ : This fast-acting, orange-flavored melatonin supplement is designed to give you the rest you need to stay on the move.* It's a must-have when combating jet lag.
Booster C 600™: If you're spending time in airports, riding public transit, or anywhere surrounded by lots of people, this is a handy one to bring along. This delicious lemon-berry flavored powder can easily be mixed with water or taken straight, and provides antioxidant support for your immune system.*
MyHealthPak™ or HealthPak™ : Don't forget your supplements. USANA® CellSentials™ can help ensure your body gets the proper amount of key vitamins, minerals, and antioxidants it needs to function at its best.*
By following these travel tips, you'll not only save yourself a few headaches, but you'll also hit the streets in Sydney or Mumbai feeling fresh and ready to take on the world. (And I hope you do. Bucket-list dreams, remember?)
Bon voyage, wanderlusters.
What are some of your favorite tips that help you travel like a pro? Share in the comments below.
*These statements have not been evaluated by the Food and Drug Administration. This product is not intended to diagnose, treat, cure, or prevent any disease.
https://whatsupusana.com/wp-content/uploads/2018/07/1508_WUU_Horizontal.jpg
3010
5351
Matt Jaggi
http://whatsupusana.com/wp-content/uploads/2019/11/USANA_Logo_Black.png
Matt Jaggi
2018-07-10 06:00:58
2018-09-20 14:06:38
5 Easy Ways to Travel Like a Pro