Stampeding to the Rescue with Usanimals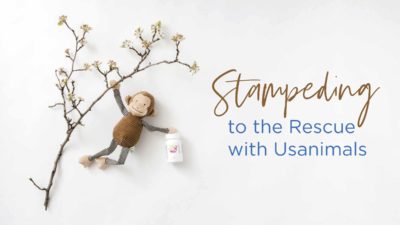 If you've ever had a rough day, all it takes is a child smiling and waggling their chubby little fingers at you from the back of their parent's shoulder to put a dopey smile on your face.
That big, happy grin is contagious. Their joy can light up the whole room.
These smiles are the inspiration behind the USANA True Health Foundation. It's what motivates the Foundation to work hard every day to provide food and nutrition to impoverished children and families around the world.
It's also why the Foundation is so excited to announce the launch of their new Usanimals™ Donation Program.
Usanimal Donations—Give A Lion's Share
For every bottle of Usanimals you donate, USANA will donate two bottles. That's three bottles, triple the impact, and triple the smiles.
And the Foundation has already experienced some of those beautiful smiles.
Sending a Whole Herd of Help to Peru
Last year in Peru, Usanimals™ were distributed through the Foundation's partner—Children's Hunger Fund—in 35 different communities, in the provinces of Abancay, Aymarares, and Grau. Supplements were given to the most malnourished children living in extreme poverty.
One child who benefited from receiving Usanimals is Rony.
Rony is a spirited, 6-year-old boy from the community of Mariscal Gamarra, a province of Grau Apurimac. He lives with his parents and siblings on a small ranch where they grow corn and have a few chickens and guinea pigs. Yet, the family also lives in a state of extreme poverty. Their home is made of adobe and lacks basic necessities like drinking water and a bathroom.
But then Rony's family received Usanimals and their lives changed. His mother, Alicia, shares her experience.
"Thanks to God, I was given the Usanimals vitamins. When my child began to take them, after a few days, he began to have more energy and I could see how good it was for him. I'm extremely thankful for the vitamins."
Because of your donations, Rony received a second chance at a healthy childhood.
And he isn't the only child who has been blessed from your generosity. In the past year, the Foundation and Children's Hunger Fund delivered Usanimals to children in need in Haiti, El Salvador, and Guatemala.
Let Little Ones Graze on Usanimals
Nutrition is important at all stages of life. But it is particularly crucial during the period of rapid growth and development of the childhood years.
If you think about it, as children grow, their bodies are forming complex systems to support a lifetime of health. It's an important time in the development of their bones, immune systems, and, especially, their brains.
This is why supplements are so beneficial. Usanimals work to support healthy growth and development for kids aged 2–12. This easy-to-eat chewable provides an excellent range of essential vitamins, minerals, and antioxidants to support healthy immune function, energy levels, bone health, and brain development.*
They're also stamped with fun animal shapes, so little ones can take a walk on the wild side. And, since they're naturally sweetened, even the pickiest of eaters will enjoy the flavor, while also getting the proper nutrition they need.
Hear Their Healthy Roar
USANA nutrition is powerful. Together, we can share the goodness of Usanimals with children, like Rony, who truly need it. It really does make a lasting difference.
Please make a Usanimals donation on your Auto Order today, or visit USANAFoundation.org to make a donation.
Thank you for your generous support for this important cause.
*These statements have not been evaluated by the Food and Drug Administration. This product is not intended to diagnose, treat, cure, or prevent any disease.
https://whatsupusana.com/wp-content/uploads/2018/08/Screen-Shot-2018-08-21-at-5.55.35-PM.png
824
1460
Matt Jaggi
http://whatsupusana.com/wp-content/uploads/2019/11/USANA_Logo_Black.png
Matt Jaggi
2018-08-20 07:00:30
2018-09-20 14:00:28
Stampeding to the Rescue with Usanimals