Look Where We Spotted Rev3 (Part 25)
In a world that's constantly changing, there's one thing we're sure of — the dedication of Rev3 Energy® fans! This month is no different. Enthusiasts continue to share our cleaner, smarter, stronger energy drink in the most amazing and entertaining of places.
Here are the latest… Enjoy!
During their holiday travels Associates Terry and Claudia Kaiser drove through Wentzville, Mo. — which happens to share a favorite name of ours — and stopped to take this picture along I-70. An ice-cold Rev3 served as a perfect accompaniment. "It was a beautiful 60 degree day in Missouri," Claudia told us, "Pretty unusual temperature in these parts in late December."
Christmas may be over, but before their tree came down, Dave and Nancy Shultz's holiday décor had a decidedly Rev3 air about it.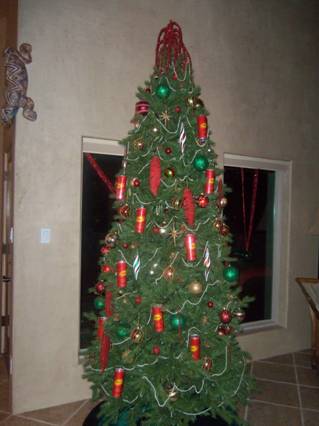 Rev3 enthusiasts' creativity knows no bounds. Check out this wreath designed by Paul Skutshek Jr. and assembled by Gordon Palmer.
Oh how we all wish we could take a vacation at the beach. Lane Ethridge shot these photos in Del Mar, CA.
Lane also got some "celebrity" shots outside the Staples Center in Downtown Los Angeles.
And here's yet another one of Lane showing off both his balance and Rev3.
Tom Vidal posted a picture of this appliance on Facebook. "Almost finished with the coolest little Rev3 fridge in the world :)" he says.
When it's time for a break during a busy day of snowboarding, Rev3 serves as a great refresher for Jim Fawver. "My grandson just loves them!" he posted on Facebook.
Mannix de los Santos's asks "Are You Rev'ed Up ???!!!"
Well, are you Reved up for the new year? In case you missed it the first time, here's a little inspiration via Michael Dewayne Carter Jr.
[youtube]http://youtu.be/hY_ZCr2S2io[/youtube]
Thanks to everyone who sent in photos. As always, you are helping spread the word about Rev3 Energy and you have the pictures to prove it. Every once in a while we'll compile these Rev3 Enthusiast-submitted photos (check out past posts) and display them for all to see (well, at least for all of What's Up, USANA? readers to see).
It's obvious Rev3 is going places! Please keep the pictures comin'. Who knows? Maybe your photo will be featured in "Look Where We Spotted Rev3 (Part 26)!"
Join the Revolution!
http://whatsupusana.com/wp-content/uploads/2019/11/USANA_Logo_Black.png
0
0
Jessica Whiting
http://whatsupusana.com/wp-content/uploads/2019/11/USANA_Logo_Black.png
Jessica Whiting
2012-01-20 08:00:25
2017-02-22 16:58:17
Look Where We Spotted Rev3 (Part 25)