From the USANA Test Kitchen: Sharing Healthy Treats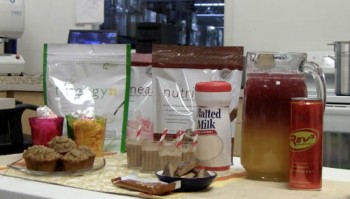 Every month I get the pleasure of sharing with you the healthy USANA recipes that we make right here in the USANA Test Kitchen. It's a lot of fun, and I'm so glad I get to do it every month!
Usually we post recipes and wellness tips, but this month we thought we'd try something different — we're showcasing some of our favorite USANA recipes and demonstrating fun ways for you to share them with your family and friends.
For example, last summer we made a Rev3 Fruit Punch that one of our writers loved so much he fantasized about bathing in it. I don't know if it's that good, but it's certainly refreshing.
We found out recently that you can make that same delicious punch into a "sunrise" just by pouring juice and ice into a pitcher first, then topping it off gently with Rev3® Energy (mix it when you're ready to serve).
Check out the video below for more great ideas, like making our Chocolate Malted Shake into cute milkshake "shots," turning a healthy zucchini muffin into miniature delights and presenting Strawberry Nutrimeal Frozen Yogurt as a fun summertime dessert.
[youtube]SYgoOeGnUjo[/youtube]
If you're unable to view the video, check it out on USANA YouTube.
Thank you all for making USANA Test Kitchen such a success! Please keep reading, watching and commenting!
Eating well is an important part of being healthy. From the USANA Test Kitchen is a monthly column offering useful nutrition tips, as well as delicious, healthy recipes that use USANA products in creative ways.
Be in the know! Follow USANA on Twitter and like our USANA Facebook page for the latest news and notes.
http://whatsupusana.com/wp-content/uploads/2019/11/USANA_Logo_Black.png
0
0
Diana Yin
http://whatsupusana.com/wp-content/uploads/2019/11/USANA_Logo_Black.png
Diana Yin
2012-03-19 08:21:32
2012-05-01 17:04:14
From the USANA Test Kitchen: Sharing Healthy Treats