The Miracle of Science: A Trip to the Linus Pauling Institute
At cruising altitude, in the middle of a sentence, I'm compelled to look out the window. I'm beckoned by the jagged, snow-covered peak of Mt. Hood jutting through a bed of cheap cotton stuffing — demanding to be reckoned with.
It's beautiful, but it breaks one of my rules for air travel.
In-flight, to acknowledge the ground is to acknowledge mortality, and to recognize the earth is to abandon the miracle of flight. One part of me believes that human flight is magic, a sorcerer's trick writ large. But the gravity of logic eventually grounds the supernatural, revealing the science at work.
I much prefer a miracle, but science has me flying 630 miles in 107 minutes. Maybe science is the miracle.
Truth be told, my knowledge of the field is buried deep in the fossil record of my public school education. With a substantial effort and generous government grants, I can extract hardened, half-recognizable fragments of learning.
Visiting the Linus Pauling Institute at Oregon State University with Brian Dixon, Ph.D. — USANA's director of product innovation and a science guy — has me getting out my shovel. A little effort and I can put together a crude skeleton that includes hypotheses and experiments.
Experiment 1: If two people are looking for good karaoke, then they shouldn't go to the only open place in Corvallis at 9:30 on a Sunday night.
Dixon flew in from Toronto with a giant suitcase filled with "every nice piece of clothing" he owns. By the end of the trip he will not have stepped foot in his house in over a week. But as we stroll around in the Corvallis drizzle he seems at home. He's put in time here. It's a homecoming, and I'm happy to be along for the ride.
Unfortunately, nobody told the businesses of downtown Corvallis. We've tried a few places, all closed. Then, around a corner, the beaming façade of the Peacock — a last-resort watering hole plenty good enough to shelter and entertain on a chilly winter night.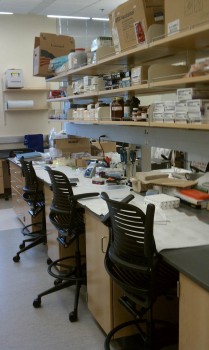 And it's karaoke night. Every night is karaoke night at the Peacock. A parade of regulars strolls, struts, or staggers across the well-worn floor up to the stage. They're a motley crew: the tall cowboy, the female bouncer missing a tooth — a work-related injury, I'm sure — and the man in extraordinarily high-waisted pants.
For the next hour we sit in the back, jaws dangling just above the wobbly table, as each participant takes the microphone and destroys expectations, singing passionately and beautifully. The female bouncer a classic rock angel. The man in the bad jeans a Broadway star. The tall cowboy a rapper so deft he freestyles an entire verse without missing a beat.
"I know it isn't statistically possible, but apparently five-out-of-four people in Corvallis are good at karaoke," I say during a break in the action.
Hypothesis: False.
Experiment 2: If you nod enough, then people will assume you know what they're talking about.
It takes exactly one minute for Fritz Gombart, Ph.D., to lose me. I spend the next 59 nodding and grinning intermittently, trying my hardest to understand what's being said about vitamin D and immune function.
It's the first meeting of the trip — 9 a.m. on Monday morning. I am a stranger in a strange, scientific land. At the end of our hour, Fritz asks me if I have any other questions. I would love to ask him about karaoke — something, after the night before, I understand — but I resist.
I will spend much of the next few days nodding like a bobble head — a product of my brain running manically around my skull chasing understanding — and not fooling anyone. Luckily, at some point Dixon catches some shrapnel from my mind exploding and promises to translate the parts I don't understand. I will never be able to repay him properly for this kindness.
Hypothesis: False.
Experiment 3: If you can't make it to New Orleans, then spend Mardi Gras in Corvallis, Oregon.
The cafeteria is serving a Cajun-inspired menu. I go with the Muffaletta. Fred Stevens, Ph.D. — the smartest person I've ever eaten lunch with — has a salad and a good theory about saving money using his OSU card at this dining establishment.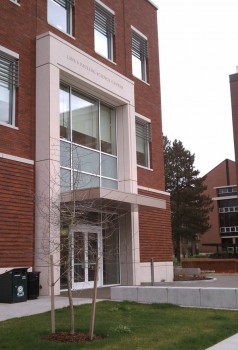 Over the next hour, Fred explains a lot more than the key to saving at the Pangea Grill. He's discussing his research, and the mostly reserved man of science is talking with his hands, a lot. Somewhere between olive-rich bites, mid-nod, with a grin plastered on my face, Dixon nudges me and says, "This is a big deal." He apologizes for offending me. He hasn't, but I'm thankful Dixon explains why Fred is so animated. Immediately, I'm more excited about science than this sandwich. There's a first time for everything.
Later, kabobs and roasted veggies are on the menu at Cooking Fun and Play. The program — a cooperative effort between LPI's Healthy Youth Program and OSU's KidSpirit, and funded by a gift from USANA — lives inside a learning annex at Linus Pauling Middle School, sheltered from the afternoon rain that's picking up. The building is full of kids excited to learn how to make healthy meals.
At first, the kids are curious about our presence and excited to mug for the camera. They are making sauces with things like pumpkin pie spice and Worcestershire. One curious boy wants to see what I'm filming, so he brings my camera down to his face.
There's no jazz playing, and the kitchen is completely devoid of beads, but it's a pretty good way to celebrate Mardi Gras.
Hypothesis: True.
Experiment 4: If you send a writer and a scientist on assignment, then you might come back with a usable story.
We're in the special collections area where all of Linus Pauling's papers, letters, and personal artifacts live on shelves crowded together until you press a button to make them mechanically part. I'm surrounded by rows of letters from people like Einstein, Martin Luther King Jr., and other history-book heroes. I'm fascinated and humbled by the cumulative treasures of a life that earned two Nobel Prizes.
But before the tour ends, I have to open my mouth: "I really hate to say this out loud, because it's so stupid, but I have to. Can I get a shot of the rows opening up?"
Amid the incredible amount of intellectual heft on display, it seems like I'm only interested in pressing the buttons to make the shelvey things move. I'm not. I explain that it should make a great opening shot for the video I will be making about the tour. Maybe it will. Thankfully, Dixon mostly gives me a pass on that one.
In our final hours at LPI on Wednesday morning, he's talking to a former colleague and he says something that makes me feel a little better. "They sent a writer and a scientist so, together, we had one full person," Dixon says, only half-kidding. "I'm the left brain and he's the right brain."
If that's the case, it's a funny looking brain — like you duct taped a basketball to a golf ball. But it's just nice to be in there somewhere.
Hypothesis: To be determined.
***
I can't see Mt. Hood from my aisle seat on the flight home. I don't even think about it — to acknowledge the ground is to acknowledge mortality. After three days, I'm full of science. After three days, I'm content with a miracle.
In the coming months, look for more content about LPI on What's Up USANA? and USANAtoday.com.

Be in the know! Follow USANA on Twitter and like our USANA Facebook page for the latest news and notes.
http://whatsupusana.com/wp-content/uploads/2019/11/USANA_Logo_Black.png
0
0
David Baker
http://whatsupusana.com/wp-content/uploads/2019/11/USANA_Logo_Black.png
David Baker
2012-03-02 08:20:12
2017-02-22 16:57:14
The Miracle of Science: A Trip to the Linus Pauling Institute