USANA Supplement Spotlight: Why BiOmega is Better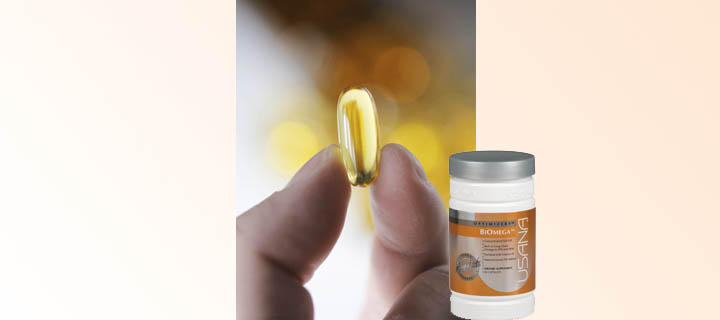 Walk into a health food or supplement store, and you'll probably start tripping over fish oil supplements. They're everywhere. And with good reason: Data on the benefits of consuming fish, fish oil, and omega-3 fatty acids is staggering.
Heart, eye, brain, skin, bone and joint health all benefit from getting sufficient daily intakes of EPA and DHA (eicosapentaenoic acid and docosahexaenoic acid). Some research has even shown these fatty acids to be important for a balanced mood.
You can learn more about the benefits of USANA's fish-oil supplement, BiOmega, in this video featuring John Cuomo, Ph.D, our executive director of research and development.
[youtube]GPSs6aBcY3Y[/youtube]
If you're unable to view the video, please visit the USANA YouTube channel
BiOmega: Bringin' the Awesome
With reports coming out occasionally calling into question the quality of fish oil supplements and with a wide range of prices, you may find it difficult to know which omega-3 supplement to choose. Here are a few things to consider:
Purity. For the most part, any supplement on the market these days has been purified within standards that are acceptable to USP (United States Pharmacopoeia). Some, however, may fail to meet standards set by the more rigorous Prop 65 in California. A 2011 Consumer Reports study found that about 27% of supplements tested had levels of PCB's that would require a warning label under Prop 65. USANA's product falls well below Prop 65's allowable levels of PCBs and meets global industry standards.
Sourcing. Eating wild, cold-water fish remains the best source of omega-3s, but if you must supplement (you probably should, most people don't get enough), it's important to note that USANA's BiOmega comes from small, clean fish (sardines, anchovies, and mackerel) from a fishery that uses sustainable practices and renewable resources.
Blend. While there doesn't seem to be a consensus on what the perfect ratio should be, it's important to pick a product that has both EPA and DHA. Virtually all studies that have shown health advantages have used supplements that contain both. Yes, BiOmega has both.
Potency. Compare your labels. The National Institutes of Health recommends that healthy adults get 650 mg per day of DHA+EPA. Even higher levels have been shown effective for protecting heart health, which is why a daily dose of USANA's BiOmega contains 1050 mg of EPA+DHA (1200 total omega-3 fatty acids) in a daily dose of two gelcaps. Compared to another brand from a popular bulk/warehouse store, which contains only 300 mg of omega-3s in a daily dose, USANA's product is four times as potent.
BiOmega has some additional "rockstar" factor because it contains 200 IU of vitamin D, too, which we all know is another nutrient that has a multitude of great benefits.
**Here's a tip: make sure to take your BiOmega with a meal that contains some fat, which will enhance its bioavailability and help ensure you don't have any fishy burps later.
Why Not Krill?
You may have seen a lot of products touting krill oil recently. USANA's R&D team considered krill but could not verify the benefit claims in in-house research and determined that fish oil remains the most effective ingredient for protecting good health.
I take many USANA supplements, including the Essentials. And BiOmega is THE one Optimizer I make absolutely sure to take every day, because I have seen the studies and know that it is vital for every cell in my body. Make sure you get ample omega-3s, too, to help you to stay healthy and be at your very best every day!
For more information, the DHA•EPA Omega-3 Institute is a great resource.
*These statements have not been evaluated by the Food and Drug Administration. This product is not intended to diagnose, treat, cure, or prevent any disease.
We're proud to bring you the freshest content on the web! Follow USANA on Twitter, like our USANA Facebook page and enjoy the latest videos on the official USANA YouTube channel.
https://whatsupusana.com/wp-content/uploads/2012/04/SupplementSpotlightBiOmegaBanner.jpg
320
720
Camille Fletcher
http://whatsupusana.com/wp-content/uploads/2019/11/USANA_Logo_Black.png
Camille Fletcher
2012-04-26 08:20:31
2017-05-16 10:20:39
USANA Supplement Spotlight: Why BiOmega is Better