From the USANA Test Kitchen: A Sweet Slice of Summer: USANA Fresh Strawberry Pie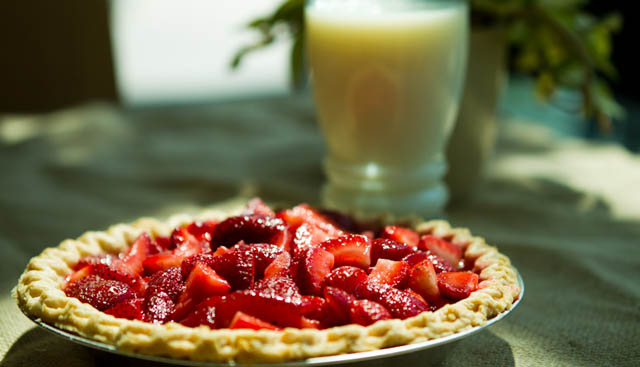 There are so many things I love about summer, such as lounging outdoors with an ice-cold drink on a warm afternoon or enjoying the flavorful bounty of fresh produce picked at their seasonal peak.
Strawberries, for example, are one of the fruits I look forward to all year. Not only are they delicious, but strawberries are a low-glycemic, low-calorie fruit that is high in fiber and antioxidants. They also provide important nutrients such as manganese, potassium and vitamin C. Did I mention, most importantly, that they are yummy?
The only sad thing about strawberries is that they're only in season from around May to August. So right now might be our last chance to enjoy these little gems before the season ends. I managed to pack a quart of fresh strawberries into my USANA Fresh Strawberry Pie recipe, which I hope you all like!
USANA Fresh Strawberry Pie
Yield: One 8-inch pie
Ingredients
1 (8-inch) baked pie shell of your choice (you can try this low-fat version, if you like)
1-lb (about 1 quart) fresh strawberries, washed, hulled, drained and chopped
1/2 cup raw cane sugar or equivalent sugar substitute, such as honey or agave nectar
1/2 Tbs cornstarch
1/2 cup boiling water
1/2 (3-ounce) package stawberry gelatin or your preferred substitute
1 Tbs Fibergy Plus
Directions
Bake your favorite pie crust according to instructions and set aside to cool
In a saucepan, mix together the sugar and corn starch thoroughly. Add boiling water, and cook over medium heat until mixture thickens. Remove from heat and add gelatin mix and Fibergy Plus. Stir until smooth; let mixture cool to room temperature.
Once gelatin is at room temp, pour chopped strawberries into the saucepan and mix until coated
Pour strawberry mixture into baked pie shells. Cover and refrigerate until set.
Serve with your favorite garnish!
Your Turn
As some of you may already know, this is my last Test Kitchen post for What's Up, USANA?, but the lovely and talented Lisa Kuftinec and Teresa Elias will be taking over the beloved Test Kitchen. I'm sure they'll be whipping up some delicious, healthy treats that you'll enjoy!
For this month's "Your Turn," however, tell me: what has been your favorite USANA Test Kitchen recipe so far?
We're proud to bring you the freshest content on the web! Follow USANA on Twitter, like our USANA Facebook page and enjoy the latest videos on the official USANA YouTube channel.

Learn what USANA is doing to make the world a better place.
Discover what USANA products can do to boost your health today by taking this brief online Health Assessment.
https://whatsupusana.com/wp-content/uploads/2012/08/Strawberry-Pie-001.jpg
367
640
Diana Yin
http://whatsupusana.com/wp-content/uploads/2019/11/USANA_Logo_Black.png
Diana Yin
2012-08-09 07:53:35
2014-04-24 17:01:43
From the USANA Test Kitchen: A Sweet Slice of Summer: USANA Fresh Strawberry Pie