USANA Test Kitchen: Warm Up with Nutrimeal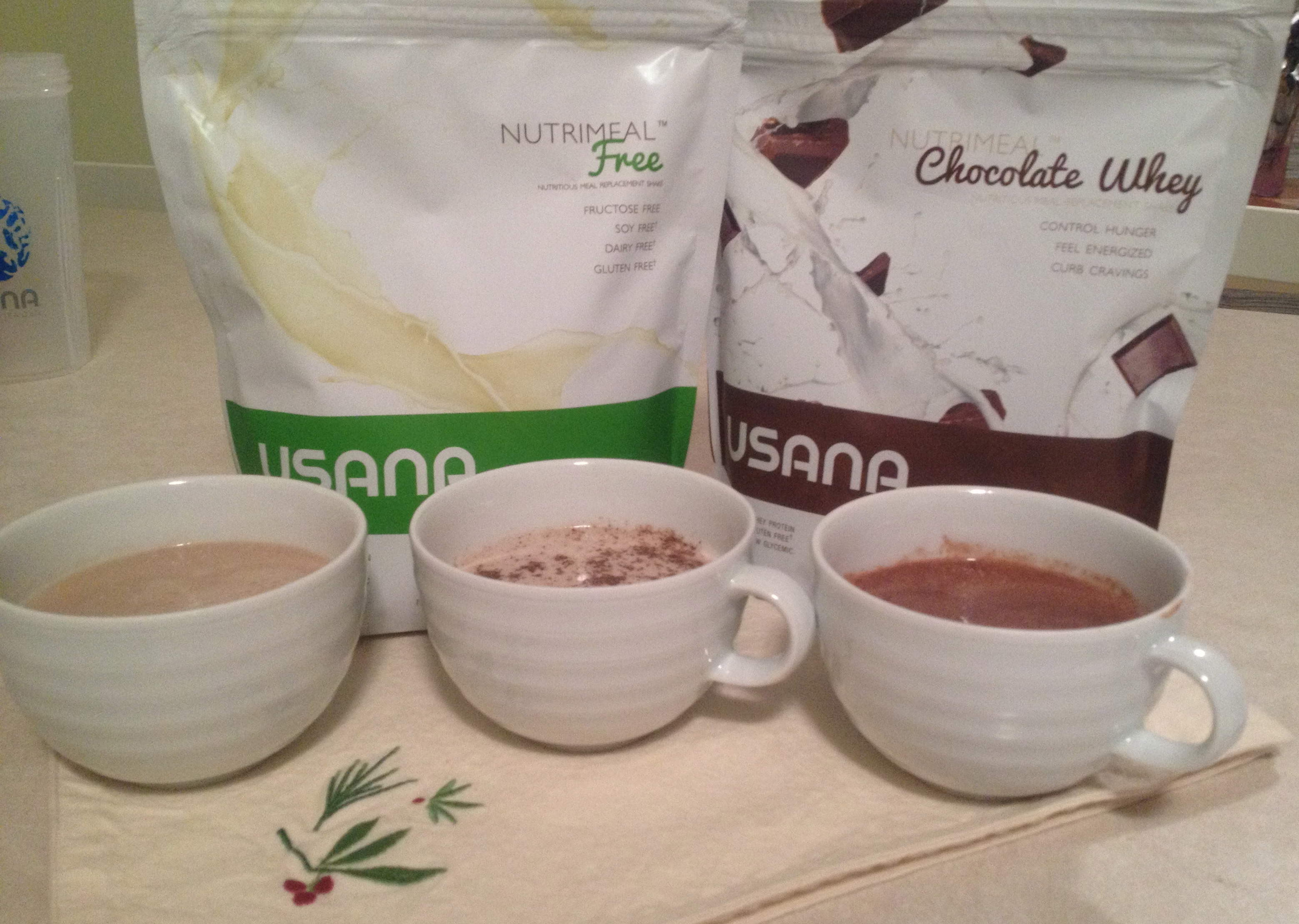 Happy New Year everyone!
It is great to be back with you for another year of healthy recipes. Knowing the RESET Challenge: Destination Transformation has started, I thought some Nutrimeal recipes would help add some variety to your shakes for the next few weeks. Then, my colleague Camille found some great recipes on Facebook for hot drink recipes. With frigid temperatures throughout most of the country, what better way to enjoy your Nutrimeal.
The recipes are from Emerald Director Dr. Deborah Kern, who graciously allowed me to share them with you.
I made and enjoyed all three of Deborah's recipes. They are all simple to make, and take no time at all. In fact, waiting for the water to boil is the longest part of the process.
Mexican Hot Chocolate
Pour 16 ounces of hot water in to the blender. Turn it on the lowest speed then add:
3 scoops Chocolate Nutrimeal (I used Chocolate Whey.)
1 tsp Cinnamon
A pinch of Cayenne Pepper (optional: I did not use it and it was delicious.)
Chai Latte
Pour 16 ounces of hot, extra strong Chai tea into a blender. Turn on lowest speed then add:
3 scoops of Vanilla Nutrimeal or Nutrimeal Free (I used Nutrimeal Free.)
Healthy Hot Toddy
Pour 16 ounces of hot water into the blender. Turn on the lowest speed then add:
3 scoops of Vanilla Nutrimeal or Nutrimeal Free (I used Nutrimeal Free.)
Nutmeg & Allspice to taste
A couple of notes: I cut these recipes in half, and simply mixed the ingredients in a Pyrex measuring cup with a small fork. This worked fine. I also believe an immersion blender would work just as well as a regular blender.
Perfect For A Snowy Night
I tested these recipes after shoveling. They tasted delicious and warmed me up right away. My favorite is the Mexican Hot Chocolate.
I hope you enjoy these recipes as much as I did. Thank you, Deborah, for sharing them with the USANA family here on the blog.
Now, I am off to finish my hot chocolate with a cozy blanket and good book. I hope you use these recipes to keep you warm during the winter months. Please let us know which recipe is your favorite, and share more hot Nutrimeal recipes if you have them.
We're proud to bring you the freshest content on the web! Follow USANA on Twitter, like our USANA Facebook page and enjoy the latest videos on the official USANA YouTube channel.

Learn what USANA is doing to make the world a better place.
The future of personalized health and nutrition is now available with USANA's True Health Assessment.
https://whatsupusana.com/wp-content/uploads/2014/01/IMG_3547.jpg
2217
3117
Lisa Kuftinec
http://whatsupusana.com/wp-content/uploads/2019/11/USANA_Logo_Black.png
Lisa Kuftinec
2014-01-14 08:00:44
2015-09-29 09:39:59
USANA Test Kitchen: Warm Up with Nutrimeal