USANA12: An Event of Firsts for a Couple of USANA Newbies
USANA's 20th anniversary celebration was full of firsts, but for a few members of USANA's management team just attending Convention was a first.
Convention is always a unique experience for first-timers, and Doug Braun and Carsten Smidt are no exception. Doug has been with USANA for eight months and Carsten just six weeks! Below are some of their experiences from #USANA12.
Doug Braun, Chief Marketing Officer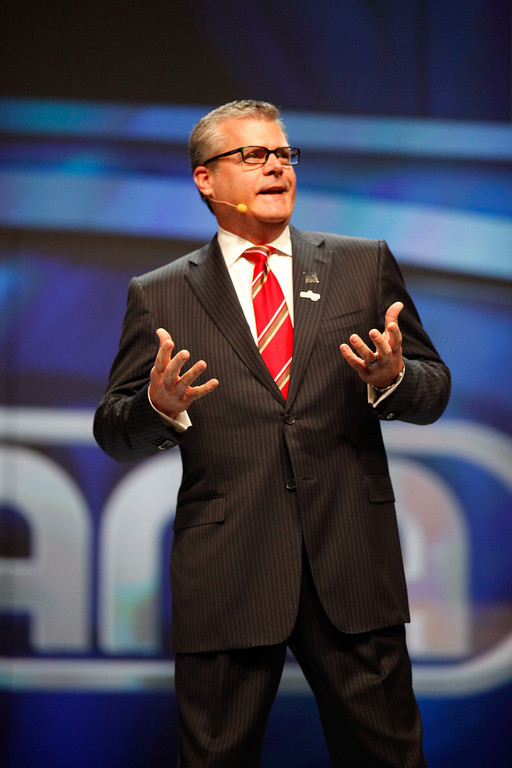 My first USANA convention, and boy did I pick the right one or what? While everything and everyone blew me away, my favorite moments that keep replaying in my mind were stage, brand, iPad and people.
Stage: The setting in which events take place in our lives is critical to how we receive and remember what transpires and the new USANA stage was perfect. No matter the topic, I was amazed at how the stage was able to transform into just the right backdrop to support the message and create the right emotion for a lasting impression.
Our use of this new technology was a first in a venue and event like ours, and my hat is off to USANA Studios for making the stage part of the message and creating an experience for all of us that was far beyond my imagination.
Brand: Since much of my focus over the past eight months has been on the branding project, it was a special experience for me to see the new branding efforts come together and come to life on Thursday morning. Again, the stage played a huge role in this by bringing the logo to life as it was created right before our eyes, demonstrating that our logo represents you and serving as a constant reminder that our business is about you.
And coming on the heels of the 20-year history narrated by Denis Waitley, we witnessed a brand that led the way for the past 20 years and a brand that is now prepared to lead the way for the next 20 years.
USANA thrives for the long term because we compete against ourself for the good of others vs. competing against others for the good of ourself. Our commitment to creating a future brand with a focus on being the best personalized-nutrition company in the world is an example of just that.
iPad: Who could forget what is probably the largest single distribution of free iPads in the world. I certainly can't think of any company who has ever come close to what happened at convention.
On Friday, I was told the story of an Associate who had made the decision to come to Convention instead of buying an iPad and with that decision, she got both. There were many examples like this that resulted in excitement, emotion, gratitude and fun surrounding the iPad give away, but to me it was a clear statement of USANA's commitment to our Associates who drive the business.
People: In a business that is about people, my most important and lasting memories will be about people! Inside this building and with our Associates in the field, we have some of the best people you would ever want to surround yourself with.
I reconnected with friends I have made since joining USANA and made many new ones as well, but the overriding takeaway for me was the strength of thousands of people from around the world happily and enthusiastically supporting one mission and one vision to improve lives.
I look forward to creating many more memories throughout this year and again next year at convention.
See you soon!
Doug
Carsten R. Smidt, Ph.D., FACN, Vice President, Research & Development
Hi, USANA family! After only six weeks with USANA, this was my first USANA Convention.  I'm completely blown away by the warm reception I received from everyone I met! Thank you, USANA Associates, for making this last week very special for me!
And thanks for sharing so many positive product testimonials! As a scientist, it's great to know that our excellent products are making a difference in people's lives, but — quite honestly — I'm not surprised, because the products are truly outstanding!
BTW, I just ordered my first personalized MyHealthPak. This program is nothing short of AMAZING! Everyone needs to do it! Why? Aside from much better, optimized supplementation and the convenience, now my son (22) cannot steal my supplements anymore (they kept mysteriously disappearing).
We're proud to bring you the freshest content on the web! Follow USANA on Twitter, like our USANA Facebook page and enjoy the latest videos on the official USANA YouTube channel.

Learn what USANA is doing to make the world a better place.
Discover what USANA products can do to boost your health today by taking this brief online Health Assessment.
https://whatsupusana.com/wp-content/uploads/2012/08/IMG5029-XL-e1345755842102.jpg
576
1024
USANA Health Sciences
http://whatsupusana.com/wp-content/uploads/2019/11/USANA_Logo_Black.png
USANA Health Sciences
2012-08-28 07:25:20
2017-02-22 11:19:13
USANA12: An Event of Firsts for a Couple of USANA Newbies