USANA12: Oprah Moment—iPads All Around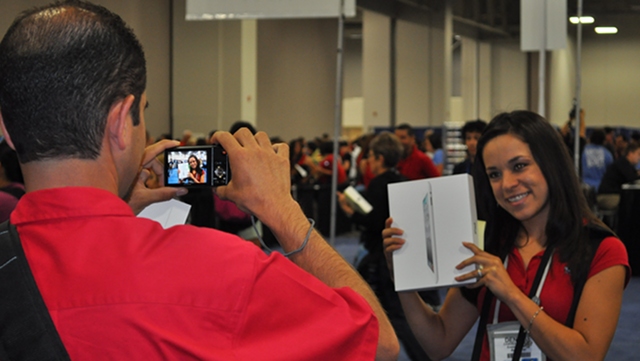 Yada yada yada, we gave everyone an iPad.
You can't yada yada through important stuff, but you'll have to forgive me. It was pretty exciting — OK, really exciting.
Each distributorship in attendance at the 2012 USANA International Convention — and there are thousands of them — received an iPad, which until 11:45 a.m. on Thursday were secured in a 53-foot semi-trailer behind the Salt Palace.
So now we have that massive news covered, we're working on sharing all the other cool stuff that happened on Thursday. (Check back for a blog featuring news other than iPad news. You know you should be doing that anyway, right?)
iPads All Around
I want to say this up front: I knew.
I'm not bragging, but I knew everyone was getting a Newton. That's what we've been calling them around the office for the last little while. That's what most of us are still calling them.
Some of you guessed. Some of you were surprised. Like I said, I knew. But what nobody could've anticipated was the sheer force of joyful noise expressed when USANA CEO Dave Wentz let everyone in on the big secret.
My ears are still ringing, and I'd have it no other way.
Then the rush was on. Streams of humanity gushing across the street to the Salt Palace, everyone ready to get their hands on their big 20th anniversary gift. The lines moved fast, like really fast.
There was a variety of entertainment — I think I saw a lady in a large bubble ("Sorry, it says The Moops." Two Seinfeld references in one blog post. Bonus points for me) and there was a woman in red performing too many feet off the ground on what looked like a strand of silk.
It was all kind of a blur of excitement and energy.
It was an unprecedented day in the history of USANA. I mean, what company just gives everyone an iPad? And all the employees got one, too. Thanks, Dave?
Probably not even Apple, and they have some sitting around, I bet.
More than history or a big chest thumping moment of pride, this is our magic carpet into the future. There wasn't one person I talked to who wasn't excited to use the Newton — sorry, habit — to build their business.
This morning was all about the future, and with the exciting rebranding news and the new tools now in the hands of all you, we're hurtling toward the future like one of those Angry Birds the kids are always talking about.
Emerald Director Tomas Artica talks about the value of the iPad.
[youtube]yp4Ap7V-qSQ[/youtube]
If you're unable to view the video, please visit the USANA YouTube channel.
Once the disbelief subsided, Emmeline Wang walked away with a brand new iPad free of charge.
[youtube]QmxvfqUzPp0[/youtube]
If you're unable to view the video, please visit the USANA YouTube channel.
We're proud to bring you the freshest content on the web! Follow USANA on Twitter, like our USANA Facebook page and enjoy the latest videos on the official USANA YouTube channel.

Learn what USANA is doing to make the world a better place.
Discover what USANA products can do to boost your health today by taking this brief online Health Assessment.
https://whatsupusana.com/wp-content/uploads/2012/08/iPad-Featured.jpg
361
640
David Baker
http://whatsupusana.com/wp-content/uploads/2019/11/USANA_Logo_Black.png
David Baker
2012-08-16 16:57:52
2017-02-22 11:19:23
USANA12: Oprah Moment—iPads All Around