Team USANA Energy: 1,000-km Journey to Promote Healthy Living
This June, seven independent USANA Associates joined together as Equipe USANA Energie (Team USANA Energy) and took to the roads in support of promoting healthy living via the 2013 Grand Défi Pierre Lavoie.
What exactly is the Grand Défi Pierre Lavoie? Only one of the largest health-related events to ever be organized in the province of Quebec and one of the biggest in Canada.
In 1999, Pierre Lavoie launched the first Défi in order to raise awareness about lactic acidosis — the illness took two of his children from him — as well as raise funds for research. He cycled alone over 650 kilometers (400 miles) in 24 hours. Thanks to his incredible endurance and communication skills, Pierre turned his Défi into a major event, and in 2008 the Défi became the Grand Défi Pierre Lavoie. It's now an annual 1,000 kilometer (620 mile) cycling event with more than 200 teams made up of more than 1,000 cyclists.
In addition to raising awareness about lactic acidosis The Grand Défi now also highlights the importance of changing our lifestyle habits to ensure our children's future. The three areas of focus are physical activity, healthy eating and staying in school.
In parallel, the Grand Défi also seeks to raise parents' awareness of the importance of a healthy lifestyle for their children's health and, of course, for their own health.
All of the event's proceeds are donated to the Grand Défi Pierre Lavoie Foundation to support medical research and to fund projects that promote healthy lifestyle habits.
Each team must raise a minimum of $10,000 and partner with an elementary school of its choice. The goal of this partnership is to get the school to register for the Get Up and Move! challenge where students are encouraged to participate in physical activity at least three times per week.
In addition, teams act as sponsors of students' healthy life habits. This year, more than 1,250 schools participated and organized various activities to get kids moving. Furthermore, teams are invited to introduce as a member someone who wishes to become more active.
This was Team USANA Energy's fourth-consecutive year participating in the Grand Défi Pierre Lavoie. The fifth-annual event and was held over 3 days — June 14-16. Participating teams cycled an incredible 1,000 kilometers (630 miles) over 60 hours and 14 stages while traveling from Saguenay-Lac-Saint-Jean to Montréal. USANA Silver Director Bruno Saint-Hilaire led this year's team as captain.
Team members included: USANA Diamond Director Serge Morissette, USANA Diamond Director Luc Dubois, USANA Silver Director Pierre Allard, USANA Builder Jessica Humphries, USANA Builder Mathieu Hinse and Danny Lataille.
This amazing group raised more than $14,000 for the cause and has inspired many USANA Associates in Quebec and Canada, to participate in local charity events with a focus on healthy lifestyle.
It goes without saying that the team consumed large amounts of Rev3, Nutrimeal, Proflavanol, Coquinone and BiOmega in addition to the USANA Essentials. The team feels their recovery and performance levels were hugely boosted by USANA's products especially toward the end of the event.
Check out the videos below to learn more about their adventure.
[youtube]http://youtu.be/Qh5g5txzhHA[/youtube]
If you are unable to view this video, please visit the USANA YouTube channel.
Team USANA Energy

Bruno Saint-Hilaire
As team captain, USANA Silver Director Bruno Saint-Hilaire's main responsibility is team motivation. This is true of any leader, be it in business or in sports, and Bruno delivered by leading by example. He was the first to take on difficult, and in this case dangerous, challenges such as a 135-kilometer nighttime portion of the event. Seeing that example being set the team challenged themselves to ride longer and harder and set new challenging goals for themselves. Furthermore, Bruno took on additional responsibilities in stride and managed communications as well as follow up with their partner school.
Serge Morissette
USANA Diamond Director Serge Morissette showed everyone what dedication and overcoming challenge is all about at this event. Still recovering from a recent surgery, he took on the task of team driver. As team driver Serge likely received the least rest while being responsible for the recovery of cyclists, providing team lunches, stocking parts and supplies as well as making sure the team RV was at the right place at the right time every minute of every day. Being true to the leadership qualities he has developed while building his USANA business Serge shows us that leading the way to success can only be done by serving the needs of the team first.
[youtube]http://youtu.be/wUcu6AKJWBQ[/youtube]
If you are unable to view this video, please visit the USANA YouTube channel.
Luc Dubois
USANA Diamond Director Luc Dubois is a seasoned athlete. What you may not know is that he is responsible for organizing many sporting events and bringing world-class events to Quebec. To add to that he actively participates in many of these events and can usually be found at the top of the charts in his age group. This competitiveness and championship level attitude drives him to better himself in all things including his USANA business. During this event he was known for his abilities as a sprinter and fearless attitude as he completed portions of the event early in the morning.
Pierre Allard
USANA Silver Director Pierre Allard is a former hockey player. Pierre's team centric background along with a positive attitude and the ability to make anyone smile kept the team in the right frame of mind throughout the event. Even though he has never actively participated in a cycling event, or even biked extensively in his neighborhood for that matter, Pierre challenged himself to try something new. That personal challenge took him on a journey across Quebec and his personal challenge culminated in a day of cycling over 130 kilometers (80 miles)! Pierre joked at the finish line that with a little Rev3 in the body it was easy.
Jessica Humphries
USANA Builder Jessica Humphries led Team USANA Energy last year. This year she passed the leadership baton to Bruno and took Serge Morissette's position in the cycling rotation. Jessica's experience as a leader and multiyear participant in the event made her the bearer of the team spirit during the event. She knows what it takes to make it to the finish line; the only way to do it is as a team. An example of that amazing team spirit was when Luc was due to ride a portion of the route alone. Jessica chose to accompany him and cycled the longest distance she has ever ridden simply because she knew how important it was to support another team member.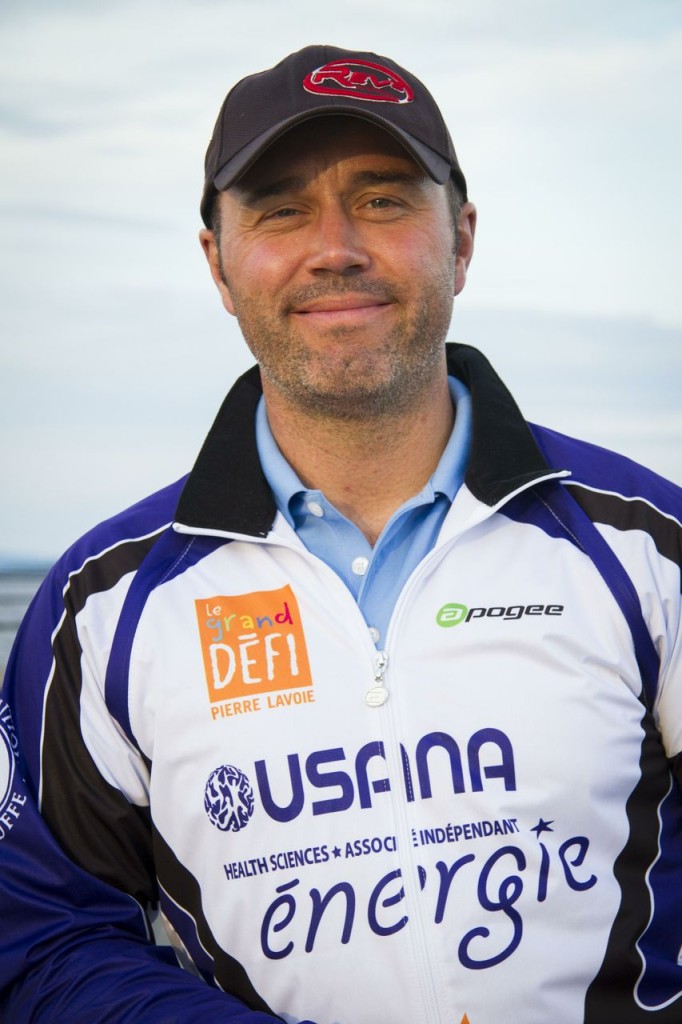 Mathieu Hinse
USANA Builder Mathieu Hinse is the personification of endurance. With a positive attitude Mathieu consistently showed amazing stamina and fearlessness. That consistency is the defining characteristic of champions — no matter what the activity. Mathieu's positive and fearless attitude made him the long-distance rider of the team. Mathieu cycled 220 kilometers (137 miles) in a single afternoon!
Danny Lataille
Danny joined the team for the public cycling portion of the event. He was a very welcome addition as he is always ready to help where needed. In addition to that, Danny has a knack for fundraising and loves contributing to causes such as the Grand Défi.
Olivier Dubois
Tenacity and perseverance runs in the family! Olivier, son to USANA Diamond Directors Luc and Line Dubois, followed the team over three days and captured the amazing photos and videos that you see here. Much of that time he spent in his car using back roads to keep up with the cyclists. Rest stops were few and far between and catching some sleep in the car was the only possible way to keep up. Amazing work Olivier! Thank you.
[youtube]http://youtu.be/c1nuDK2VT64[/youtube]
If you are unable to view this video, please visit the USANA YouTube channel.
[youtube]http://youtu.be/sIpc6dgmJk4[/youtube]
If you are unable to view this video, please visit the USANA YouTube channel.
[wp-imageflow2]
We're proud to bring you the freshest content on the web! Follow USANA on Twitter, like our USANA Facebook page and enjoy the latest videos on the official USANA YouTube channel.

Learn what USANA is doing to make the world a better place.
The future of personalized health and nutrition is now available with USANA's True Health Assessment.
https://whatsupusana.com/wp-content/uploads/2013/07/Team-USANA-Energy2-e1374168120173.jpg
659
1168
Ved Nikolic
http://whatsupusana.com/wp-content/uploads/2019/11/USANA_Logo_Black.png
Ved Nikolic
2013-07-26 08:00:10
2014-01-02 13:02:55
Team USANA Energy: 1,000-km Journey to Promote Healthy Living