USANA Athletes: Passion Pushes Sochi Athlete on the Ice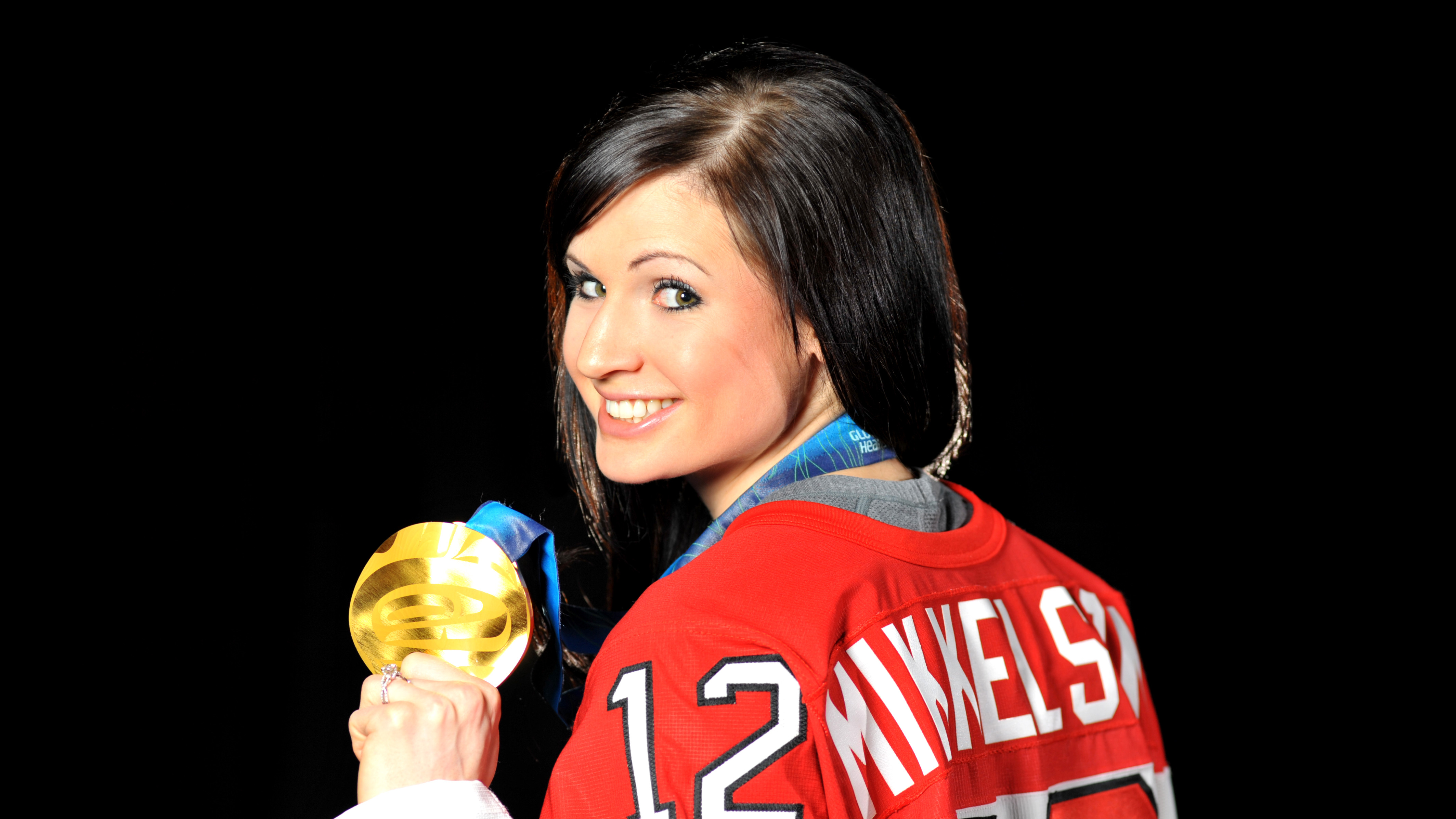 From the moment 7-year-old Meaghan Mikkelson-Reid stepped onto the ice to play with her little brother's team, she traded her ringette stick for a hockey stick, and never looked back. Since then, she has lived and breathed hockey—and nothing can keep her from the game.
Nothing. Not even moving to a city without a girls league.
In fact, from the time she was 8 to the time she was 16, Meaghan played in an all-boys league. At first, she fit right in, but as she aged she began to feel out of place. Far from quitting, she used the experience as a motivator to prove she deserved to be on the ice. "Playing with the boys made me a stronger person … a stronger player," she said. "There was always a challenge there for me, which is what I think pushed me to be better."
And she's sure gotten better. As one of the top players in Canada, she has proved time and time again that she belongs on the ice. While watching the national women's hockey team play in the 1998 Nagano Winter Games, she said to herself, "I want to play for Team Canada, and I want to go to the Olympics." Which is exactly what she did. In 2010, Meaghan helped Team Canada take home a gold medal in Vancouver.
Now the defenseman is at it again, training for Sochi. Training — it's not a word to be taken lightly when preparing for the Winter Games. It involves 10 hours a day of grueling conditioning, power skating, hill sprints, bike sprints, strength training, and more. It means pushing to your physical and mental breaking point each day, just to start all over the next.
But even the strenuous training schedule can't keep Meaghan off the ice. On those days when she feels like quitting, there's one thing that helps her push through the pain. "I think of what it felt like to win that gold medal in Vancouver, and what it would feel like to win again in Sochi," she said. "That thought is enough to push me as far as I possibly can."
Overcoming obstacles and pushing the limits seem to be all in a day's work for Meaghan. So, what's the secret to her success? Good, old-fashioned hard work. From a young age, her parents taught her that anything worth having is hard to get. That's a lesson she's carried onto the ice, pushing herself to become a little better each day.
Although the taste of gold keeps her motivated, the medal isn't the only reward she's taken away from the game. Hockey has also taught her many life lessons. "It pretty much teaches you everything … relationships, team building, and what it takes to be successful," she said. "You get to know yourself better than you could possibly imagine."
In the end, hockey isn't about the fame and glory. It's not about medals or money. For Meaghan, it all comes down to passion. Since picking up her first hockey stick, she's been hooked on the adrenaline rush that comes with the intense competition. The exhilaration she feels before each game. "The beauty of women's hockey is that we don't make millions," she said. "We do what we do because we love to play."
[youtube]https://www.youtube.com/watch?v=7aKw8CiVi4g[/youtube]
If you're unable to view the video, please visit the USANA YouTube channel
Follow Us!
Look for more information about other USANA athletes who will be in Sochi as we get closer to the Winter Games in February, by following us on Facebook and Twitter (@TeamUSANA)!
*This story originally appeared on USANAtoday.com.
*The mentioned athletes are either distributors or dedicated users who have received compensation for their partnership and/or complimentary USANA products.
We're proud to bring you the freshest content on the web! Follow USANA on Twitter, like our USANA Facebook page and enjoy the latest videos on the official USANA YouTube channel.

Learn what USANA is doing to make the world a better place.
The future of personalized health and nutrition is now available with USANA's True Health Assessment.
https://whatsupusana.com/wp-content/uploads/2014/01/Meaghan-mikkelson-Canada-Hockey-1-e1389202192862.jpg
2394
4256
Katie Roundy
http://whatsupusana.com/wp-content/uploads/2019/11/USANA_Logo_Black.png
Katie Roundy
2014-01-20 08:00:52
2014-01-23 16:29:44
USANA Athletes: Passion Pushes Sochi Athlete on the Ice