USANA's Visionex: Great Vision Today and in the Future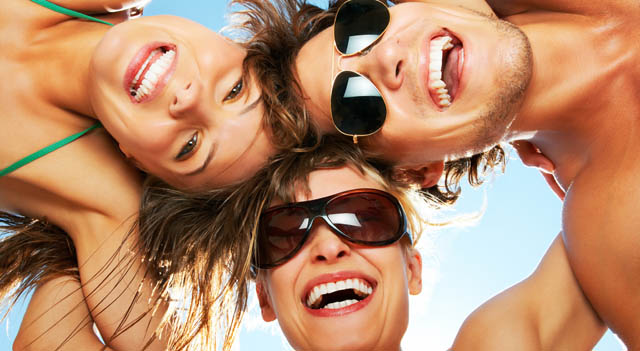 Do you drive at night or play sports outside? Do you ever read in bed or write at your desk with just a little light? Do you work at a computer or go out in the sun during the day? If you answered no to all of these questions, I'm gonna call you out and say that you're fibbing… either that or you need to try and get out more.
For everyone else, though, the thing that all of these activities have in common is that dietary lutein and zeaxanthin can help keep your eyes strong for all of them.
Lutein and zeaxanthin can be found, of course, in USANA's Visionex®.
No More Worries About Sun or Headlights Shining in Your Eyes
If, while driving, you've ever found yourself with temporarily fuzzy vision after an oncoming car's headlights or the sun has shone in your eyes, you understand how glare can affect you.
Individuals with higher Macular Pigment Optical Density (MPOD) levels have a higher tolerance for glaring light and can recover more quickly. A 2008 study showed that when people consumed 10 mg lutein and 2 mg of zeaxanthin — the same ingredients used in Visionex — for six months, they increased their MPOD levels by as much as 50% and were able to tolerate 58% more intense glaring light.
Research has also shown shortened glare recovery times. Having stars in your eyes is nice, figuratively speaking, but not so nice in reality. Visionex's power-packed ingredients can help you stay focused, even in the spotlight.
See Clearly, Even in Low-Light Conditions
Not only can the ingredients in Visionex help with vision in glaring light, they can also help when there isn't enough light. Under low light, the rod signals in the eye's photoreceptors can blur, causing poor vision.
Plus, transmission of blue light to the retina causes light to scatter, which also can result in blurry vision. Another benefit of increased MPOD levels is improved contrast acuity in dim light by reducing the blurring (in other words, you can see more sharply).
And the macular pigment selectively absorbs blue light, reducing blue light transmission to the retina and, thereby, improving image quality.
Have a clear view no matter what the light conditions are by making sure you get ample amounts of sight-supporting nutrients in Visionex.
Protect Your Sight from Bright Light
Our friend the sun shines a full spectrum of colorful light on us. Our eyes are especially sensitive to blue light, which can damage the retina. Blue light also often comes from indoor work light sources — like a computer.
Yellow macular pigment is the secret to defending our eyes from blue light. The yellow pigment comes from lutein and zeaxanthin. Increase the yellow macular pigment in your eyes to defend them against damaging blue light with Visionex, and you can envision a future with healthy eyes.
Director of Product Development Mark Brown, Ph.D., explains the benefits of Visionex in this short video. Check it out!
[youtube]1a3y568-MfE[/youtube]
If you're unable to view the video, please visit the USANA YouTube channel
*These statements have not been evaluated by the Food and Drug Administration. This product is not intended to diagnose, treat, cure, or prevent any disease.
We're proud to bring you the freshest content on the web! Follow USANA on Twitter, like our USANA Facebook page and enjoy the latest videos on the official USANA YouTube channel.

Learn what USANA is doing to make the world a better place.
Discover what USANA products can do to boost your health today by taking this brief online Health Assessment.
https://whatsupusana.com/wp-content/uploads/2012/08/SupplementSpotlightVisionex-Featured.jpg
351
640
Camille Fletcher
http://whatsupusana.com/wp-content/uploads/2019/11/USANA_Logo_Black.png
Camille Fletcher
2012-08-07 14:20:36
2017-04-14 11:07:45
USANA's Visionex: Great Vision Today and in the Future